Sing to Me: My Story of Making Music, Finding Magic, and Searching for Who's Next (Paperback)
Begin Your Search For BOOKS Here!

List Price: $18.99
Our Price: $12.91
(Save: $6.08 32%)
Usually Ships in 1-5 Days
Description
---
In this long-awaited memoir, illustrated with over 100 never-before-seen photos from his personal collection, the groundbreaking record producer chronicles his struggles, his success, and the celebrated artists that made him a legend.
Over the last twenty-five years, legendary music producer and record man LA Reid--the man behind artists such as Toni Braxton, Kanye West, Rihanna, TLC, Outkast, Mariah Carey, Pink, Justin Bieber, and Usher--has changed the music business forever. In addition to discovering some of the biggest pop stars on the planet, he has shaped some of the most memorable and unforgettable hits of the last two generations, creating an impressive legacy of talent discovery and hit records.
Now, for the first time, he tells his story, taking fans on an intimate tour of his life, as he chronicles the fascinating journey from his small-town R&B roots in Cincinnati, Ohio, and his work as a drummer to his fame as a Grammy Award-winning music producer and his gig as a judge on the hit reality show, The X Factor. In Sing to Me, Reid goes behind the scenes of the music industry, charting his rise to fame and sharing stories of the countless artists he's met, nurtured, and molded into stars. With fascinating insight into the early days of artists as diverse as TLC, Usher, Pink, Kanye West, and Justin Bieber, his story offers a detailed look at what life was like for stars at the start of their meteoric rise and how he always seemed to know who would be the next big thing.
What emerges is a captivating portrait from the inside of popular music evolution over the last three decades. Part music memoir, part business story of climbing to the top, this beautifully designed book, jam packed with photos, showcases Reid's trademark passion and ingenuity and introduces a multifaceted genius who continues to shape pop culture today.
Bi-Monthly Newsletter & Shopping Guide
Black Panther Comic Booklist
Upcoming Guests & Events
KR Bankston and Elizabeth LaShaun
RSVP

Conversations & Cocktails
Saturday, April 14
Following the Driven Divas Bowl for Literacy, authors KR Bankston and Elizabeth LaShaun will meet at The Dock After Hours for Conversation and Cocktails. Click here to view full flyer
Driven Divas' Bowl-On-A-Lane for Literacy is Sat. April 14, 2018 2-5 PM
at Forum Bowl in Grand Prairie, Texas.
---
JOIN US!
DRUMS OF THUNDER:LYRICS WITH FIR
Poetry Month Celebration Featuring Leo Hassan
Tuesday, April 17, 2018
8-10 PM at The Dock
Hosted by Chuck Jackson. Food, Live DJ, Amazing Show. All Are invited!. $5 Cover
---
POWER SESSION & BOOK SIGNING
with Sharetha Nicole
RSVP

Sharetha explains how to embrace a life change by listening to that inner voice, acknowledging the signs, but most importantly by walking in God's purpose once it has been defined.
---
NIGHT WOMEN BOOK CLUB 1st Sat 3-5 PM
RSVP
Looking for a book club to join? You are invited to join Night Women Book Club focusing on fiction new releases, classics and favorites
Upcoming Book Discussions:
May 5 - The Hate U Give by Angie Thomas
---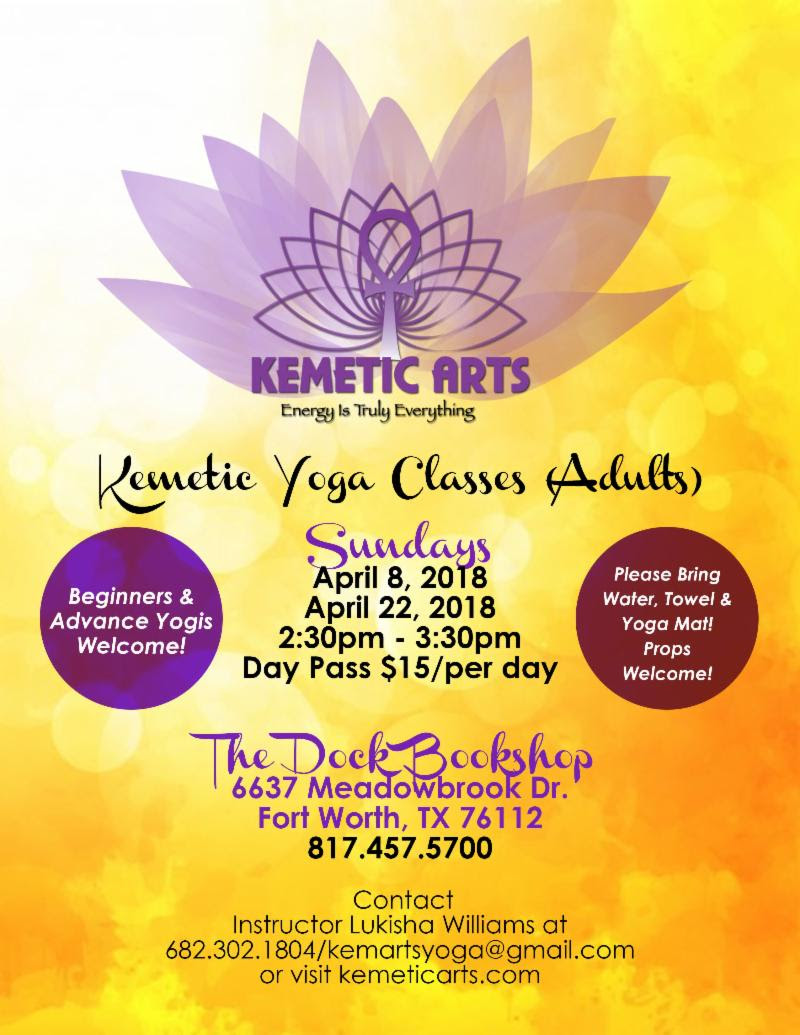 Come Join Kemetic Arts Kemetic Yoga at The Dock BookShop in Fort Worth. Enjoy a relaxing & rejuvenating Afrikan Centered Environment. Experience the Kemetic Beauty of Divine Breath, Balance Posture & Alignment.
Come learn Kemetic Yoga which is based upon the Kemetic Concept of Ma'at which states that the universe is order balance harmony and reciprocity
---
GET THAT BOOK PUBLISHED
Saturday, April 14
- 12-2 PM RSVP
Whether it's a fictional novel, a guide book, or a manuscript - get that book published. Come learn and let us help you accomplished
---
BLACK PANTHER TALKS: Decode & Discuss
Part 2:
FROM THE NILE VALLEY TO WAKANDA
SATURDAY APRIL 21, 2018
4-6 PM AT THE DOCK BOOKSHOP RSVP View Flyer
The conversation continues! Part 2 discussion will delve into the imagery and symbolism of Nile Valley Civilization depicted in the movie. Bring family and friends to share thoughts and respond to Marvel's Black Panther Movie - a record-breaking movie that has impacted black families & communities globally.
---
LOVIN OUR NATURAL HAIR! Workshop
Presented by Crown-n-Glory