The Mother of Black Hollywood: A Memoir (Hardcover)
Begin Your Search For BOOKS Here!

List Price: $25.99
Our Price: $16.11
(Save: $9.88 38%)
Usually Ships in 1-5 Days
Description
---
From her more than three hundred appearances for film and television, stage and cabaret, performing comedy or drama, as an unforgettable lead or a scene stealing supporting character, Jenifer Lewis has established herself as one of the most respected, admired, talented, and versatile entertainers working today.
This "Mega Diva" and costar of the hit sitcom black-ish bares her soul in this touching and poignant--and at times side-splittingly hilarious--memoir of a Midwestern girl with a dream, whose journey took her from poverty to the big screen, and along the way earned her many accolades.
With candor and warmth, Jenifer Lewis reveals the heart of a woman who lives life to the fullest. This multitalented "force of nature" landed her first Broadway role within eleven days of her graduation from college and later earned the title "Reigning Queen of High-Camp Cabaret."
In the audaciously honest voice that her fans adore, Jenifer describes her transition to Hollywood, with guest roles on hits like The Fresh Prince of Bel-Air and Friends. Her movie Jackie's Back became a cult favorite, and as the "Mama" to characters portrayed by Whitney Houston, Tupac Shakur, Taraji P. Henson, and many more, Jenifer cemented her status as the "Mother of Black Hollywood."
When an undiagnosed menatl illness stymies Jenifer's career, culminating in a breakdown while filming The Temptations, her quest for wholeness becomes a harrowing and inspiring tale, including revelations of bipolar disorder and sex addiction.
Written with no-holds-barred honesty and illustrated with more than forty color photographs, this gripping memoir is filled with insights gained through a unique life that offers a universal message: "Love yourself so that love will not be a stranger when it comes."
Bi-Monthly Newsletter & Shopping Guide
Black Panther Comic Booklist
Upcoming Guests & Events
KR Bankston and Elizabeth LaShaun
RSVP

Conversations & Cocktails
Saturday, April 14
Following the Driven Divas Bowl for Literacy, authors KR Bankston and Elizabeth LaShaun will meet at The Dock After Hours for Conversation and Cocktails. Click here to view full flyer
Driven Divas' Bowl-On-A-Lane for Literacy is Sat. April 14, 2018 2-5 PM
at Forum Bowl in Grand Prairie, Texas.
---
JOIN US!
DRUMS OF THUNDER:LYRICS WITH FIR
Poetry Month Celebration Featuring Leo Hassan
Tuesday, April 17, 2018
8-10 PM at The Dock
Hosted by Chuck Jackson. Food, Live DJ, Amazing Show. All Are invited!. $5 Cover
---
POWER SESSION & BOOK SIGNING
with Sharetha Nicole
RSVP

Sharetha explains how to embrace a life change by listening to that inner voice, acknowledging the signs, but most importantly by walking in God's purpose once it has been defined.
---
NIGHT WOMEN BOOK CLUB 1st Sat 3-5 PM
RSVP
Looking for a book club to join? You are invited to join Night Women Book Club focusing on fiction new releases, classics and favorites
Upcoming Book Discussions:
May 5 - The Hate U Give by Angie Thomas
---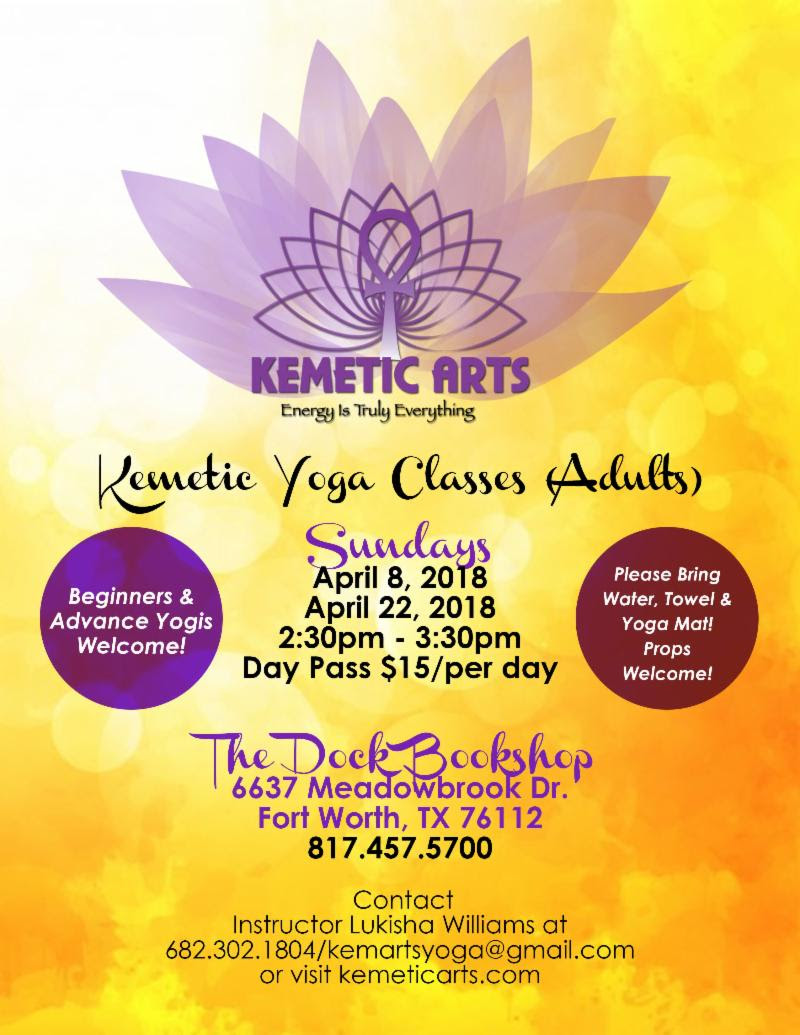 Come Join Kemetic Arts Kemetic Yoga at The Dock BookShop in Fort Worth. Enjoy a relaxing & rejuvenating Afrikan Centered Environment. Experience the Kemetic Beauty of Divine Breath, Balance Posture & Alignment.
Come learn Kemetic Yoga which is based upon the Kemetic Concept of Ma'at which states that the universe is order balance harmony and reciprocity
---
GET THAT BOOK PUBLISHED
Saturday, April 14
- 12-2 PM RSVP
Whether it's a fictional novel, a guide book, or a manuscript - get that book published. Come learn and let us help you accomplished
---
BLACK PANTHER TALKS: Decode & Discuss
Part 2:
FROM THE NILE VALLEY TO WAKANDA
SATURDAY APRIL 21, 2018
4-6 PM AT THE DOCK BOOKSHOP RSVP View Flyer
The conversation continues! Part 2 discussion will delve into the imagery and symbolism of Nile Valley Civilization depicted in the movie. Bring family and friends to share thoughts and respond to Marvel's Black Panther Movie - a record-breaking movie that has impacted black families & communities globally.
---
LOVIN OUR NATURAL HAIR! Workshop
Presented by Crown-n-Glory