Black Panther, Book 1: A Nation Under Our Feet (Paperback)

List Price: $16.99
Our Price: $11.55
(Save: $5.44 32%)
Usually Ships in 1-5 Days
Description
---
A new era begins for the Black Panther MacArthur Genius and National Book Award-winning writer T-Nehisi Coates (BETWEEN THE WORLD AND ME) takes the helm, confronting T'Challa with a dramatic upheaval in Wakanda that will make leading the African nation tougher than ever before. When a superhuman terrorist group that calls itself The People sparks a violent uprising, the land famed for its incredible technology and proud warrior traditions will be thrown into turmoil. If Wakanda is to survive, it must adapt--but can its monarch, one in a long line of Black Panthers, survive the necessary change? Heavy lies the head that wears the cowl
COLLECTING: Black Panther 1-4, Fantastic Four (1961) 52.
About the Author
---
Ta-Nehisi Coates is an American writer, journalist, and educator. Coates is a National Correspondent for The Atlantic, where he writes about cultural, social and political issues, particularly as regards African-Americans. Coates has worked for The Village Voice, Washington City Paper, and Time. He has contributed to The New York Times Magazine, The Washington Post, The Washington Monthly, O, and other publications. In 2008 he published a memoir, The Beautiful Struggle: A Father, Two Sons, and an Unlikely Road to Manhood. His second book, Between the World and Me, was released in July 2015. It was nominated for a 2015 National Book Award for Nonfiction. He was the recipient of a "Genius Grant" from the John D. and Catherine T. MacArthur Foundation in 2015
Coverage from NPR
Begin Your Search For BOOKS Here!
Holiday Shopping Guide 2017
Congrats to Jesmyn Ward, 2017 National Book Award Winner
The Mother of Black Hollywood: A Memoir (Hardcover)
By Jenifer Lewis, Malaika Adero
...I was pulling into my driveway after spending a Christmas alone, in South Africa. I'd run off to get away from the pain of a broken engagement, or so I told myself. While there, I toured Robben Island and stood looking at the cell where Nelson Mandela had been locked up for twenty-seven years. Twenty-seven goddamn years, stuck in a cell. It was deeply moving. It wasn't until my car rolled into the garage of my home that I really took in the fact that while Mandela may have been in a cell for twenty-seven years, he had never been imprisoned. I however, had no jail cell, but had been emotionally caged all my life-constricted by my own secrets.
I turned off the ignition, looked around and thought, I owe...
---
Upcoming Guests & Events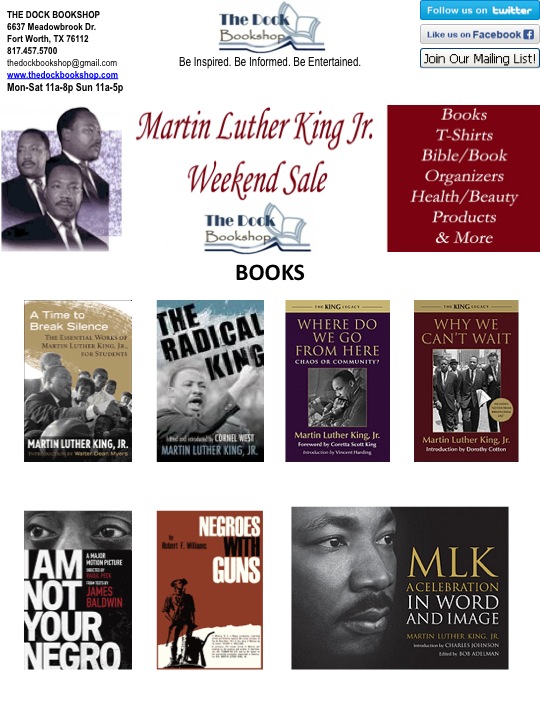 MLK WEEKEND SALE!
Shop The Dock this weekend for
Books - T-shirts - and more!
Dock in the Community