Black Panther: A Nation Under Our Feet, Book 3 (Paperback)
Begin Your Search For BOOKS Here!

List Price: $16.99
Our Price: $11.55
(Save: $5.44 32%)
Usually Ships in 1-5 Days
Description
---
The full truth of the People's revolution - and the power players supporting it - has been revealed Now, T'Challa must fight like never before for the fate of his nation - and one of his most trusted allies is back to stand by his side. As the final battle begins, the entirety of Wakanda's glorious history may be their most potent weapon. But even if the People fall, can the monarchy still stand? The pieces are all in position, now it's time for Ta-Nehisi Coates and Brian Stelfreeze to knock over the board as their revitalization of Black Panther continues COLLECTING: BLACK PANTHER 9-12
Bi-Monthly Newsletter & Shopping Guide
Black Panther Comic Booklist
Upcoming Guests & Events
KR Bankston and Elizabeth LaShaun
RSVP

Conversations & Cocktails
Saturday, April 14
Following the Driven Divas Bowl for Literacy, authors KR Bankston and Elizabeth LaShaun will meet at The Dock After Hours for Conversation and Cocktails. Click here to view full flyer
Driven Divas' Bowl-On-A-Lane for Literacy is Sat. April 14, 2018 2-5 PM
at Forum Bowl in Grand Prairie, Texas.
---
JOIN US!
DRUMS OF THUNDER:LYRICS WITH FIR
Poetry Month Celebration Featuring Leo Hassan
Tuesday, April 17, 2018
8-10 PM at The Dock
Hosted by Chuck Jackson. Food, Live DJ, Amazing Show. All Are invited!. $5 Cover
---
POWER SESSION & BOOK SIGNING
with Sharetha Nicole
RSVP

Sharetha explains how to embrace a life change by listening to that inner voice, acknowledging the signs, but most importantly by walking in God's purpose once it has been defined.
---
NIGHT WOMEN BOOK CLUB 1st Sat 3-5 PM
RSVP
Looking for a book club to join? You are invited to join Night Women Book Club focusing on fiction new releases, classics and favorites
Upcoming Book Discussions:
May 5 - The Hate U Give by Angie Thomas
---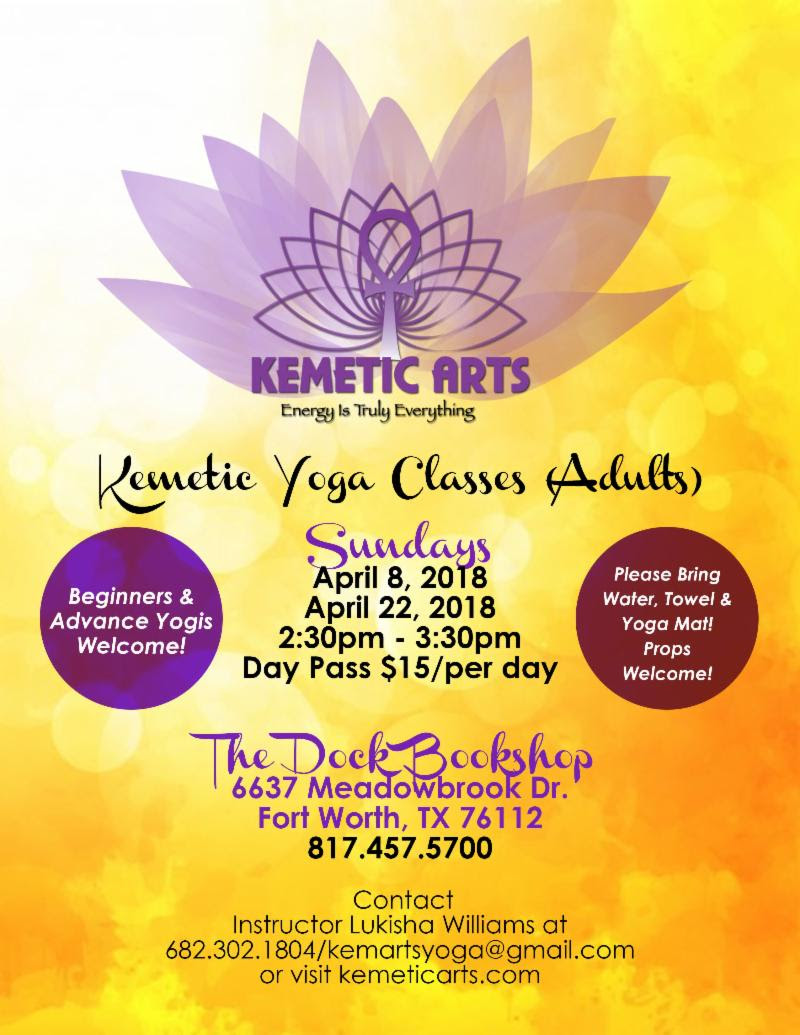 Come Join Kemetic Arts Kemetic Yoga at The Dock BookShop in Fort Worth. Enjoy a relaxing & rejuvenating Afrikan Centered Environment. Experience the Kemetic Beauty of Divine Breath, Balance Posture & Alignment.
Come learn Kemetic Yoga which is based upon the Kemetic Concept of Ma'at which states that the universe is order balance harmony and reciprocity
---
GET THAT BOOK PUBLISHED
Saturday, April 14
- 12-2 PM RSVP
Whether it's a fictional novel, a guide book, or a manuscript - get that book published. Come learn and let us help you accomplished
---
BLACK PANTHER TALKS: Decode & Discuss
Part 2:
FROM THE NILE VALLEY TO WAKANDA
SATURDAY APRIL 21, 2018
4-6 PM AT THE DOCK BOOKSHOP RSVP View Flyer
The conversation continues! Part 2 discussion will delve into the imagery and symbolism of Nile Valley Civilization depicted in the movie. Bring family and friends to share thoughts and respond to Marvel's Black Panther Movie - a record-breaking movie that has impacted black families & communities globally.
---
LOVIN OUR NATURAL HAIR! Workshop
Presented by Crown-n-Glory