Sing, Unburied, Sing (Hardcover)
Begin Your Search For BOOKS Here!

List Price: $26.00
Our Price: $17.68
(Save: $8.32 32%)
Usually Ships in 1-5 Days
Description
---
*WINNER of the NATIONAL BOOK AWARD for FICTION
*A TIME MAGAZINE BEST NOVEL OF THE YEAR and A NEW YORK TIMES TOP 10 OF 2017
*Finalist for the Kirkus Prize
*Finalist for the Andrew Carnegie Medal
*Publishers Weekly Top 10 of 2017
*Finalist for the National Book Critics Circle Award "The heart of Jesmyn Ward's Sing, Unburied, Sing is story--the yearning for a narrative to help us understand ourselves, the pain of the gaps we'll never fill, the truths that are failed by words and must be translated through ritual and song...Ward's writing throbs with life, grief, and love, and this book is the kind that makes you ache to return to it." --Buzzfeed In Jesmyn Ward's first novel since her National Book Award-winning Salvage the Bones, this singular American writer brings the archetypal road novel into rural twenty-first-century America. An intimate portrait of a family and an epic tale of hope and struggle, Sing, Unburied, Sing journeys through Mississippi's past and present, examining the ugly truths at the heart of the American story and the power--and limitations--of family bonds. Jojo is thirteen years old and trying to understand what it means to be a man. He doesn't lack in fathers to study, chief among them his Black grandfather, Pop. But there are other men who complicate his understanding: his absent White father, Michael, who is being released from prison; his absent White grandfather, Big Joseph, who won't acknowledge his existence; and the memories of his dead uncle, Given, who died as a teenager. His mother, Leonie, is an inconsistent presence in his and his toddler sister's lives. She is an imperfect mother in constant conflict with herself and those around her. She is Black and her children's father is White. She wants to be a better mother but can't put her children above her own needs, especially her drug use. Simultaneously tormented and comforted by visions of her dead brother, which only come to her when she's high, Leonie is embattled in ways that reflect the brutal reality of her circumstances. When the children's father is released from prison, Leonie packs her kids and a friend into her car and drives north to the heart of Mississippi and Parchman Farm, the State Penitentiary. At Parchman, there is another thirteen-year-old boy, the ghost of a dead inmate who carries all of the ugly history of the South with him in his wandering. He too has something to teach Jojo about fathers and sons, about legacies, about violence, about love. Rich with Ward's distinctive, lyrical language, Sing, Unburied, Sing is a majestic new work and an unforgettable family story.
Coverage from NPR
Bi-Monthly Newsletter & Shopping Guide
Black Panther Comic Booklist
Upcoming Guests & Events
KR Bankston and Elizabeth LaShaun
RSVP

Conversations & Cocktails
Saturday, April 14
Following the Driven Divas Bowl for Literacy, authors KR Bankston and Elizabeth LaShaun will meet at The Dock After Hours for Conversation and Cocktails. Click here to view full flyer
Driven Divas' Bowl-On-A-Lane for Literacy is Sat. April 14, 2018 2-5 PM
at Forum Bowl in Grand Prairie, Texas.
---
JOIN US!
DRUMS OF THUNDER:LYRICS WITH FIR
Poetry Month Celebration Featuring Leo Hassan
Tuesday, April 17, 2018
8-10 PM at The Dock
Hosted by Chuck Jackson. Food, Live DJ, Amazing Show. All Are invited!. $5 Cover
---
POWER SESSION & BOOK SIGNING
with Sharetha Nicole
RSVP

Sharetha explains how to embrace a life change by listening to that inner voice, acknowledging the signs, but most importantly by walking in God's purpose once it has been defined.
---
NIGHT WOMEN BOOK CLUB 1st Sat 3-5 PM
RSVP
Looking for a book club to join? You are invited to join Night Women Book Club focusing on fiction new releases, classics and favorites
Upcoming Book Discussions:
May 5 - The Hate U Give by Angie Thomas
---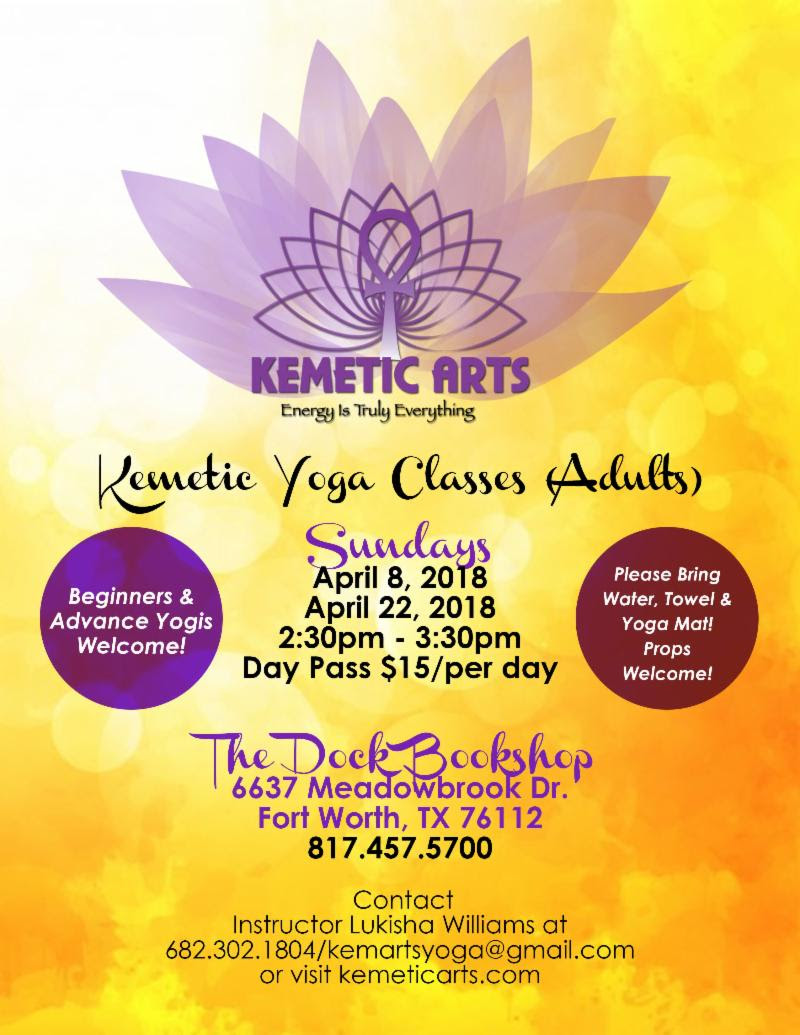 Come Join Kemetic Arts Kemetic Yoga at The Dock BookShop in Fort Worth. Enjoy a relaxing & rejuvenating Afrikan Centered Environment. Experience the Kemetic Beauty of Divine Breath, Balance Posture & Alignment.
Come learn Kemetic Yoga which is based upon the Kemetic Concept of Ma'at which states that the universe is order balance harmony and reciprocity
---
GET THAT BOOK PUBLISHED
Saturday, April 14
- 12-2 PM RSVP
Whether it's a fictional novel, a guide book, or a manuscript - get that book published. Come learn and let us help you accomplished
---
BLACK PANTHER TALKS: Decode & Discuss
Part 2:
FROM THE NILE VALLEY TO WAKANDA
SATURDAY APRIL 21, 2018
4-6 PM AT THE DOCK BOOKSHOP RSVP View Flyer
The conversation continues! Part 2 discussion will delve into the imagery and symbolism of Nile Valley Civilization depicted in the movie. Bring family and friends to share thoughts and respond to Marvel's Black Panther Movie - a record-breaking movie that has impacted black families & communities globally.
---
LOVIN OUR NATURAL HAIR! Workshop
Presented by Crown-n-Glory