The Fire This Time: A New Generation Speaks about Race (Paperback)

List Price: $16.00
Our Price: $10.88
(Save: $5.12 32%)
Usually Ships in 1-5 Days
Description
---
A surprise New York Times bestseller, these groundbreaking essays and poems about race--collected by National Book Award-winner Jesmyn Ward and written by the most important voices of her generation--are "thoughtful, searing, and at times, hopeful. The Fire This Time is vivid proof that words are important, because of their power to both cleanse and to clarify" (USA TODAY). In this bestselling, widely lauded collection, Jesmyn Ward gathers our most original thinkers and writers to speak on contemporary racism and race, including Carol Anderson, Jericho Brown, Edwidge Danticat, Kevin Young, Claudia Rankine, and Honoree Jeffers. "An absolutely indispensable anthology" (Booklist, starred review), The Fire This Time shines a light on the darkest corners of our history, wrestles with our current predicament, and imagines a better future. Envisioned as a response to The Fire Next Time, James Baldwin's groundbreaking 1963 essay collection, these contemporary writers reflect on the past, present, and future of race in America. We've made significant progress in the fifty-odd years since Baldwin's essays were published, but America is a long and painful distance away from a "post-racial society"--a truth we must confront if we are to continue to work towards change. Baldwin's "fire next time" is now upon us, and it needs to be talked about; The Fire This Time "seeks to place the shock of our own times into historical context and, most importantly, to move these times forward" (Vogue).
Begin Your Search For BOOKS Here!
Holiday Shopping Guide 2017
Congrats to Jesmyn Ward, 2017 National Book Award Winner
The Mother of Black Hollywood: A Memoir (Hardcover)
By Jenifer Lewis, Malaika Adero
...I was pulling into my driveway after spending a Christmas alone, in South Africa. I'd run off to get away from the pain of a broken engagement, or so I told myself. While there, I toured Robben Island and stood looking at the cell where Nelson Mandela had been locked up for twenty-seven years. Twenty-seven goddamn years, stuck in a cell. It was deeply moving. It wasn't until my car rolled into the garage of my home that I really took in the fact that while Mandela may have been in a cell for twenty-seven years, he had never been imprisoned. I however, had no jail cell, but had been emotionally caged all my life-constricted by my own secrets.
I turned off the ignition, looked around and thought, I owe...
---
Upcoming Guests & Events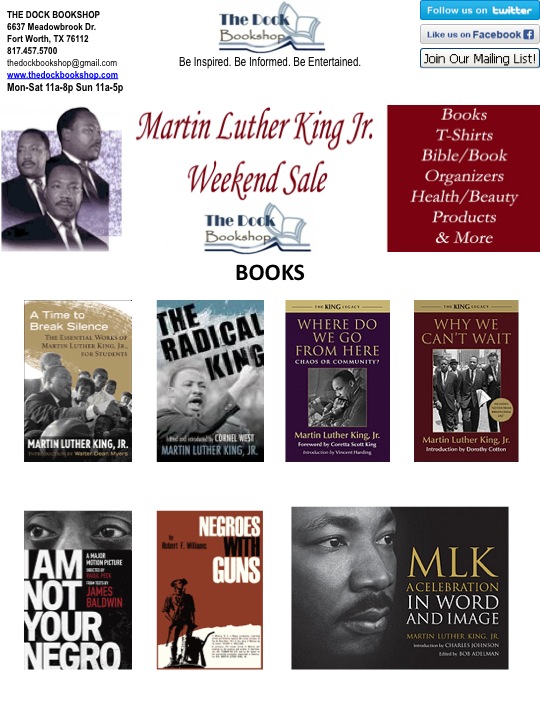 MLK WEEKEND SALE!
Shop The Dock this weekend for
Books - T-shirts - and more!
Dock in the Community