Salvage the Bones (Paperback)
Begin Your Search For BOOKS Here!

List Price: $17.00
Our Price: $11.56
(Save: $5.44 32%)
Usually Ships in 1-5 Days
Description
---
Winner of the National Book Award

Jesmyn Ward, two-time National Book Award winner and author of Sing, Unburied, Sing, delivers a gritty but tender novel about family and poverty in the days leading up to Hurricane Katrina.
A hurricane is building over the Gulf of Mexico, threatening the coastal town of Bois Sauvage, Mississippi, and Esch's father is growing concerned. A hard drinker, largely absent, he doesn't show concern for much else. Esch and her three brothers are stocking food, but there isn't much to save. Lately, Esch can't keep down what food she gets; she's fourteen and pregnant. Her brother Skeetah is sneaking scraps for his prized pitbull's new litter, dying one by one in the dirt. Meanwhile, brothers Randall and Junior try to stake their claim in a family long on child's play and short on parenting.
As the twelve days that make up the novel's framework yield to their dramatic conclusion, this unforgettable family--motherless children sacrificing for one another as they can, protecting and nurturing where love is scarce--pulls itself up to face another day. A big-hearted novel about familial love and community against all odds, and a wrenching look at the lonesome, brutal, and restrictive realities of rural poverty, Salvage the Bones is muscled with poetry, revelatory, and real.
About the Author
---
Jesmyn Ward received her M.F.A. from the University of Michigan and is currently an associate professor of creative writing at Tulane University. She is the editor of the anthology The Fire This Time and the author of the memoir Men We Reaped and the novels Where the Line Bleeds and Sing, Unburied, Sing, a finalist for the National Book Award. A 2017 MacArthur Fellow in Fiction, Ward lives in DeLisle, Mississippi.
Praise For…
---
2011 National Book Award Winner
NPR Bestseller IndieBound National Indie Bestseller
San Francisco Chronicle
Best Books of 2011
Kansas City Star
Top 100 Books of the Year
Atlanta Journal-Constitution
Best of the South 2011
Shelf Awareness
, Reviewer's Choice, Top 10 of 2011More.com, Hottest Fall Novels Oprah.com, Books to Watch and Book of the Week
Huffington Post
, The Best Upcoming BooksVogue.com, Fall Blockbuster Fiction"The first great novel about Katrina."
—Kate Tuttle, Boston Globe
"[A] searing, understated, and big-hearted novel." —
Salon
"
Salvage the Bones
is an intense book, with powerful, direct prose that dips into poetic metaphor . . . We are immersed in Esch's world, a world in which birth and death nestle close, where there is little safety except that which the siblings create for each other. That close-knit familial relationship is vivid and compelling, drawn with complexities and detail." —
Carolyn Kellogg, Los Angeles Times
"I've just read [
Salvage the Bones
] and it'll be a long time before its magic wears off...Ward winds private passions with that menace gathering force out in the Gulf of Mexico. Without a hint of pretention, in the simple lives of these poor people living among chickens and abandoned cars, she evokes the tenacious love and desperation of classical tragedy . . . A palpable sense of desire and sorrow animates every page here . . .
Salvage the Bones
has the aura of a classic about it." —
Ron Charles, Washington Post
"A timeless tale of a family that regains its humanity in the face of incalculable loss." —
Gina Webb, Atlanta Journal-Constitution
"Jesmyn Ward has claimed her place both as a contemporary witness of life in the rural south and as a descendant of its great originals."
—Nicholas Delbanco, author of Sherbrookes and Lastingness: The Art of Old Age
"The narrator's voice sparks with beauty as it urges the reader through this moving story set in the shadow of Katrina."
—
Zoë Triska, Huffington Post
"Jesmyn Ward has written . . . the first Katrina-drenched fiction I'd press upon readers now."
—Karen R. Long, Plain Dealer (Cleveland)
"Ward's redolent prose conjures the magic and menace of the southern landscape."
—Elizabeth Hoover, Dallas Morning News
"The novel's power comes from the dread of the approaching storm and a pair of violent climaxes. The first is a dog fight, an appalling spectacle given emotional depth by Skeetah's love for the pit bull China (their bond is the strongest and most affecting in the book). When the hurricane strikes, Ms. Ward endows it, too, with attributes maternal and savage: 'Katrina is the mother we will remember until the next mother with large merciless hands, committed to blood, comes.' "
—Wall Street Journal
"From its lyrical yet visceral first scene, this novel had me, and I hardly dared to put it down for fear a spell might be broken. But it never was or will be; such are the gifts of this writer." —
Laura Kasischke, author of In a Perfect World
"Without a false note . . . A superbly realized work of fiction that, while Southern to the bone, transcends its region to become universal." —
Kirkus Reviews (starred review)
"With her tough, tense and taut tale of one rural family's bitter and bloody fight for survival in the days leading up to Hurricane Katrina, [Ward] has secured herself a place among such other great Southern writers as Flannery O'Connor, Harper Lee and William Faulkner. Ward's electrifying, exhilarating, edge-of-your-seat second novel,
Salvage the Bones
, takes us into the naked heart of one Southern family struggling for both survival and identity. With prose both powerful and poetic, Ward has imagined an unforgettable family." —
CityBeat (Cincinnati)
"Ward uses fearless, toughly lyrical language to convey this family's close-knit tenderness [and] the sheer bloody-minded difficulty of rural African American life . . . It's an eye-opening heartbreaker that ends in hope . . . You owe it to yourself to read this book." —
Library Journal (starred review)
"Few works of fiction can capture the heart-wrenching emotions attached to a natural disaster, and fewer still can do it in a way that seems palpable and fresh.
Salvage the Bones
, the latest by rising star Jesmyn Ward, accomplishes this feat, and then some . . . From beginning to end, Jesmyn flirts with perfection in this stunning second novel, and the reader is rewarded for it."
—Free Lance-Star (Fredericksburg, VA)
"A pitch-perfect account of struggle and community in the rural South . . . Though the characters in
Salvage the Bones
face down Hurricane Katrina, the story isn't really about the storm. It's about people facing challenges, and how they band together to overcome adversity."
—BookPage
"[
Salvage the Bones
] is uncompromising and frank, showing both beauty and violence, poverty and resilience, in a powerful and poetic voice."
—Sun Herald (Biloxi, MS) 
Bi-Monthly Newsletter & Shopping Guide
Black Panther Comic Booklist
Upcoming Guests & Events
KR Bankston and Elizabeth LaShaun
RSVP

Conversations & Cocktails
Saturday, April 14
Following the Driven Divas Bowl for Literacy, authors KR Bankston and Elizabeth LaShaun will meet at The Dock After Hours for Conversation and Cocktails. Click here to view full flyer
Driven Divas' Bowl-On-A-Lane for Literacy is Sat. April 14, 2018 2-5 PM
at Forum Bowl in Grand Prairie, Texas.
---
JOIN US!
DRUMS OF THUNDER:LYRICS WITH FIR
Poetry Month Celebration Featuring Leo Hassan
Tuesday, April 17, 2018
8-10 PM at The Dock
Hosted by Chuck Jackson. Food, Live DJ, Amazing Show. All Are invited!. $5 Cover
---
POWER SESSION & BOOK SIGNING
with Sharetha Nicole
RSVP

Sharetha explains how to embrace a life change by listening to that inner voice, acknowledging the signs, but most importantly by walking in God's purpose once it has been defined.
---
NIGHT WOMEN BOOK CLUB 1st Sat 3-5 PM
RSVP
Looking for a book club to join? You are invited to join Night Women Book Club focusing on fiction new releases, classics and favorites
Upcoming Book Discussions:
May 5 - The Hate U Give by Angie Thomas
---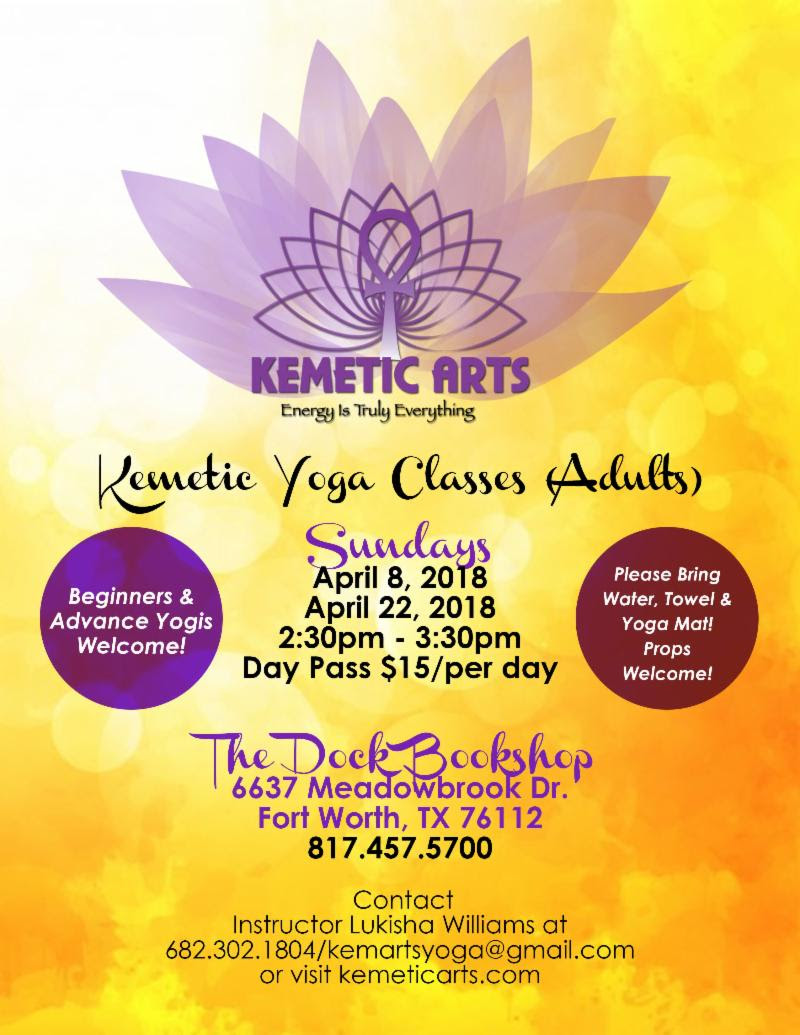 Come Join Kemetic Arts Kemetic Yoga at The Dock BookShop in Fort Worth. Enjoy a relaxing & rejuvenating Afrikan Centered Environment. Experience the Kemetic Beauty of Divine Breath, Balance Posture & Alignment.
Come learn Kemetic Yoga which is based upon the Kemetic Concept of Ma'at which states that the universe is order balance harmony and reciprocity
---
GET THAT BOOK PUBLISHED
Saturday, April 14
- 12-2 PM RSVP
Whether it's a fictional novel, a guide book, or a manuscript - get that book published. Come learn and let us help you accomplished
---
BLACK PANTHER TALKS: Decode & Discuss
Part 2:
FROM THE NILE VALLEY TO WAKANDA
SATURDAY APRIL 21, 2018
4-6 PM AT THE DOCK BOOKSHOP RSVP View Flyer
The conversation continues! Part 2 discussion will delve into the imagery and symbolism of Nile Valley Civilization depicted in the movie. Bring family and friends to share thoughts and respond to Marvel's Black Panther Movie - a record-breaking movie that has impacted black families & communities globally.
---
LOVIN OUR NATURAL HAIR! Workshop
Presented by Crown-n-Glory