Men We Reaped: A Memoir (Paperback)
Begin Your Search For BOOKS Here!

List Price: $17.00
Our Price: $11.56
(Save: $5.44 32%)
Usually Ships in 1-5 Days
Description
---
Two-time National Book Award winner Jesmyn Ward (Salvage the Bones, Sing, Unburied, Sing) contends with the deaths of five young men dear to her, and the risk of being a black man in the rural South.
"We saw the lightning and that was the guns; and then we heard the thunder and that was the big guns; and then we heard the rain falling and that was the blood falling; and when we came to get in the crops, it was dead men that we reaped." --Harriet Tubman

In five years, Jesmyn Ward lost five young men in her life--to drugs, accidents, suicide, and the bad luck that can follow people who live in poverty, particularly black men. Dealing with these losses, one after another, made Jesmyn ask the question: Why? And as she began to write about the experience of living through all the dying, she realized the truth--and it took her breath away. Her brother and her friends all died because of who they were and where they were from, because they lived with a history of racism and economic struggle that fostered drug addiction and the dissolution of family and relationships. Jesmyn says the answer was so obvious she felt stupid for not seeing it. But it nagged at her until she knew she had to write about her community, to write their stories and her own.
Jesmyn grew up in poverty in rural Mississippi. She writes powerfully about the pressures this brings, on the men who can do no right and the women who stand in for family in a society where the men are often absent. She bravely tells her story, revisiting the agonizing losses of her only brother and her friends. As the sole member of her family to leave home and pursue higher education, she writes about this parallel American universe with the objectivity distance provides and the intimacy of utter familiarity. A brutal world rendered beautifully, Jesmyn Ward's memoir will sit comfortably alongside Edwidge Danticat's Brother, I'm Dying, Tobias Wolff's This Boy's Life, and Maya Angelou's I Know Why the Caged Bird Sings.
About the Author
---
Jesmyn Ward received her M.F.A. from the University of Michigan and is currently an associate professor of creative writing at Tulane University. She is the editor of the anthology The Fire This Time and the author of the novels Where the Line Bleeds and Salvage the Bones, the latter of which won the 2011 National Book Award and was a finalist for the Dayton Literary Peace Prize. Ward lives in DeLisle, Mississippi.
Praise For…
---
"An important, and perhaps even essential, book." —San Francisco Chronicle
"[Ward] chronicles our American story in language that is raw, beautiful and dangerous… [Her] singular voice and her full embrace of her anger and sorrow set this work apart from those that have trodden similar ground." —The New York Times Book Review
"Heart-wrenching… A brilliant book about beauty and death… at once a coming-of-age story and a kind of mourning song… filled [with] intimate and familial moments, each described with the passion and precision of the polished novelist Ward has become… Ward is one of those rare writers who's traveled across America's deepening class rift with her sense of truth intact." —Los Angeles Times
"A memoir that is as searing as her fiction, as poignant and as timely... in a country that is supposed to be post racial but still seems hell-bent on the epidemic destruction of young black men." —Edwidge Danticat, The Progressive
Bi-Monthly Newsletter & Shopping Guide
Black Panther Comic Booklist
Upcoming Guests & Events
KR Bankston and Elizabeth LaShaun
RSVP

Conversations & Cocktails
Saturday, April 14
Following the Driven Divas Bowl for Literacy, authors KR Bankston and Elizabeth LaShaun will meet at The Dock After Hours for Conversation and Cocktails. Click here to view full flyer
Driven Divas' Bowl-On-A-Lane for Literacy is Sat. April 14, 2018 2-5 PM
at Forum Bowl in Grand Prairie, Texas.
---
JOIN US!
DRUMS OF THUNDER:LYRICS WITH FIR
Poetry Month Celebration Featuring Leo Hassan
Tuesday, April 17, 2018
8-10 PM at The Dock
Hosted by Chuck Jackson. Food, Live DJ, Amazing Show. All Are invited!. $5 Cover
---
POWER SESSION & BOOK SIGNING
with Sharetha Nicole
RSVP

Sharetha explains how to embrace a life change by listening to that inner voice, acknowledging the signs, but most importantly by walking in God's purpose once it has been defined.
---
NIGHT WOMEN BOOK CLUB 1st Sat 3-5 PM
RSVP
Looking for a book club to join? You are invited to join Night Women Book Club focusing on fiction new releases, classics and favorites
Upcoming Book Discussions:
May 5 - The Hate U Give by Angie Thomas
---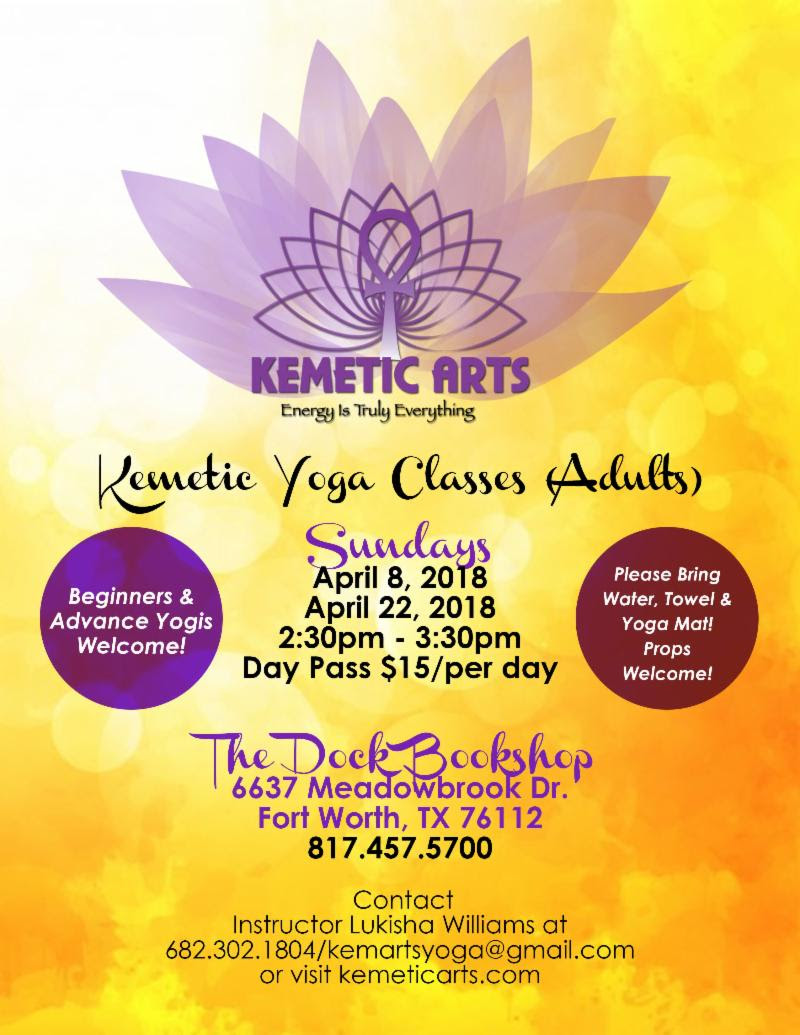 Come Join Kemetic Arts Kemetic Yoga at The Dock BookShop in Fort Worth. Enjoy a relaxing & rejuvenating Afrikan Centered Environment. Experience the Kemetic Beauty of Divine Breath, Balance Posture & Alignment.
Come learn Kemetic Yoga which is based upon the Kemetic Concept of Ma'at which states that the universe is order balance harmony and reciprocity
---
GET THAT BOOK PUBLISHED
Saturday, April 14
- 12-2 PM RSVP
Whether it's a fictional novel, a guide book, or a manuscript - get that book published. Come learn and let us help you accomplished
---
BLACK PANTHER TALKS: Decode & Discuss
Part 2:
FROM THE NILE VALLEY TO WAKANDA
SATURDAY APRIL 21, 2018
4-6 PM AT THE DOCK BOOKSHOP RSVP View Flyer
The conversation continues! Part 2 discussion will delve into the imagery and symbolism of Nile Valley Civilization depicted in the movie. Bring family and friends to share thoughts and respond to Marvel's Black Panther Movie - a record-breaking movie that has impacted black families & communities globally.
---
LOVIN OUR NATURAL HAIR! Workshop
Presented by Crown-n-Glory