Men We Reaped: A Memoir (Paperback)

List Price: $17.00
Our Price: $11.56
(Save: $5.44 32%)
Usually Ships in 1-5 Days
October 2013 Indie Next List
---
"Men We Reaped is one of the rare nonfiction books that seem destined to become a literary classic. National Book Award-winner Ward intertwines the story of her life growing up poor and black in rural coastal Mississippi with the lives of five young men she was close to -- including her brother -- who died within a two-year span soon after she finished college. Ward writes with fire and passion as she captures the day-to-day systemic injustices and struggles that she and her family faced. Also clear is the deep love and roots that tie her to the people and place where she was raised. This book will break your heart, make you think, and get you angry. In the tradition of I Know Why The Caged Bird Sings, this is memoir at its finest."
— Caitlin Caulfield, Odyssey Bookshop, South Hadley, MA
Description
---
Universally praised, Jesmyn Ward's Men We Reaped confirmed her ascendancy as a writer of both fiction and nonfiction, her Southern requiem securing its place on bestseller and best books of the year lists, with honors and awards pouring in from around the country.
Jesmyn's memoir shines a light on the community she comes from, in the small town of DeLisle, Mississippi, a place of quiet beauty and fierce attachment. Here, in the space of four years, she lost five young men dear to her, including her beloved brother-lost to drugs, accidents, murder, and suicide. Their deaths were seemingly unconnected, yet their lives had been connected, by identity and place, and as Jesmyn dealt with these losses, she came to a staggering truth: These young men died because of who they were and the place they were from, because certain disadvantages breed a certain kind of bad luck. Because they lived with a history of racism and economic struggle. The agonizing reality commanded Jesmyn to write, at last, their true stories and her own.
Men We Reaped opens up a parallel universe, yet it points to problems whose roots are woven into the soil under all our feet. This indispensable American memoir is destined to become a classic.
About the Author
---
Jesmyn Ward received her M.F.A. from the University of Michigan and is currently an associate professor of creative writing at Tulane University. She is the editor of the anthology The Fire This Time and the author of the novels Where the Line Bleeds and Salvage the Bones, the latter of which won the 2011 National Book Award and was a finalist for the Dayton Literary Peace Prize. Ward lives in DeLisle, Mississippi.
Praise For…
---
"An important, and perhaps even essential, book." —San Francisco Chronicle
"[Ward] chronicles our American story in language that is raw, beautiful and dangerous… [Her] singular voice and her full embrace of her anger and sorrow set this work apart from those that have trodden similar ground." —The New York Times Book Review
"Heart-wrenching… A brilliant book about beauty and death… at once a coming-of-age story and a kind of mourning song… filled [with] intimate and familial moments, each described with the passion and precision of the polished novelist Ward has become… Ward is one of those rare writers who's traveled across America's deepening class rift with her sense of truth intact." —Los Angeles Times
"A memoir that is as searing as her fiction, as poignant and as timely... in a country that is supposed to be post racial but still seems hell-bent on the epidemic destruction of young black men." —Edwidge Danticat, The Progressive
Begin Your Search For BOOKS Here!
Holiday Shopping Guide 2017
Congrats to Jesmyn Ward, 2017 National Book Award Winner
The Mother of Black Hollywood: A Memoir (Hardcover)
By Jenifer Lewis, Malaika Adero
...I was pulling into my driveway after spending a Christmas alone, in South Africa. I'd run off to get away from the pain of a broken engagement, or so I told myself. While there, I toured Robben Island and stood looking at the cell where Nelson Mandela had been locked up for twenty-seven years. Twenty-seven goddamn years, stuck in a cell. It was deeply moving. It wasn't until my car rolled into the garage of my home that I really took in the fact that while Mandela may have been in a cell for twenty-seven years, he had never been imprisoned. I however, had no jail cell, but had been emotionally caged all my life-constricted by my own secrets.
I turned off the ignition, looked around and thought, I owe...
---
Upcoming Guests & Events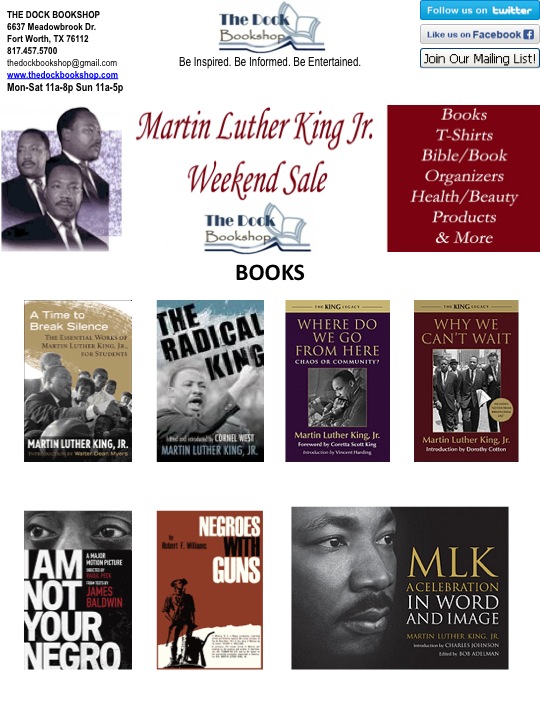 MLK WEEKEND SALE!
Shop The Dock this weekend for
Books - T-shirts - and more!
Dock in the Community