Donate to Literacy
Begin Your Search For BOOKS Here!
TEXAS LITERACY CONNECTION
THE MISSION of Texas Literacy Connection (TLC) (also known as Literary Arts Connection), a non-profit 501(c)(3) corporation, is to promote literacy and literary arts that will inspire individual and community action to build relationships, improve lives and better society.
TLC is dedicated to promoting literacy in its totality based on the National Literacy Act of 1991 definition of literacy: "an individual's ability to read, write, speak, compute and solve problems to function on a job and in sociery to achieve one's goals and develop one's knowledge and potential."
TEXAS LITERACY CONNECTION PROGRAMS (in collaboration with The Dock Bookshop)
Children's Story Time/FunTime
Youth Reading Clubs/Kickbacks
Summer Community Reading Initiative
Tutoring
GED Classes & Adult Literacy
Multilingual Education
Writing and Communication Workshops & Panels
International Book Project
Book Vouchers
TEXAS LITERACY CONNECTION EVENTS
Black History Lecture Series
Writers & Readers Conference
DFW Literary SoulFEST
Winter Wonderland of Reading
Leaders for Literacy Annual Benefit
Bi-Monthly Newsletter & Shopping Guide
Black Panther Comic Booklist
Upcoming Guests & Events
KR Bankston and Elizabeth LaShaun
RSVP

Conversations & Cocktails
Saturday, April 14
Following the Driven Divas Bowl for Literacy, authors KR Bankston and Elizabeth LaShaun will meet at The Dock After Hours for Conversation and Cocktails. Click here to view full flyer
Driven Divas' Bowl-On-A-Lane for Literacy is Sat. April 14, 2018 2-5 PM
at Forum Bowl in Grand Prairie, Texas.
---
JOIN US!
DRUMS OF THUNDER:LYRICS WITH FIR
Poetry Month Celebration Featuring Leo Hassan
Tuesday, April 17, 2018
8-10 PM at The Dock
Hosted by Chuck Jackson. Food, Live DJ, Amazing Show. All Are invited!. $5 Cover
---
POWER SESSION & BOOK SIGNING
with Sharetha Nicole
RSVP

Sharetha explains how to embrace a life change by listening to that inner voice, acknowledging the signs, but most importantly by walking in God's purpose once it has been defined.
---
NIGHT WOMEN BOOK CLUB 1st Sat 3-5 PM
RSVP
Looking for a book club to join? You are invited to join Night Women Book Club focusing on fiction new releases, classics and favorites
Upcoming Book Discussions:
May 5 - The Hate U Give by Angie Thomas
---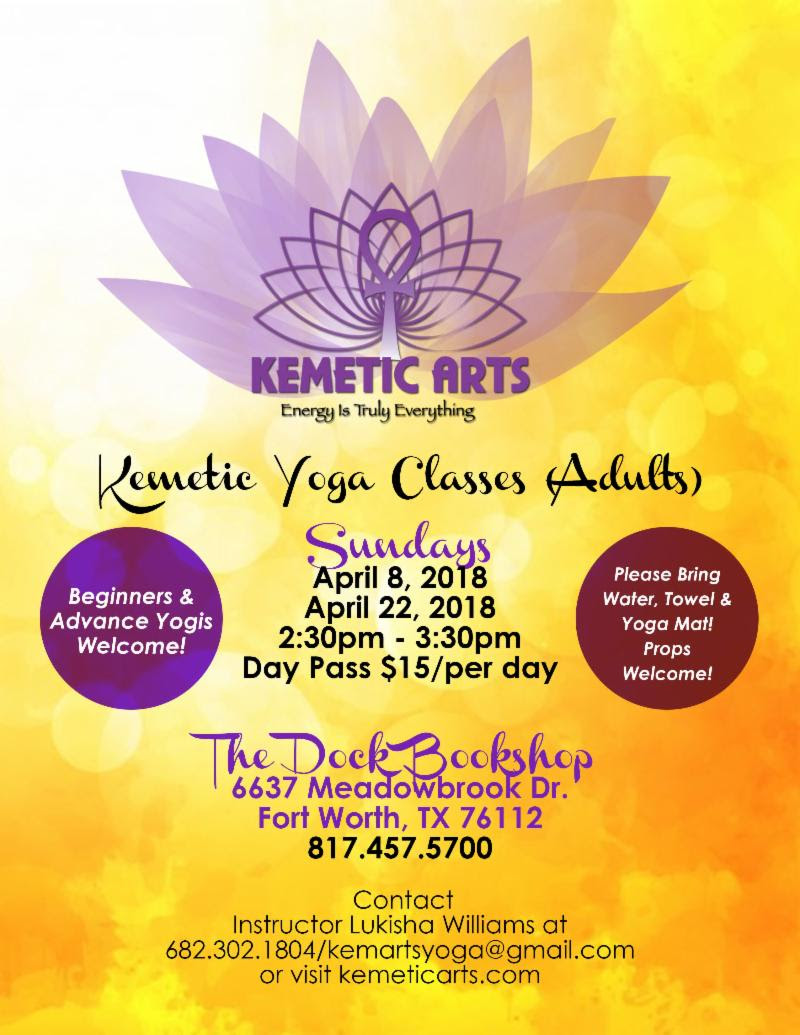 Come Join Kemetic Arts Kemetic Yoga at The Dock BookShop in Fort Worth. Enjoy a relaxing & rejuvenating Afrikan Centered Environment. Experience the Kemetic Beauty of Divine Breath, Balance Posture & Alignment.
Come learn Kemetic Yoga which is based upon the Kemetic Concept of Ma'at which states that the universe is order balance harmony and reciprocity
---
GET THAT BOOK PUBLISHED
Saturday, April 14
- 12-2 PM RSVP
Whether it's a fictional novel, a guide book, or a manuscript - get that book published. Come learn and let us help you accomplished
---
BLACK PANTHER TALKS: Decode & Discuss
Part 2:
FROM THE NILE VALLEY TO WAKANDA
SATURDAY APRIL 21, 2018
4-6 PM AT THE DOCK BOOKSHOP RSVP View Flyer
The conversation continues! Part 2 discussion will delve into the imagery and symbolism of Nile Valley Civilization depicted in the movie. Bring family and friends to share thoughts and respond to Marvel's Black Panther Movie - a record-breaking movie that has impacted black families & communities globally.
---
LOVIN OUR NATURAL HAIR! Workshop
Presented by Crown-n-Glory