Sing, Unburied, Sing (Kobo eBook)
$13.99
Description
---
*WINNER of the NATIONAL BOOK AWARD for FICTION
*A TIME MAGAZINE BEST NOVEL OF THE YEAR and A NEW YORK TIMES TOP 10 OF 2017
*Finalist for the Kirkus Prize
*Finalist for the Andrew Carnegie Medal
*Publishers Weekly Top 10 of 2017
"The heart of Jesmyn Ward's Sing, Unburied, Sing is story—the yearning for a narrative to help us understand ourselves, the pain of the gaps we'll never fill, the truths that are failed by words and must be translated through ritual and song...Ward's writing throbs with life, grief, and love, and this book is the kind that makes you ache to return to it." —Buzzfeed
In Jesmyn Ward's first novel since her National Book Award–winning Salvage the Bones, this singular American writer brings the archetypal road novel into rural twenty-first-century America. An intimate portrait of a family and an epic tale of hope and struggle, Sing, Unburied, Sing journeys through Mississippi's past and present, examining the ugly truths at the heart of the American story and the power—and limitations—of family bonds.
Jojo is thirteen years old and trying to understand what it means to be a man. He doesn't lack in fathers to study, chief among them his Black grandfather, Pop. But there are other men who complicate his understanding: his absent White father, Michael, who is being released from prison; his absent White grandfather, Big Joseph, who won't acknowledge his existence; and the memories of his dead uncle, Given, who died as a teenager.
His mother, Leonie, is an inconsistent presence in his and his toddler sister's lives. She is an imperfect mother in constant conflict with herself and those around her. She is Black and her children's father is White. She wants to be a better mother but can't put her children above her own needs, especially her drug use. Simultaneously tormented and comforted by visions of her dead brother, which only come to her when she's high, Leonie is embattled in ways that reflect the brutal reality of her circumstances.
When the children's father is released from prison, Leonie packs her kids and a friend into her car and drives north to the heart of Mississippi and Parchman Farm, the State Penitentiary. At Parchman, there is another thirteen-year-old boy, the ghost of a dead inmate who carries all of the ugly history of the South with him in his wandering. He too has something to teach Jojo about fathers and sons, about legacies, about violence, about love.
Rich with Ward's distinctive, lyrical language, Sing, Unburied, Sing is a majestic new work and an unforgettable family story.
Begin Your Search For BOOKS Here!
Holiday Shopping Guide 2017
Congrats to Jesmyn Ward, 2017 National Book Award Winner
The Mother of Black Hollywood: A Memoir (Hardcover)
By Jenifer Lewis, Malaika Adero
...I was pulling into my driveway after spending a Christmas alone, in South Africa. I'd run off to get away from the pain of a broken engagement, or so I told myself. While there, I toured Robben Island and stood looking at the cell where Nelson Mandela had been locked up for twenty-seven years. Twenty-seven goddamn years, stuck in a cell. It was deeply moving. It wasn't until my car rolled into the garage of my home that I really took in the fact that while Mandela may have been in a cell for twenty-seven years, he had never been imprisoned. I however, had no jail cell, but had been emotionally caged all my life-constricted by my own secrets.
I turned off the ignition, looked around and thought, I owe...
---
Upcoming Guests & Events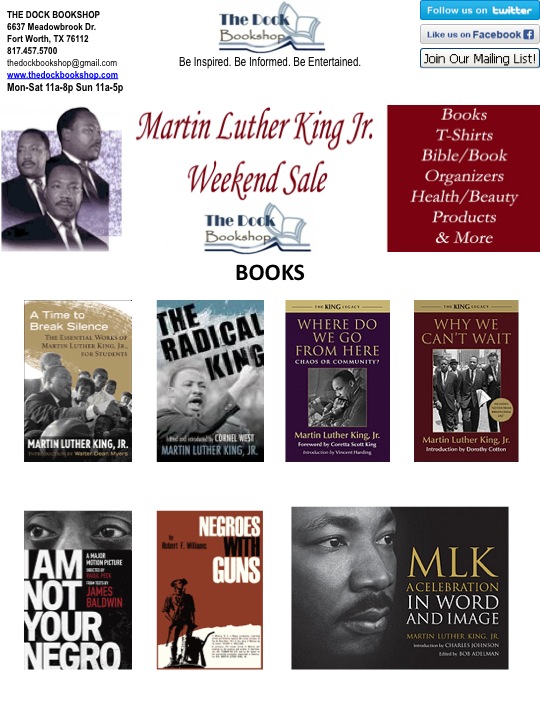 MLK WEEKEND SALE!
Shop The Dock this weekend for
Books - T-shirts - and more!
Dock in the Community