2017 April New Releases Adult Non Fiction
Copy and paste book title in the book search engine
1.30 Days a Black Man: The Forgotten Story That Exposed the Jim Crow South by Steigerwald, Bill
2.42 Faith: The Rest of the Jackie Robinson Story by Henry, Ed
3.Lift Off: From the Classroom to the Stars by Livingston, Donovan
4.S.E.A.L.: Sex, Entertainment & Lies by Smith, Londell, Kay, Mya
5.A $500 House in Detroit: Rebuilding an Abandoned Home and an American City by Philp, Drew
6.Golden: The Miraculous Rise of Steph Curry by Thompson, Marcus
7.Official Guide to the Smithsonian National Museum of African American History and Culture by National Museum of African American History and Culture , Kendrick, K.
8.Return of the King: Lebron James, the Cleveland Cavaliers and the Greatest Comeback in NBA History by Windhorst, Brian, McMenamin, Dave
9.Dig If You Will the Picture: Funk, Sex, God and Genius in the Music of Prince by Greenman, Ben
10.Locking Up Our Own: Crime and Punishment in Black America by Forman, James
11.I Am Number 8: Overlooked and Undervalued, But Not Forgotten by God by Gray, John
12.The Cut: Lose Up to 10 Pounds in 10 Days and Sculpt Your Best Body by Chestnut, Morris, Obadike, Obi
13.Black Privilege: Opportunity Comes to Those Who Create It by Tha God, Charlamagne
14.Blast the Sugar Out!: Lower Blood Sugar, Lose Weight, Live Better by Smith, Ian
15.Slam-Dunk Success: Leading from Every Position on Life's Court by Scott, Byron, et al
16. Obama: The Historic Presidency of Barack Obama - 2,920 Days by Greenberg, Mark
17.Michelle Obama: A Photographic Journey by Felix, Antonia
Begin Your Search For BOOKS Here!
We're Celebrating 10 Years of Business and Service
Join us in the Celebration!
Make The Dock Bookshop one of your shopping destinations!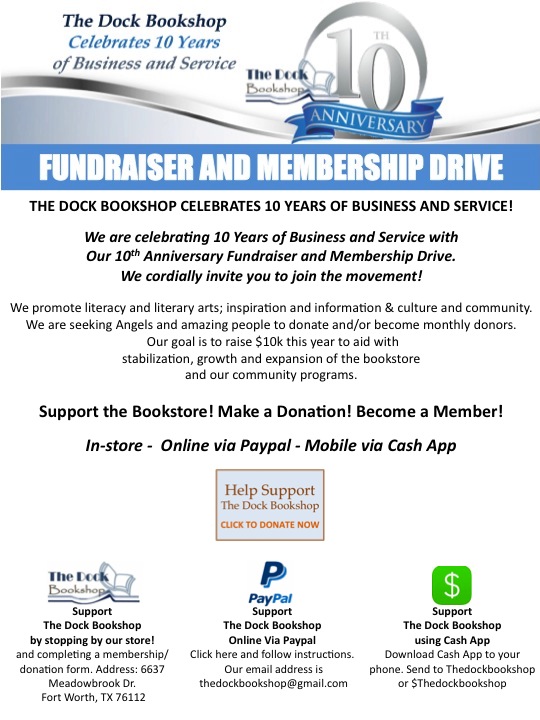 Bi-Monthly Newsletter & Shopping Guide
Black Panther Comic Booklist
Upcoming Guests & Events
An Evening with DR LLAILA AFRIKA
Friday, May 25, 2018 7:00 PM
The Dock Bookshop
KICK OFF
Memorial Day Weekend
and Summer with
Dr. Llaila Afrika
Author - Holistic Health Expert
Come sit at the feet of this Elder and gain wisdom and knowledge to better your life and the lives of others.
Cost $10
Purchase Tickets
Dr. LlailaAfrika offers over 45 years of hands on Holistic Health experience, and has practiced all across the world. He is the author of over 80 CD's, DVD's and books on various health, history, and nutrition topics. Specialties include:
*Doctor of Naturopath (Diploma)
*Licensed Acupuncturist
*Certified Nutritional Counselor
*Certified Addictionologist
*Medical Astrologist
*Licensed Medical Massage Therapist
*Marriage Counselor
*Gullah / Historian
---
FEATURED AUTHOR & BOOK
Introducing New Author Kim Gbadebo
and her new book release THE ULTIMATE BETRAYAL
Available at The Dock Bookshop