About Us
The Dock Bookshop
The Dock Bookshop opened in 2008 and is now one of the largest independent, full service, African-American owned bookstores in Texas and the Southwest. Our mission is to inspire, inform, entertain and edu-tain our customers through books and book-related events in a relaxing and spacious environment.
We sell new releases, best selling & popular fiction and non-fiction books for adults, children and youth. Our selections includes faith & inspiration, self help & relationships, health & wellness, money & business, politics & current events, biographies & memoirs, history & culture, cook books, Bibles, poetry, fiction, romance, Christian fiction, urban lit, erotica, international, mysteries & thrillers, sci-fi, fantasy & horror, adventure & classics.
We also sell T-shirts, women and men apparel, jewelry, accessories, health and beauty products, incense, oils, DVD's. albums, greeting cards, journals and more!
More than a bookstore, The Dock Bookshop is a force for good in the community, regularly hosting author talks, poetry & spoken word, children storytime, panel discussions, community meetings, film screenings & more. The Dock bookshop is 4000 square feet with a designated area to hold book signings and other events. Call to schedule your next meeting or event at the Dock!
The Dock Bookshop is located in Dallas-Fort Worth, nestled off of Interstate-30, a direct connection between downtown Fort Worth and downtown Dallas, Texas. The Dock is surrounded by three major universities, junior colleges, progressing communities and minutes away from the entertainment district of Arlington - home of the Dallas Cowboys, Six Flags Texas/Hurricane Harbor, Rangers Ballpark and more. Dallas-Arlington-Fort Worth has an estimated population of 5.5 million.
Dock MediaWorks - the dynamic Media, Marketing & Public Relations Team of The Dock Bookshop that oversees Dock Radio, Dock Cinema movie screenings (supporting International and National Award winning indie films) and promotional services for authors and businesses.
Dock Radio - premier radio that is easily accessible through the interenet and app. Dock Radio is a lively, informative and power-packed platform dedicated to delivering relevant, interesting, educational, and entertaining information and talk radio while playing positive and progressive music to our local and global communities. Two ways to TUNE IN 1)Download "Dock Radio" App on your phone via your app store or google play. 2) Go online to www.dockradiolive.com and click play.

The top radio shows on Dock Radio - Common Ground, Roots and Reason, Dock Power Hour, Blue Monday
Texas Literacy Connection - The Texas Literacy Connection (TLC), a non profit (501(c)(3)) dedicated to promoting literacy and literary arts to build healthy communities, on many literacy projects. TLC is the non-profit arm of The Dock Bookshop that supports local, national and international literacy initiatives, promote reading and writing, and inspire community action that will connect people and improve lives. TLC carries out its mission to promote literacy through hosting annual festivals, book related events, and offering various classes and workshops.
Sponsored Events:
AllStar Author Showcase
DFW Literary SoulFEST
Love Literature Tour
Texas Literary Bowl
New Year Book Jubilee
Celebrity & National Best Selling Author List
(all events can be found throughout the internet):
Tyrese Gibson - (Booksigning)
Pam Grier - (Booksigning 2010 & 2011)
Russell Simmons - (Booksigning)
Spike Lee - (Radio Guest)
Omar Tyree - (Book Signing & Radio)
Isaiah Washington - (Booksigning)
Sister Souljah - (Booksigning)
Gabriel Union - Speaker & Author Contributor (Booksigning)
Dr. Raymond Winbush - (Booksigning)
LL Cool J aka Todd Smith - Celebrity/ New York Times Bestseller (Booksigning)
Professor Griff (Booksigning)
Fred Hampton, Jr - (Radio Guest)
Dr. Maulana Karenga - (Radio Guest)
Carl Weber - (Radio Guest) / Booksigning)
Kimberla Lawson Roby - (Radio Guest) / Booksigning)
Dr. Molefi Asante - (Radio Guest) / Booksigning)
Kirk Franklin- Celebrity Author (Booksigning)
Hill Harper - New York Times & Essence Bestseller (Booksigning)
Lord Jamar (Brand Nubian) - (Radio Guest)
Dr. Claud Anderson - (Radio Guest))
Cynthia Mckinney - (Radio Guest) Green Party
Shahrazad Ali - (Radio Guest) - Blackman/ Blackwoman Guide to Understanding
Eric Jerome Dickey - New York Times, Essence, Bestseller (Booksigning)
Eric Snow - Celebrity & NBA Author (Booksigning)
Wahida Clark - Essence & New York Times Bestseller (Booksigning)
Rochelle Alers - Essence Bestseller (Booksigning)
Mary B Morrison - New York Times, Wall Street Journal & Essence Bestseller (Booksigning)
Francis Ray - New York Times & Essence Bestseller (Booksigning)
Victor McGlothin - Essence Bestseller (Booksigning)
and many many more bestselling authors
Performance Poets in store:
Abiodun Oyewole - The Last Poets
Georgia Me - Emmy, Tony , HBO Def Poet
Black Ice - Tony Award & Def Poet
Sunni Patterson - HBO Def Poet
Bethsheba A Rem - International Performance Poet
and many many more performance poets
PRODUCT FEATURES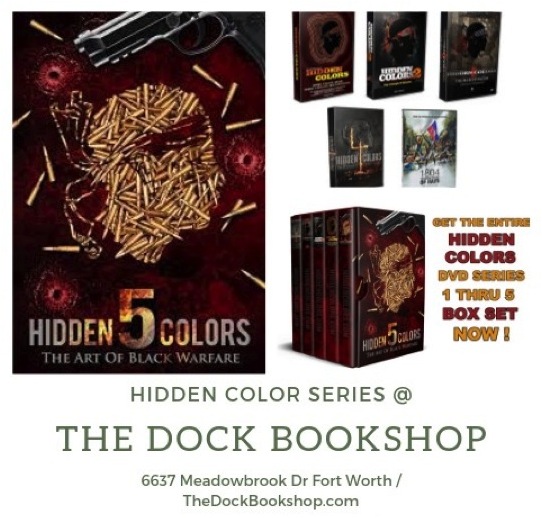 HIDDEN COLORS 5
Available at The Dock Bookshop!
Hidden Colors 5 is the final installment of the critically acclaimed Hidden Colors documentary series. In this installment, the film explores the history of warfare as it relates to global Black society. The film is broken down into 7 chapters that examines the ways the system of racism wages warfare from a historical, psychological, sexual, biological, health, educational, and military perspective.
---
---
EVENTS
Special Guest/Author/Book Events
A TIME TO HEAL SYMPOSIUM WITH MATHEW KNOWLES - FREE EVENT!
and
November 9 - Texas Wesleyan University
Nick & Lou Martin University Center
MORE EVENTS