About Us
The Dock Bookshop
The Dock Bookshop opened in 2008 and is now one of the largest independent, full service, African-American owned bookstores in Texas and the Southwest. Our mission is to inspire, inform, entertain and edu-tain our customers through books and book-related events in a relaxing and spacious environment.
We sell new releases, best selling & popular fiction and non-fiction books for adults, children and youth. Our selections includes faith & inspiration, self help & relationships, health & wellness, money & business, politics & current events, biographies & memoirs, history & culture, cook books, Bibles, poetry, fiction, romance, Christian fiction, urban lit, erotica, international, mysteries & thrillers, sci-fi, fantasy & horror, adventure & classics.
We also sell T-shirts, women and men apparel, jewelry, accessories, health and beauty products, incense, oils, DVD's. albums, greeting cards, journals and more!
More than a bookstore, The Dock Bookshop is a force for good in the community, regularly hosting author talks, poetry & spoken word, children storytime, panel discussions, community meetings, film screenings & more. The Dock bookshop is 4000 square feet with a designated area to hold book signings and other events. Call to schedule your next meeting or event at the Dock!
The Dock Bookshop is located in Dallas-Fort Worth, nestled off of Interstate-30, a direct connection between downtown Fort Worth and downtown Dallas, Texas. The Dock is surrounded by three major universities, junior colleges, progressing communities and minutes away from the entertainment district of Arlington - home of the Dallas Cowboys, Six Flags Texas/Hurricane Harbor, Rangers Ballpark and more. Dallas-Arlington-Fort Worth has an estimated population of 5.5 million.
Dock MediaWorks - the dynamic Media, Marketing & Public Relations Team of The Dock Bookshop that oversees Dock Radio, Dock Cinema movie screenings (supporting International and National Award winning indie films) and promotional services for authors and businesses.
Dock Radio - premier radio that is easily accessible through the interenet and app. Dock Radio is a lively, informative and power-packed platform dedicated to delivering relevant, interesting, educational, and entertaining information and talk radio while playing positive and progressive music to our local and global communities. Two ways to TUNE IN 1)Download "Dock Radio" App on your phone via your app store or google play. 2) Go online to www.dockradiolive.com and click play.

The top radio shows on Dock Radio - Common Ground, Roots and Reason, Dock Power Hour, Blue Monday
Texas Literacy Connection - The Texas Literacy Connection (TLC), a non profit (501(c)(3)) dedicated to promoting literacy and literary arts to build healthy communities, on many literacy projects. TLC is the non-profit arm of The Dock Bookshop that supports local, national and international literacy initiatives, promote reading and writing, and inspire community action that will connect people and improve lives. TLC carries out its mission to promote literacy through hosting annual festivals, book related events, and offering various classes and workshops.
Sponsored Events:
AllStar Author Showcase
DFW Literary SoulFEST
Love Literature Tour
Texas Literary Bowl
New Year Book Jubilee
Celebrity & National Best Selling Author List
(all events can be found throughout the internet):
Tyrese Gibson - (Booksigning)
Pam Grier - (Booksigning 2010 & 2011)
Russell Simmons - (Booksigning)
Spike Lee - (Radio Guest)
Omar Tyree - (Book Signing & Radio)
Isaiah Washington - (Booksigning)
Sister Souljah - (Booksigning)
Gabriel Union - Speaker & Author Contributor (Booksigning)
Dr. Raymond Winbush - (Booksigning)
LL Cool J aka Todd Smith - Celebrity/ New York Times Bestseller (Booksigning)
Professor Griff (Booksigning)
Fred Hampton, Jr - (Radio Guest)
Dr. Maulana Karenga - (Radio Guest)
Carl Weber - (Radio Guest) / Booksigning)
Kimberla Lawson Roby - (Radio Guest) / Booksigning)
Dr. Molefi Asante - (Radio Guest) / Booksigning)
Kirk Franklin- Celebrity Author (Booksigning)
Hill Harper - New York Times & Essence Bestseller (Booksigning)
Lord Jamar (Brand Nubian) - (Radio Guest)
Dr. Claud Anderson - (Radio Guest))
Cynthia Mckinney - (Radio Guest) Green Party
Shahrazad Ali - (Radio Guest) - Blackman/ Blackwoman Guide to Understanding
Eric Jerome Dickey - New York Times, Essence, Bestseller (Booksigning)
Eric Snow - Celebrity & NBA Author (Booksigning)
Wahida Clark - Essence & New York Times Bestseller (Booksigning)
Rochelle Alers - Essence Bestseller (Booksigning)
Mary B Morrison - New York Times, Wall Street Journal & Essence Bestseller (Booksigning)
Francis Ray - New York Times & Essence Bestseller (Booksigning)
Victor McGlothin - Essence Bestseller (Booksigning)
and many many more bestselling authors
Performance Poets in store:
Abiodun Oyewole - The Last Poets
Georgia Me - Emmy, Tony , HBO Def Poet
Black Ice - Tony Award & Def Poet
Sunni Patterson - HBO Def Poet
Bethsheba A Rem - International Performance Poet
and many many more performance poets
Support The Dock Bookshop 10th Anniversary Fundraiser and Membership Drive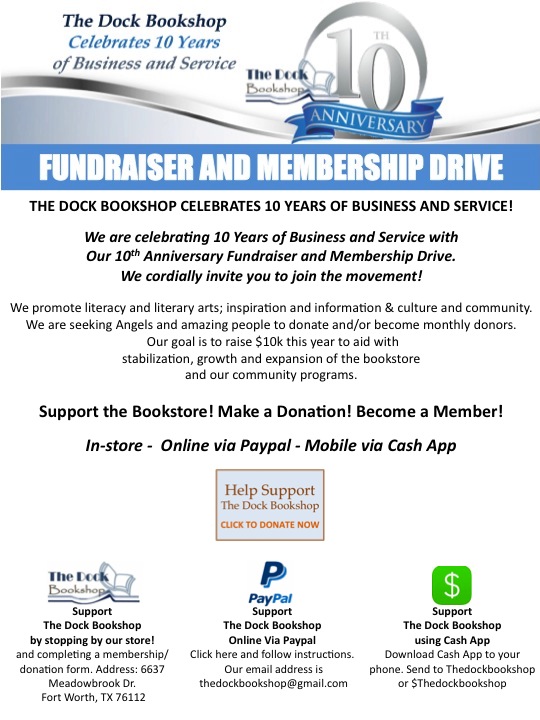 12-1 PM @ The Dock Bookshop
RSVP
Free event. Books will be available for purchase at event. Priority seating for Dock Members and those who purchase their book from The Dock Bookshop.
About Book
For decades, serial entrepreneur James Prince presided over Rap-A-Lot Records, one of the first and most successful independent rap labels. In his memoir, he explains how he earned his reputation as one of the most respected men in Hip Hop. By staying true to his three principles of heart, loyalty, and commitment, and an unwavering faith in God, he has defeated many adversaries. Whether battling the systemic cycle of poverty, record label executives, boxing promoters, or corrupt DEA agents, Prince has always emerged victorious. Respect isn't given, it's earned. In recounting his compelling life story, Prince analyzes the art and science of earning respect - and giving respect - and how to apply these principles to your own life.
---
DFW LITERARY SOULFEST
SATURDAY, SEPTEMBER 22, 2018
~ 2:00 - 7:00 PM View Flyer
The Dock Bookshop 6637 Meadowbrook Dr, Fort Worth, TX 76112
RSVP
A Celebration of Books, Reading, Community and Culture during National Literacy Month!
Author Presentations - Book Club Meet N Greet - Book Reviews & Discussions - Children's Story Time - African Drumming - Aretha Franklin Tribute and more!
---
DFW LITERARY SOULFEST KICKOFF
NAPPILY EVERY AFTER WATCH PARTY
hosted by Nappiology Inc
DFWLSF Social Hour/Meet & Greet: 6:30 pm l Show: 7:30 pm
RSVP
When a perfectionist ad exec experiences a romantic setback, she embarks on a journey of self-discovery that begins with a dramatic hair makeover.
Starring: Sanaa Lathan, Ricky Whittle, Lynn Whitfield.
A soulful barber helps a woman piece her life back together after an accident at her hair salon makes her realize she is not living life to the fullest.
Director: Haifaa al-Mansour.
Based on Book: Nappily Ever After; by Trisha R. Thomas
. Production company: Netflix
---
REMEMBERING THE LIFE AND LEGACY OF
ARETHA FRANKLIN
We will honor and pay tribute to The Queen during DFW LITERARY SOULFEST through words, poetry and sound. Community is welcomed to share words and artistic expressions.
---
with Children's Author CLAUDETTE ESMERELDA
Who will share from her book LEAH IS SEEN
About Book
"Leah Is Seen" is about a little girl who is unsure of herself. Did someone tell Leah that she is not smart or talented or did she imagine this all on her own? No matter how Leah came to this conclusion, it is real to her now, and that's why this book was written; to dispel all untruths that not only Leah but all children are smart, talented and purely unique. Each child born is a gift to the world because their contribution to humanity is priceless.
---
Tuesday Open Mic Night
Poetry, Spoken Word, Music & Comedy and more. Open to the public. $5 Cover.
Tue. Sept 18th Feature: Rage Almighty
---
Local Organizing Committee Conflict Resolution Training
Thursday, September 20, 2018
7:00 PM @ The Dock Bookshop
RSVP
A Call to the Community to Come out for Conflict Resolution. Conflicts are inevitable. As we navigate our relationships, we must focus on applying conflict resolution strategies that will benefit all parties. Come learn more!
---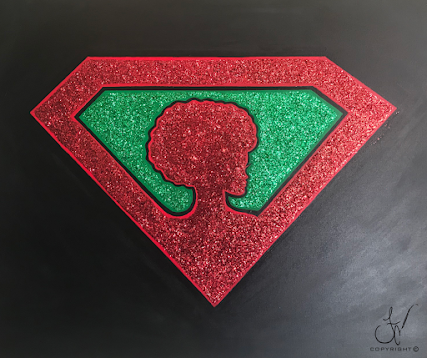 You are invited, turn up your favorite beverage* and enjoy step-by-step instruction from experienced artist Frederick Cowlah.
You'll leave with an exclusive one-of-a-kind creation titled the Superblackwoman from his collection The Art of War: World War I.
---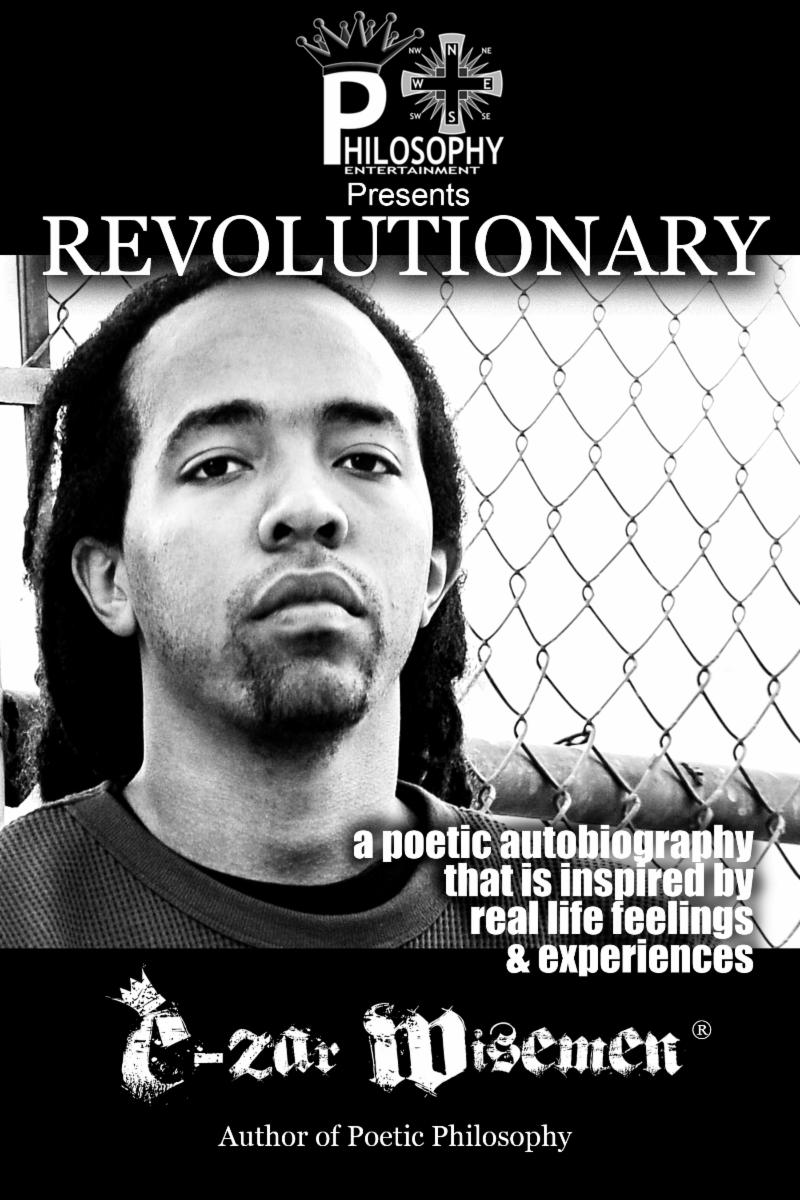 ABOUT THE BOOK
Revolutionary is the follow up to it's precursor Poetic Philosophy under C-zar Wisemen's former name Derek Perkins. This poetry book is a poetic autobiography that is inspired by real life feelings and experiences. This sequel gets deeper into the author's background that leads to who he is and his views on the world and issues affecting black people. In this work, C-zar addresses the entertainment industry, religion, self-reliance, crooked politics, romance, heartbreak, and more. This author is hopeful that his writings will spark the minds of millions of black people in the United States and around the world to fight against white supremacy and rise to greatness.

ABOUT THE AUTHOR
Rap artist C-zar Wisemen is from Charlottesville, Virginia, representing the indie rap/ hip-hop label Philosophy Entertainment. Albums released are "Tha New Testament" and "Real Niggaz" added with an Ep titled "Revolution" as well as a few singles from his music catalog. C-zar also wanted to showcase his poetic side by releasing two poetry books called "Poetic Philosophy" under the name Derek Perkins and "Revolutionary" under his current name C-zar Wisemen. Acting is also a passion of his, and he has acted in a few indie films. C-zar Wisemen's aim is to inspire the black community to change for the better through his works.
---
Black Panther Comic Booklist