About Us
The Dock Bookshop
The Dock Bookshop opened in 2008 and is now one of the largest independent, full service, African-American owned bookstores in Texas and the Southwest. Our mission is to inspire, inform, entertain and edu-tain our customers through books and book-related events in a relaxing and spacious environment.
We sell new releases, best selling & popular fiction and non-fiction books for adults, children and youth. Our selections includes faith & inspiration, self help & relationships, health & wellness, money & business, politics & current events, biographies & memoirs, history & culture, cook books, Bibles, poetry, fiction, romance, Christian fiction, urban lit, erotica, international, mysteries & thrillers, sci-fi, fantasy & horror, adventure & classics.
We also sell T-shirts, women and men apparel, jewelry, accessories, health and beauty products, incense, oils, DVD's. albums, greeting cards, journals and more!
More than a bookstore, The Dock Bookshop is a force for good in the community, regularly hosting author talks, poetry & spoken word, children storytime, panel discussions, community meetings, film screenings & more. The Dock bookshop is 4000 square feet with a designated area to hold book signings and other events. Call to schedule your next meeting or event at the Dock!
The Dock Bookshop is located in Dallas-Fort Worth, nestled off of Interstate-30, a direct connection between downtown Fort Worth and downtown Dallas, Texas. The Dock is surrounded by three major universities, junior colleges, progressing communities and minutes away from the entertainment district of Arlington - home of the Dallas Cowboys, Six Flags Texas/Hurricane Harbor, Rangers Ballpark and more. Dallas-Arlington-Fort Worth has an estimated population of 5.5 million.
Dock MediaWorks - the dynamic Media, Marketing & Public Relations Team of The Dock Bookshop that oversees Dock Radio, Dock Cinema movie screenings (supporting International and National Award winning indie films) and promotional services for authors and businesses.
Dock Radio - premier radio that is easily accessible through the interenet and app. Dock Radio is a lively, informative and power-packed platform dedicated to delivering relevant, interesting, educational, and entertaining information and talk radio while playing positive and progressive music to our local and global communities. Two ways to TUNE IN 1)Download "Dock Radio" App on your phone via your app store or google play. 2) Go online to www.dockradiolive.com and click play.

The top radio shows on Dock Radio - Common Ground, Roots and Reason, Dock Power Hour, Blue Monday
Texas Literacy Connection - The Texas Literacy Connection (TLC), a non profit (501(c)(3)) dedicated to promoting literacy and literary arts to build healthy communities, on many literacy projects. TLC is the non-profit arm of The Dock Bookshop that supports local, national and international literacy initiatives, promote reading and writing, and inspire community action that will connect people and improve lives. TLC carries out its mission to promote literacy through hosting annual festivals, book related events, and offering various classes and workshops.
Sponsored Events:
AllStar Author Showcase
DFW Literary SoulFEST
Love Literature Tour
Texas Literary Bowl
New Year Book Jubilee
Celebrity & National Best Selling Author List
(all events can be found throughout the internet):
Tyrese Gibson - (Booksigning)
Pam Grier - (Booksigning 2010 & 2011)
Russell Simmons - (Booksigning)
Spike Lee - (Radio Guest)
Omar Tyree - (Book Signing & Radio)
Isaiah Washington - (Booksigning)
Sister Souljah - (Booksigning)
Gabriel Union - Speaker & Author Contributor (Booksigning)
Dr. Raymond Winbush - (Booksigning)
LL Cool J aka Todd Smith - Celebrity/ New York Times Bestseller (Booksigning)
Professor Griff (Booksigning)
Fred Hampton, Jr - (Radio Guest)
Dr. Maulana Karenga - (Radio Guest)
Carl Weber - (Radio Guest) / Booksigning)
Kimberla Lawson Roby - (Radio Guest) / Booksigning)
Dr. Molefi Asante - (Radio Guest) / Booksigning)
Kirk Franklin- Celebrity Author (Booksigning)
Hill Harper - New York Times & Essence Bestseller (Booksigning)
Lord Jamar (Brand Nubian) - (Radio Guest)
Dr. Claud Anderson - (Radio Guest))
Cynthia Mckinney - (Radio Guest) Green Party
Shahrazad Ali - (Radio Guest) - Blackman/ Blackwoman Guide to Understanding
Eric Jerome Dickey - New York Times, Essence, Bestseller (Booksigning)
Eric Snow - Celebrity & NBA Author (Booksigning)
Wahida Clark - Essence & New York Times Bestseller (Booksigning)
Rochelle Alers - Essence Bestseller (Booksigning)
Mary B Morrison - New York Times, Wall Street Journal & Essence Bestseller (Booksigning)
Francis Ray - New York Times & Essence Bestseller (Booksigning)
Victor McGlothin - Essence Bestseller (Booksigning)
and many many more bestselling authors
Performance Poets in store:
Abiodun Oyewole - The Last Poets
Georgia Me - Emmy, Tony , HBO Def Poet
Black Ice - Tony Award & Def Poet
Sunni Patterson - HBO Def Poet
Bethsheba A Rem - International Performance Poet
and many many more performance poets
The Dock Bookshop COVID-19 Response
In response to the COVID-19 crisis and compliance to mandates by local, state and federal authorities,The Dock Bookshop storefront is closed. Health and safety of our staff team and customers are priority.

Although we are not allowing customers in the store during this health crisis, The Dock Bookshop will provide delivery by mail or curbside/pick up at the door for orders.

Curbside/Pick Up At Door:

Tue-Thu 1-6p and Fri-Sat 11a-6p

Customers can place their orders for personal care, home care, and educational and entertaining books (aka mind food) while staying home and being safe.

Ways to order

*we are working to add more items to website. Currently book orders can be place online.
Personal care - soaps, shea butter, toothpaste, deodorant, medicinal oils, hair care, herbal teas, etc
(please call/text/email to place orders until our website is updated)

Home care - sage, incense, fragrance oils, etc

(please call/text/email to place orders until our website is updated)

Books (aka Mind Food) - Educational and entertaining books. Children Books, History &Culture, Self-Help, Fiction and more


We are all in this together and together we will prevail!
Stay Safe! Stay Strong! Stay Connected:
Follow thedockbookshop on social media platforms-Facebook, Instagram and Twitter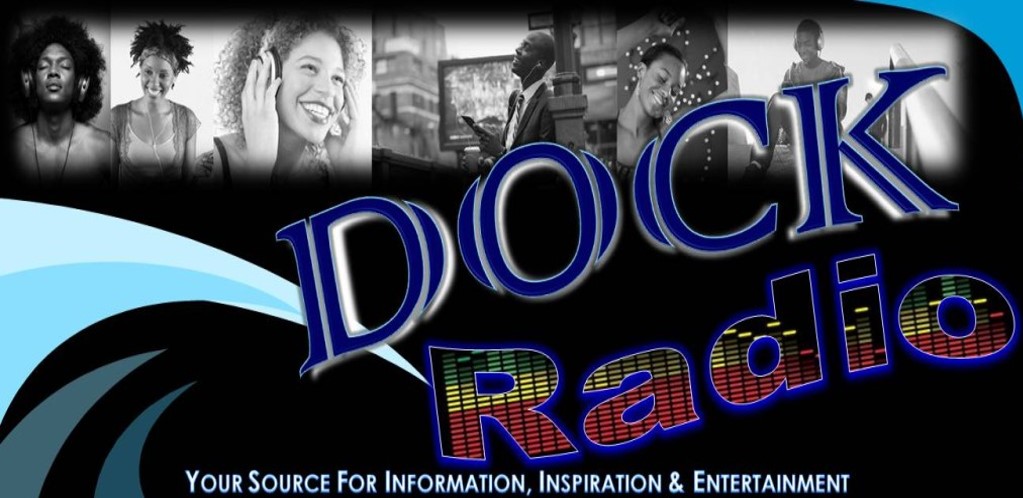 Dock Radio has a line-up of great shows and hosts highlighting various aspects of life and living!!! Also there will be guest authors discussing their books and businesses discussing their products and services on
We look forward to your interactions with the independent shows and guests.

For more information call 817-457-5700 or email: info@thedockbookshop.com

Ways to Tune-in
Download App "Dock Radio"

Website:
Weekly Schedule
Daily
6 AM Health Watch
11:30 AM Blue Ocean Strategy
12 Noon Health Watch
Monday
7 PM Tammy and Donya Show
8:15 PM Voices From the Past
Tuesday
7 PM Darolyn Brock Show
9:30 PM True-story Dramatization
Thursday
7 PM OnShore Radio
Saturday
10 AM OnShore Radio
Sunday

2 PM Soulfood Sundays

JOIN US TONIGHT!
Thursday, April 2 at 7:00 PM
OnShore hosted by Donya
Interview with Ivan Dockins
Author of Eleanor's Wicked Epiphany
OnShore Weekly

Thursday @7pm

Saturday @ 10am

AUDIO Listeners - "Dock Radio" - Download App: Iphone/Android/Ipad

or Website: www.dockradiolive.com

FACEBOOK: The Dock Bookshop & Dock Community

LIVE STREAM: www.docklive.tv


Call-In#: 972-427-7795

****

April 2nd @7pm - Author Ivan Dockins

April 4th @10am - Author Niyah Moore

April 11th @10am - Author Untamed
Weekly Schedule
OnShore Weekly

Thursday @7pm

Saturday @ 10am

****

April 2nd @7pm - Author Ivan Dockins

April 4th @10am - Author Niyah Moore

April 11th @10am - Author Untamed
DOCK OPEN MIC
Every Tuesday
8-10 PM
via ZOOM starting
Tuesday April 7

Stay Tuned for details!
Come share your talent and/or enjoy an evening of music, food, drinks and artistic expressions poetry, live performances, comedy and more -with good people and good energy!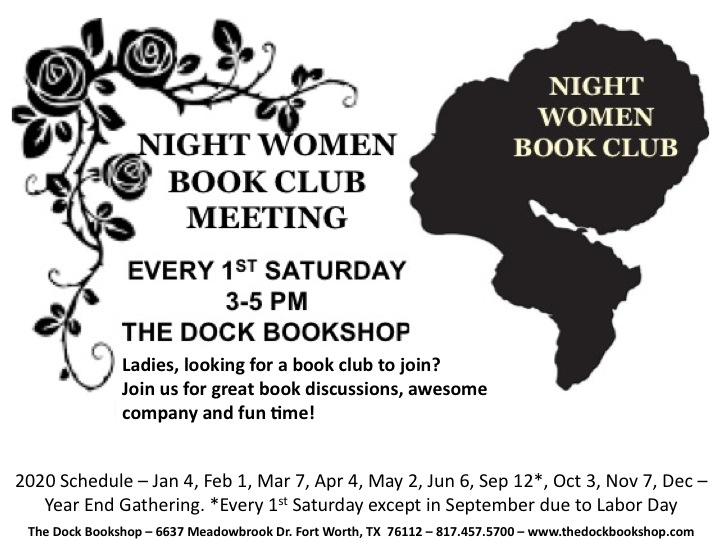 NIGHT WOMEN BOOK CLUB
1ST SATURDAY
3-5 PM via Zoom
Ladies, looking for a book club to join?
Join us for great book discussions, awesome company and fun time!
Book Discussion:
April 4 - Charcoal Joe
KIDS CLUB
April 25
2:30-3:30 PM
via Zoom

STAY TUNED FOR DETAILS
The Dock Bookshop Kids Club takes place every month and is sure to edutain both children and parents in an interactive setting. We have a variety of themed
programs that includes books, reading, play and more!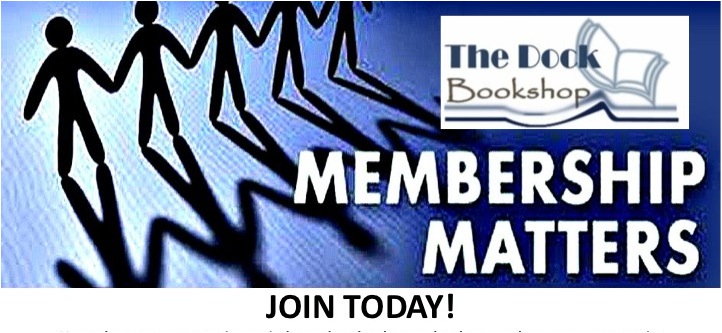 Not only are you supporting an independent bookstore that loves and supports community
but also your supporting...
*Literary and cultural programs including our Kids Club that impacts hundreds of families
*Artists who share their artistic expressions every Tuesday
Plus
*Receive additional discounts and savings on books
*Receive free tickets to Dock selected events
*Usage of meeting space (based on availability)
*Free advertising on Dock Eblast & social media outlets and more