Authors
Advertising & Promotion Opportunities
We would love to advertise and promote you and your book!
CLICK HERE TO LEARN MORE & GET STARTED TODAY!
Schedule your next event at The Dock!
817.457.5700
Love Is a Gamble But Still Try to Win:
The Poetic Soap Opera
Order Your Copy Today!
"Love Is A Gamble But Still Try To Win" (The Poetic Soap Opera) is a very relatable book for all adult ages. This is in no way a book for children. I repeat, this book is not for children. This book puts light on different moments in different relationships. Some moments are crazy, and some seem to be perfect. Relationships don't always work the way you think they will and sometimes, they do. Either way, keep pressing your luck. Keep trying to win. This is the only way to ever have a chance at the jack pot of love.
Books Available at The Dock Bookshop 6637 Meadowbrook Dr. Fort Worth, TX 76112
There's nothing like watching or reading dialogues of opinions when it comes to love and relationships. Just when you think you know all of the answers to questions presented on the subject, you realize that you just don't have all of the answers.
Introducing New Author
Kim Gbadebo
and her new book release THE ULTIMATE BETRAYAL
Available at The Dock Bookshop
PRODUCT FEATURES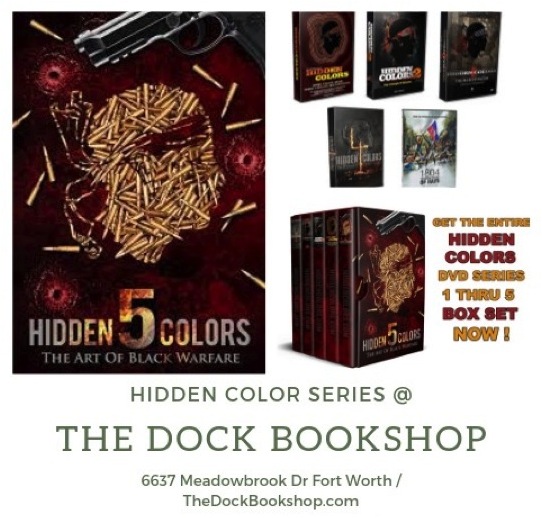 HIDDEN COLORS 5
Available at The Dock Bookshop!
Hidden Colors 5 is the final installment of the critically acclaimed Hidden Colors documentary series. In this installment, the film explores the history of warfare as it relates to global Black society. The film is broken down into 7 chapters that examines the ways the system of racism wages warfare from a historical, psychological, sexual, biological, health, educational, and military perspective.
---
---
EVENTS
The Dock Bookshop is Going to Frisco!
The Dock Bookshop
HOLIDAY EXPO
Sat. Dec. 14, 2019~12 Noon - 6 PM
Embassy Suites Frisco Convention Center
7600 John Q Hammons Dr. Frisco, TX 75034
Join us for this holiday and cultural experience!
Shopping - African Drumming - Book Discussions - Live Performances - Speakers - Book Signings
and more! Free Event
Interested in Vending Click here
or call/text 817.296.0288
---
We Are Thankful for You
MEMBER APPRECIATION
HOLIDAY RECEPTION
Tue. Dec. 17~6:30-8 PM @ The Dock
Dock Members or those interested in becoming Dock Members are cordially invited to attend our Member Appreciation Holiday Reception.
We will share our year in review and plans for 2020 over food and drinks
RSVP
or Become a Member Today!
---
DOCK TUESDAY OPEN MIC
Every Tuesday 8-10 PM @ The Dock
12-3 Sin's Birthday Bash
An evening of music, food, drinksand artistic expressions - poetry, live performances, comedy and more with good people and good energy. Come share your talent. $5 Cover
---
SMALL BUSINESS SATURDAY
Nov. 30
Shop local - Shop Indie - Shop The Dock!
Books, Incense, Oils, Health & Beauty, Jewelry, Albums, Journals, Calendars, Cards, Clothing, T-shirts, Bags and more!
---
READING WONDERLAND CHILDREN'S BOOK FAIR
Sat. Nov. 30~3-5 PM @ The Dock
Bring the family out to a reading wonderland of books, story time, guest authors, arts and crafts, refreshments and more.
RSVP
---
NWBC presents THE GATHERING OF READERS
Sat. Dec. 7~4-7 PM @ The Dock
THE GATHERING OF READERSis a celebration of Readers, Book Clubs and Authors - a social event with food, fun and entertainment
hosted by The NWBC.
Cost $10.00 per person. RSVP by December 5.
This event is for adults both men and women
RSVP
---
Stimulations to Success Ministries presents
THE RIGHT HAND OF GOD
Sun. Dec. 29 ~ 5-7 PM @ The Dock
We need guidance from God as we close out this year and make plans or 2020.
For more info call Minister Vanessa Brown 682-203-5646
---
KWANZAA AT THE DOCK
Thu. Dec. 26 - Tue. Dec. 31
Afternoon 2-4 PM and Evening 6-8 PM*
RSVP
Events are free and family oriented unless noted. Activities include libations, discussion of principles, lighting of candles, refreshments; and combination of story time, icebreaker, arts and crafts, film and presentation
(*Sat. Dec. 28 - Community Celebration 3-8 PM at The Dock; Sun. Dec. 29 evening is offsite; Tue. Dec. 31 evening is New Year's Eve Open Mic 8-10 PM $5 cover per person)
---
The Dock Bookshop
COMMUNITY KWANZAA CELEBRATION
Sat. Dec. 28
A free family cultural event
1 PM - Film: The Black Candle
3-7 PM - Libations, discussion of principles, lighting of candles, story time, icebreaker, arts and crafts, speakers, live performances, guest authors, book signings, refreshments and more!
RSVP
---
Dock in Community
Community Partners presents
KWANZAA FORT WORTH
Sat. Dec. 7~12 Noon-4 PM at
Austin Event Center 1125 E Berry St. FW
A CELEBRATION OF FAMILY, COMMUNITY AND CULTURE
FREE FAMILY EVENT
COME AND ENJOY Candle lighting ceremony, drumming, dancing, poetry, music, zumba and more. Plus shop our UjamaaMarketplace and learn from our panel of leaders as they expound upon the