Authors
Advertising & Promotion Opportunities
We would love to advertise and promote you and your book!
CLICK HERE TO LEARN MORE & GET STARTED TODAY!
Dock MediaWorks is the Media, Marketing & Public Relations Team of The Dock Bookshop
We would love to advertise and promote your book, business, brand and/or event.
CLICK HERE TO LEARN MORE & GET STARTED TODAY!
Schedule your next event at The Dock!
817.457.5700
Love Is a Gamble But Still Try to Win:
The Poetic Soap Opera
Order Your Copy Today!
"Love Is A Gamble But Still Try To Win" (The Poetic Soap Opera) is a very relatable book for all adult ages. This is in no way a book for children. I repeat, this book is not for children. This book puts light on different moments in different relationships. Some moments are crazy, and some seem to be perfect. Relationships don't always work the way you think they will and sometimes, they do. Either way, keep pressing your luck. Keep trying to win. This is the only way to ever have a chance at the jack pot of love.
Books Available at The Dock Bookshop 6637 Meadowbrook Dr. Fort Worth, TX 76112
There's nothing like watching or reading dialogues of opinions when it comes to love and relationships. Just when you think you know all of the answers to questions presented on the subject, you realize that you just don't have all of the answers.
Introducing New Author
Kim Gbadebo
and her new book release THE ULTIMATE BETRAYAL
Available at The Dock Bookshop
BECOME A MEMBER
THE DOCK BOOKSHOP CELEBRATES
11 YEARS OF BUSINESS & SERVICE
SPECIAL THANKS TO YOU!
Our Supporters, Community Partners, Friends, Customers, Members and Family

The Dock Bookshop is all about books and reading, building community, celebrating culture and more! Help us celebrate our 11th Anniversary of Business and Service to the Community by becoming a Dock Member today starting as low as $10/mo
Click here to get started!
---
PRODUCT FEATURES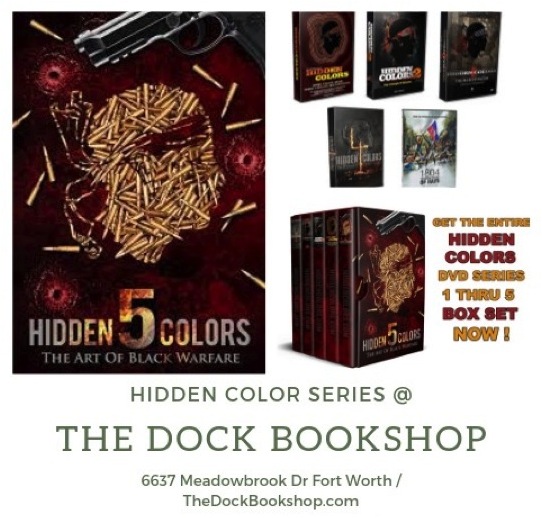 HIDDEN COLORS 5
Available at The Dock Bookshop!
Hidden Colors 5 is the final installment of the critically acclaimed Hidden Colors documentary series. In this installment, the film explores the history of warfare as it relates to global Black society. The film is broken down into 7 chapters that examines the ways the system of racism wages warfare from a historical, psychological, sexual, biological, health, educational, and military perspective.
---
EVENTS
LITERARY SOULFEST
Sat. September 21
1-5 PM @ The Dock
A Celebration of Books, Reading, Community and Culture During National Literacy Month!
Featuring guest authors and fall reads, live entertainment, speakers, panels, book signings
book club meet and greet and more!
Plus A Special Tribute to Literary Giant Toni Morrison
Authors are invited to come and share (Space Limited)
The community is invited to come, meet and greet the Authors
DOCK OPEN MIC
Every Tuesday ~ 8-10 PM ~ The Dock Bookshop
MYSS BOOK CLUB
Sat. 2019 ~ 1-3 PM ~
The Dock Bookshop
view flyer
My Sister's Sister Book Club is a summer reading group for young ladies who love to read.
The target age for this group are girls 9-14 years old. The meetings will include a lively discussion of the book, refreshments and making new friends. Join us! Tell a friend, bring a friend!
For more info call 817.457.5700