Authors
FEATURED AUTHORS



In Remembrance of

Francis Ray

 

Marc Brissett's

New Release

Invisible

Visit
AUTHORS ADS
UPCOMING EVENTS
We look forward to your participation in the upcoming event:
Sat. Sept. 14 - DFW Literary SoulFEST
PROMOTIONS AND CONSIGNMENTS
Contact us to purchase a promotions package and place books in store - call 817.457.5700, email thedockbookshop@gmail.com or click here to complete form
We're Celebrating 10 Years of Business and Service
Join us in the Celebration!
Make The Dock Bookshop one of your shopping destinations!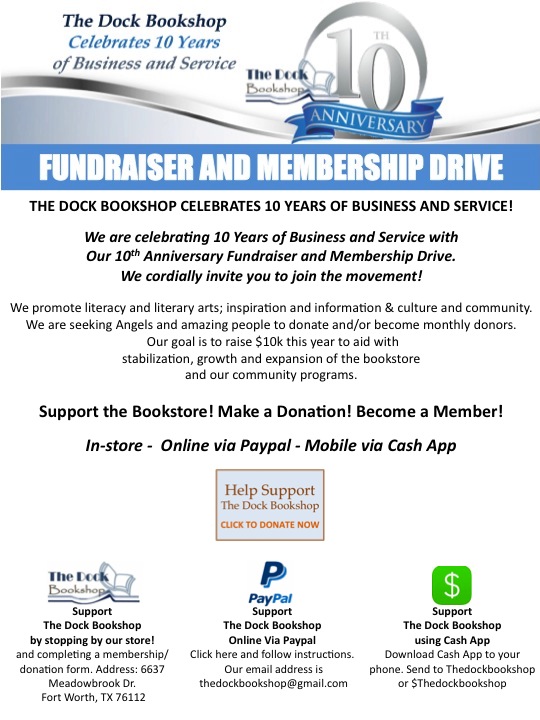 Bi-Monthly Newsletter & Shopping Guide
Black Panther Comic Booklist
Upcoming Guests & Events
---
FEATURED AUTHOR & BOOK
Introducing New Author Kim Gbadebo
and her new book release THE ULTIMATE BETRAYAL
Available at The Dock Bookshop
---
UPCOMING GUESTS AND EVENTS
CELEBRATE Juneteenth & Black Music Month
Tue. June 1 The Dock Bookshop
6:30-8 PM
Free Family Event with Speakers

8-10 PM
Poetry & Open Mic Night
$5 Cover
Building Our Communities Again:
A Real Estate Investment Event!
Sunday, June 24th
3-5pm - The Dock Bookshop
Discussion on gentrification and (re)building our own communities. Plus, there will be a master plan presented by Real Estate Developer Kevin Brown & Jeanette Sneed. Snacks & refreshments will be served. For more information call 469 652 4009
---