Featured Authors
Featured Authors
ABOUT BOOK: There wasn't a sweet sixteen for Crystal like most girls her age. It was bitter-sweet as she waddled around alone, pregnant, and confused. Fast-forward twenty years and Crystal is still trying to right a wrong that she shouldn't have had to fix.Determined to emend her past misfortunes, Crystal runs to the church. But instead of making God her savior, she seeks her salvation from Marcus Powers, co-pastor of Freewill Baptist Church. Marcus is the love of her life and the very vehicle that will drive her to becoming a First Lady. A title she has wanted to own for most of her life. What Crystal fails to understand is that it will take more than being married to Marcus to make her a First Lady. If Crystal doesn't learn to un-blur the lines of her faith and flesh, she'll lose way more than just her self-worth.
ABOUT AUTHOR: Gabrielle Beasley is a Screenwriter and Playwright. She received a Bachelor's Degree in Radio, Television and Film Broadcasting from the University of North Texas. She's worked as an Associate Producer and currently is the CEO of the faith-based production company, Potluck Film Productions, in Dallas, TX. Gabrielle also volunteers in the Drama Ministry at the Potter's House church in Dallas, TX as a writer and stage manager. In 2014, she produced the stage play First Lady or Not and is currently turning this stage production into a film.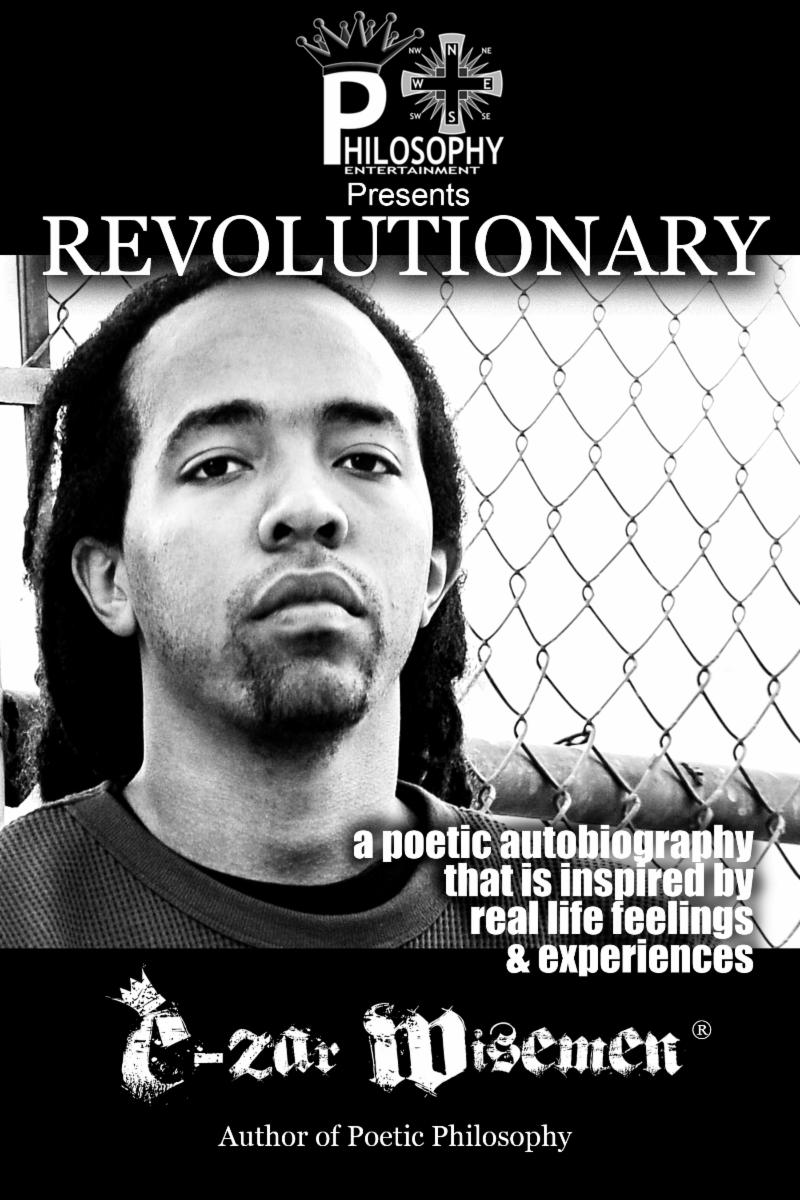 ABOUT THE BOOK
Revolutionary is the follow up to it's precursor Poetic Philosophy under C-zar Wisemen's former name Derek Perkins. This poetry book is a poetic autobiography that is inspired by real life feelings and experiences. This sequel gets deeper into the author's background that leads to who he is and his views on the world and issues affecting black people. In this work, C-zar addresses the entertainment industry, religion, self-reliance, crooked politics, romance, heartbreak, and more. This author is hopeful that his writings will spark the minds of millions of black people in the United States and around the world to fight against white supremacy and rise to greatness.

ABOUT THE AUTHOR
Rap artist C-zar Wisemen is from Charlottesville, Virginia, representing the indie rap/ hip-hop label Philosophy Entertainment. Albums released are "Tha New Testament" and "Real Niggaz" added with an Ep titled "Revolution" as well as a few singles from his music catalog. C-zar also wanted to showcase his poetic side by releasing two poetry books called "Poetic Philosophy" under the name Derek Perkins and "Revolutionary" under his current name C-zar Wisemen. Acting is also a passion of his, and he has acted in a few indie films. C-zar Wisemen's aim is to inspire the black community to change for the better through his works.