Featured Authors
Featured Authors
ABOUT BOOK: There wasn't a sweet sixteen for Crystal like most girls her age. It was bitter-sweet as she waddled around alone, pregnant, and confused. Fast-forward twenty years and Crystal is still trying to right a wrong that she shouldn't have had to fix.Determined to emend her past misfortunes, Crystal runs to the church. But instead of making God her savior, she seeks her salvation from Marcus Powers, co-pastor of Freewill Baptist Church. Marcus is the love of her life and the very vehicle that will drive her to becoming a First Lady. A title she has wanted to own for most of her life. What Crystal fails to understand is that it will take more than being married to Marcus to make her a First Lady. If Crystal doesn't learn to un-blur the lines of her faith and flesh, she'll lose way more than just her self-worth.
ABOUT AUTHOR: Gabrielle Beasley is a Screenwriter and Playwright. She received a Bachelor's Degree in Radio, Television and Film Broadcasting from the University of North Texas. She's worked as an Associate Producer and currently is the CEO of the faith-based production company, Potluck Film Productions, in Dallas, TX. Gabrielle also volunteers in the Drama Ministry at the Potter's House church in Dallas, TX as a writer and stage manager. In 2014, she produced the stage play First Lady or Not and is currently turning this stage production into a film.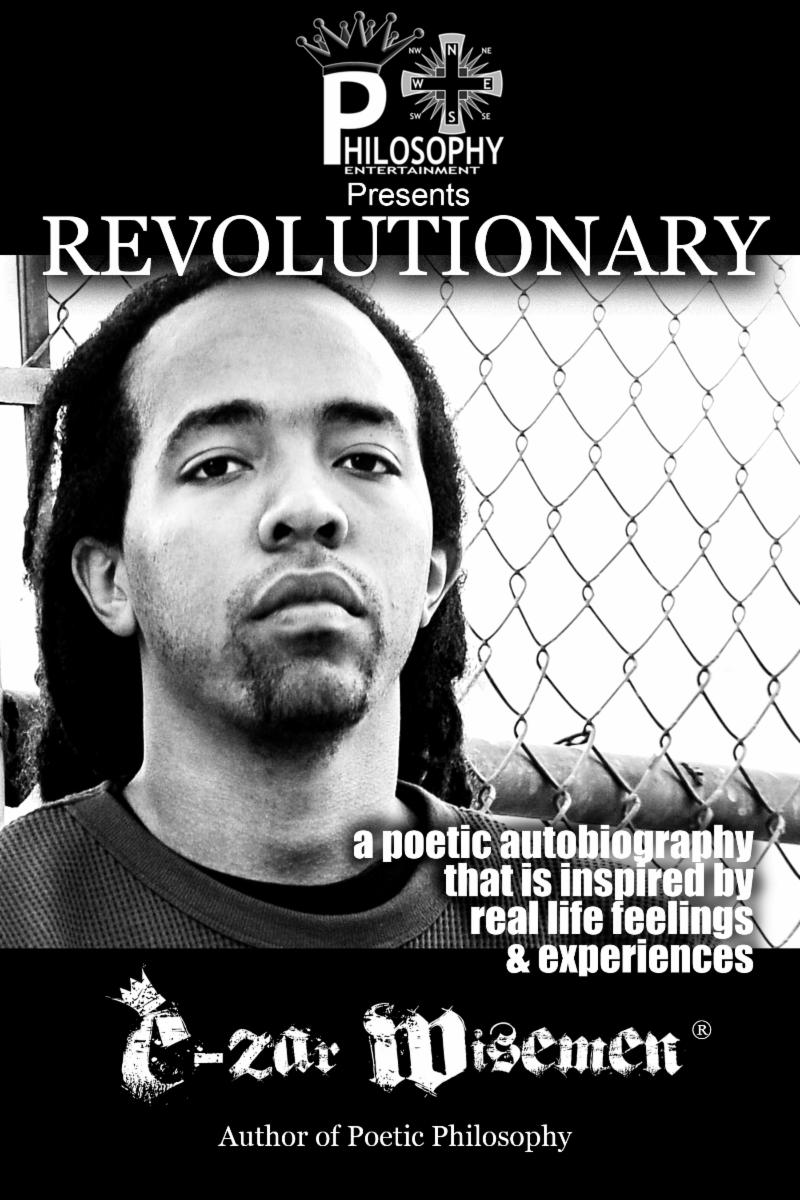 ABOUT THE BOOK
Revolutionary is the follow up to it's precursor Poetic Philosophy under C-zar Wisemen's former name Derek Perkins. This poetry book is a poetic autobiography that is inspired by real life feelings and experiences. This sequel gets deeper into the author's background that leads to who he is and his views on the world and issues affecting black people. In this work, C-zar addresses the entertainment industry, religion, self-reliance, crooked politics, romance, heartbreak, and more. This author is hopeful that his writings will spark the minds of millions of black people in the United States and around the world to fight against white supremacy and rise to greatness.

ABOUT THE AUTHOR
Rap artist C-zar Wisemen is from Charlottesville, Virginia, representing the indie rap/ hip-hop label Philosophy Entertainment. Albums released are "Tha New Testament" and "Real Niggaz" added with an Ep titled "Revolution" as well as a few singles from his music catalog. C-zar also wanted to showcase his poetic side by releasing two poetry books called "Poetic Philosophy" under the name Derek Perkins and "Revolutionary" under his current name C-zar Wisemen. Acting is also a passion of his, and he has acted in a few indie films. C-zar Wisemen's aim is to inspire the black community to change for the better through his works.
The Dock Bookshop COVID-19 Response
In response to the COVID-19 crisis and compliance to mandates by local, state and federal authorities,The Dock Bookshop storefront is closed. Health and safety of our staff team and customers are priority.

Although we are not allowing customers in the store during this health crisis, The Dock Bookshop will provide delivery by mail or curbside/pick up at the door for orders.

Curbside/Pick Up At Door:

Tue-Thu 1-6p and Fri-Sat 11a-6p

Customers can place their orders for personal care, home care, and educational and entertaining books (aka mind food) while staying home and being safe.

Ways to order

*we are working to add more items to website. Currently book orders can be place online.
Personal care - soaps, shea butter, toothpaste, deodorant, medicinal oils, hair care, herbal teas, etc
(please call/text/email to place orders until our website is updated)

Home care - sage, incense, fragrance oils, etc

(please call/text/email to place orders until our website is updated)

Books (aka Mind Food) - Educational and entertaining books. Children Books, History &Culture, Self-Help, Fiction and more


We are all in this together and together we will prevail!
Stay Safe! Stay Strong! Stay Connected:
Follow thedockbookshop on social media platforms-Facebook, Instagram and Twitter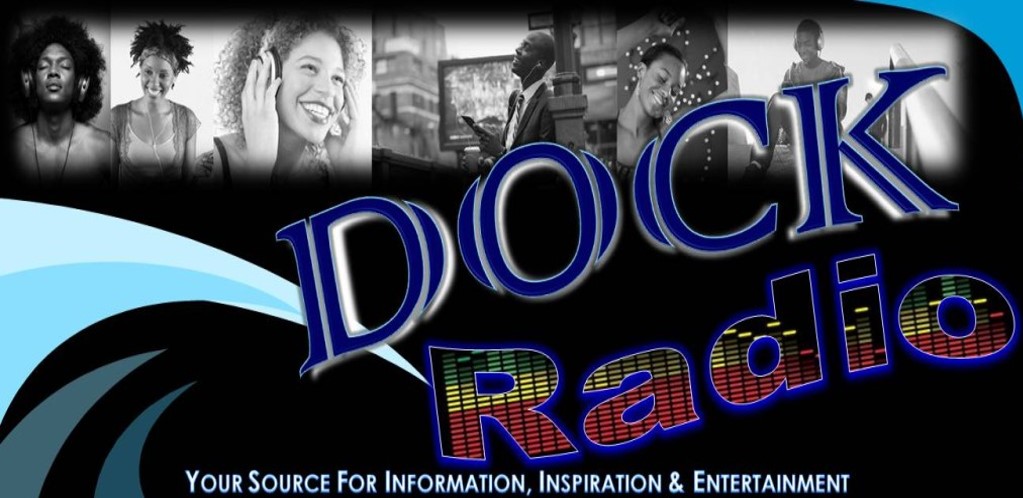 Dock Radio has a line-up of great shows and hosts highlighting various aspects of life and living!!! Also there will be guest authors discussing their books and businesses discussing their products and services on
We look forward to your interactions with the independent shows and guests.

For more information call 817-457-5700 or email: info@thedockbookshop.com

Ways to Tune-in
Download App "Dock Radio"

Website:
Weekly Schedule
Daily
6 AM Health Watch
11:30 AM Blue Ocean Strategy
12 Noon Health Watch
Monday
7 PM Tammy and Donya Show
8:15 PM Voices From the Past
Tuesday
7 PM Darolyn Brock Show
9:30 PM True-story Dramatization
Thursday
7 PM OnShore Radio
Saturday
10 AM OnShore Radio
Sunday

2 PM Soulfood Sundays

JOIN US TONIGHT!
Thursday, April 2 at 7:00 PM
OnShore hosted by Donya
Interview with Ivan Dockins
Author of Eleanor's Wicked Epiphany
OnShore Weekly

Thursday @7pm

Saturday @ 10am

AUDIO Listeners - "Dock Radio" - Download App: Iphone/Android/Ipad

or Website: www.dockradiolive.com

FACEBOOK: The Dock Bookshop & Dock Community

LIVE STREAM: www.docklive.tv


Call-In#: 972-427-7795

****

April 2nd @7pm - Author Ivan Dockins

April 4th @10am - Author Niyah Moore

April 11th @10am - Author Untamed
Weekly Schedule
OnShore Weekly

Thursday @7pm

Saturday @ 10am

****

April 2nd @7pm - Author Ivan Dockins

April 4th @10am - Author Niyah Moore

April 11th @10am - Author Untamed
DOCK OPEN MIC
Every Tuesday
8-10 PM
via ZOOM starting
Tuesday April 7

Stay Tuned for details!
Come share your talent and/or enjoy an evening of music, food, drinks and artistic expressions poetry, live performances, comedy and more -with good people and good energy!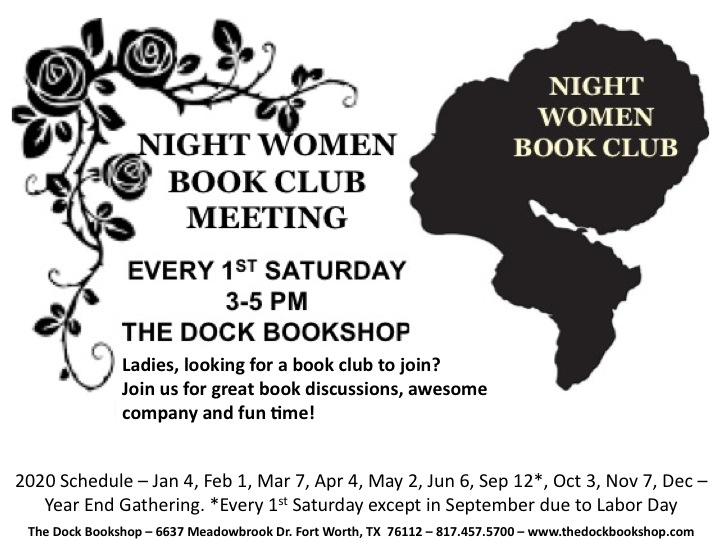 NIGHT WOMEN BOOK CLUB
1ST SATURDAY
3-5 PM via Zoom
Ladies, looking for a book club to join?
Join us for great book discussions, awesome company and fun time!
Book Discussion:
April 4 - Charcoal Joe
KIDS CLUB
April 25
2:30-3:30 PM
via Zoom

STAY TUNED FOR DETAILS
The Dock Bookshop Kids Club takes place every month and is sure to edutain both children and parents in an interactive setting. We have a variety of themed
programs that includes books, reading, play and more!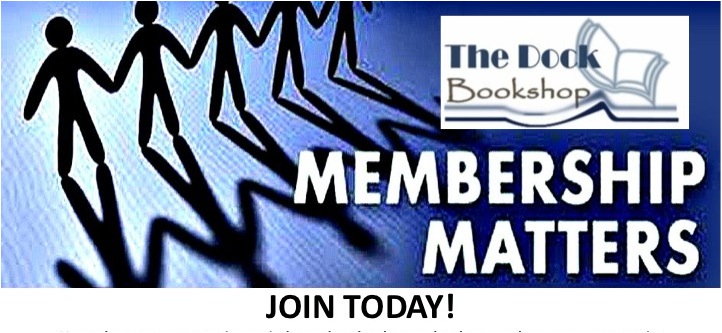 Not only are you supporting an independent bookstore that loves and supports community
but also your supporting...
*Literary and cultural programs including our Kids Club that impacts hundreds of families
*Artists who share their artistic expressions every Tuesday
Plus
*Receive additional discounts and savings on books
*Receive free tickets to Dock selected events
*Usage of meeting space (based on availability)
*Free advertising on Dock Eblast & social media outlets and more