Open Season: Legalized Genocide of Colored People (Hardcover)

List Price: $26.99
Our Price: $18.35
(Save: $8.64 32%)
Usually Ships in 1-5 Days
Description
---
Genocide—the intent to destroy in whole or in part, a group of people.
TIME's 42 Most Anticipated Books of Fall 2019

Book Riot's 50 of the Best Books to Read This Fall

As seen on CBS This Morning, award-winning attorney Ben Crump exposes a heinous truth in Open Season: Whether with a bullet or a lengthy prison sentence, America is killing black people and justifying it legally. While some deaths make headlines, most are personal tragedies suffered within families and communities. Worse, these killings are done one person at a time, so as not to raise alarm. While it is much more difficult to justify killing many people at once, in dramatic fashion, the result is the same—genocide.
Taking on such high-profile cases as Trayvon Martin, Michael Brown, and a host of others, Crump witnessed the disparities within the American legal system firsthand and learned it is dangerous to be a black man in America—and that the justice system indeed only protects wealthy white men.
In this enlightening and enthralling work, he shows that there is a persistent, prevailing, and destructive mindset regarding colored people that is rooted in our history as a slaveowning nation. This biased attitude has given rise to mass incarceration, voter disenfranchisement, unequal educational opportunities, disparate health care practices, job and housing discrimination, police brutality, and an unequal justice system. And all mask the silent and ongoing systematic killing of people of color.
Open Season is more than Crump's incredible mission to preserve justice, it is a call to action for Americans to begin living up to the promise to protect the rights of its citizens equally and without question.
About the Author
---
Through a steadfast dedication to justice and service, renowned civil rights and personal injury attorney Ben Crump has established himself as one of the nation's foremost lawyers and advocates for social justice. He has worked on some of the most high-profile cases in the U.S., representing the families of Trayvon Martin, Michael Brown, and Stephon Clark, among others. He has been nationally recognized as the 2014 NNPA Newsmaker of the Year, the National Trial Lawyers Top 100 Lawyers, and Ebony Magazine Power 100 Most Influential African Americans. In 2016, he was designated as an Honorary Fellow by the University of Pennsylvania College of Law. He is the founder and principal owner of Ben Crump Law.
Praise For…
---
"There is much more to inequality and discrimination than we know, and Crump will open your eyes. Pay attention."
— Kirkus Reviews (starred review)

". . . alarming yet credible account."
— Publishers Weekly

". . . deeply disturbing account of how the justice system is used to maintain a system of inequality and justify the murder of black Americans."
— Book Riot

"Benjamin Crump's work – his research, his voice, his fight – is paramount to the black community. Open Season must occupy a dominant place in the classroom, in libraries, in the workplace, in police training programs. Crump's masterful voice and expertise of America's corrupt power structures will alter the hierarchy by which we dangerously abide." 
— Patrisse Khan-Cullors, co-founder of Black Lives Matter and New York Times bestselling author of When They Call You a Terrorist

"Ben Crump offers a deft and unflinching expose on America's treatment of people of color. He charges America to live up to its status as the great "melting pot" by protecting and serving all of its citizens. His passionate voice lifts the true stories of wronged Americans off of the page and emblazoned them onto our hearts. A mouth-gaping read from one of the most steadfast champions for justice of our time." 
—  Kenya Barris, creator of Black-ish

"Ben Crump is a warrior on the front lines of the war for social justice.  These notes from the legal battlefield of civil rights pushes us beyond lazy presumptions of where we are as a society to the hard truths of what we have achieved and how far we still have to go."  
— Reginald Hudlin, writer, director, and producer
PRODUCT FEATURES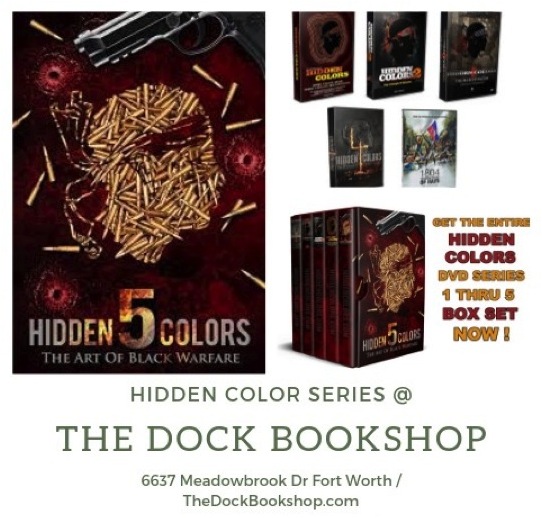 HIDDEN COLORS 5
Available at The Dock Bookshop!
Hidden Colors 5 is the final installment of the critically acclaimed Hidden Colors documentary series. In this installment, the film explores the history of warfare as it relates to global Black society. The film is broken down into 7 chapters that examines the ways the system of racism wages warfare from a historical, psychological, sexual, biological, health, educational, and military perspective.
---
---
EVENTS
The Dock Bookshop is Going to Frisco!
The Dock Bookshop
HOLIDAY EXPO
Sat. Dec. 14, 2019~12 Noon - 6 PM
Embassy Suites Frisco Convention Center
7600 John Q Hammons Dr. Frisco, TX 75034
Join us for this holiday and cultural experience!
Shopping - African Drumming - Book Discussions - Live Performances - Speakers - Book Signings
and more! Free Event
Interested in Vending Click here
or call/text 817.296.0288
---
We Are Thankful for You
MEMBER APPRECIATION
HOLIDAY RECEPTION
Tue. Dec. 17~6:30-8 PM @ The Dock
Dock Members or those interested in becoming Dock Members are cordially invited to attend our Member Appreciation Holiday Reception.
We will share our year in review and plans for 2020 over food and drinks
RSVP
or Become a Member Today!
---
DOCK TUESDAY OPEN MIC
Every Tuesday 8-10 PM @ The Dock
12-3 Sin's Birthday Bash
An evening of music, food, drinksand artistic expressions - poetry, live performances, comedy and more with good people and good energy. Come share your talent. $5 Cover
---
SMALL BUSINESS SATURDAY
Nov. 30
Shop local - Shop Indie - Shop The Dock!
Books, Incense, Oils, Health & Beauty, Jewelry, Albums, Journals, Calendars, Cards, Clothing, T-shirts, Bags and more!
---
READING WONDERLAND CHILDREN'S BOOK FAIR
Sat. Nov. 30~3-5 PM @ The Dock
Bring the family out to a reading wonderland of books, story time, guest authors, arts and crafts, refreshments and more.
RSVP
---
NWBC presents THE GATHERING OF READERS
Sat. Dec. 7~4-7 PM @ The Dock
THE GATHERING OF READERSis a celebration of Readers, Book Clubs and Authors - a social event with food, fun and entertainment
hosted by The NWBC.
Cost $10.00 per person. RSVP by December 5.
This event is for adults both men and women
RSVP
---
Stimulations to Success Ministries presents
THE RIGHT HAND OF GOD
Sun. Dec. 29 ~ 5-7 PM @ The Dock
We need guidance from God as we close out this year and make plans or 2020.
For more info call Minister Vanessa Brown 682-203-5646
---
KWANZAA AT THE DOCK
Thu. Dec. 26 - Tue. Dec. 31
Afternoon 2-4 PM and Evening 6-8 PM*
RSVP
Events are free and family oriented unless noted. Activities include libations, discussion of principles, lighting of candles, refreshments; and combination of story time, icebreaker, arts and crafts, film and presentation
(*Sat. Dec. 28 - Community Celebration 3-8 PM at The Dock; Sun. Dec. 29 evening is offsite; Tue. Dec. 31 evening is New Year's Eve Open Mic 8-10 PM $5 cover per person)
---
The Dock Bookshop
COMMUNITY KWANZAA CELEBRATION
Sat. Dec. 28
A free family cultural event
1 PM - Film: The Black Candle
3-7 PM - Libations, discussion of principles, lighting of candles, story time, icebreaker, arts and crafts, speakers, live performances, guest authors, book signings, refreshments and more!
RSVP
---
Dock in Community
Community Partners presents
KWANZAA FORT WORTH
Sat. Dec. 7~12 Noon-4 PM at
Austin Event Center 1125 E Berry St. FW
A CELEBRATION OF FAMILY, COMMUNITY AND CULTURE
FREE FAMILY EVENT
COME AND ENJOY Candle lighting ceremony, drumming, dancing, poetry, music, zumba and more. Plus shop our UjamaaMarketplace and learn from our panel of leaders as they expound upon the