The Mother of Black Hollywood: A Memoir (Hardcover)

List Price: $25.99
Our Price: $16.11
(Save: $9.88 38%)
Usually Ships in 1-5 Days
Description
---
From her more than three hundred appearances for film and television, stage and cabaret, performing comedy or drama, as an unforgettable lead or a scene stealing supporting character, Jenifer Lewis has established herself as one of the most respected, admired, talented, and versatile entertainers working today.
This "Mega Diva" and costar of the hit sitcom black-ish bares her soul in this touching and poignant—and at times side-splittingly hilarious—memoir of a Midwestern girl with a dream, whose journey took her from poverty to the big screen, and along the way earned her many accolades.
With candor and warmth, Jenifer Lewis reveals the heart of a woman who lives life to the fullest. This multitalented "force of nature" landed her first Broadway role within eleven days of her graduation from college and later earned the title "Reigning Queen of High-Camp Cabaret."
In the audaciously honest voice that her fans adore, Jenifer describes her transition to Hollywood, with guest roles on hits like The Fresh Prince of Bel-Air and Friends. Her movie Jackie's Back! became a cult favorite, and as the "Mama" to characters portrayed by Whitney Houston, Tupac Shakur, Taraji P. Henson, and many more, Jenifer cemented her status as the "Mother of Black Hollywood."         
When an undiagnosed menatl illness stymies Jenifer's career, culminating in a breakdown while filming The Temptations, her quest for wholeness becomes a harrowing and inspiring tale, including revelations of bipolar disorder and sex addiction.
Written with no-holds-barred honesty and illustrated with more than forty color photographs, this gripping memoir is filled with insights gained through a unique life that offers a universal message: "Love yourself so that love will not be a stranger when it comes."
Praise For…
---
"Lewis' years of journaling and knack for recall make for a rowdy, funny, and emotional exploration of her ascendance as a Hollywood matriarch."


"An insightful memoir of Lewis's road to success and eventual path to self-healing, told with honesty and hubris that will appeal to her wide fan base."

"The co-star of the hit sitcom "Black-ish" tells her story with refreshing honesty, tracing her journey from poor Midwestern girl to one of the most versatile entertainers working today, racking up more than 300 appearances for film, television and stage. Funny and candid."

"Jenifer Lewis is a natural comedienne in the spirit of Lucille Ball. Inventive, smart, and all her bones are 'funny bones.' You know the workday will be all fun and spirit when Jenifer is on set—the hardest part is to keep from laughing. And now she has written it all down for everyone to enjoy. Congratulations, Mother Jenifer. I love you!"

"The Mother of Black Hollywood is inspiring, funny, and boldly transparent. It takes a beyond brave person to write such a memoir. Jenifer Lewis is a true vessel and channel for pure expression...the most honest person I have ever met."

"Her memoir is frank, funny, and uplifting, capturing the singer's authentic voice, her humor, and her profound and bold capacity for resilience."

"This outstanding, no-holds-barred memoir is captivating, thoughtful, disarmingly frank and unforgettable. The book, like its author, is a treasure."
We're Celebrating 10 Years of Business and Service
Join us in the Celebration!
Make The Dock Bookshop one of your shopping destinations!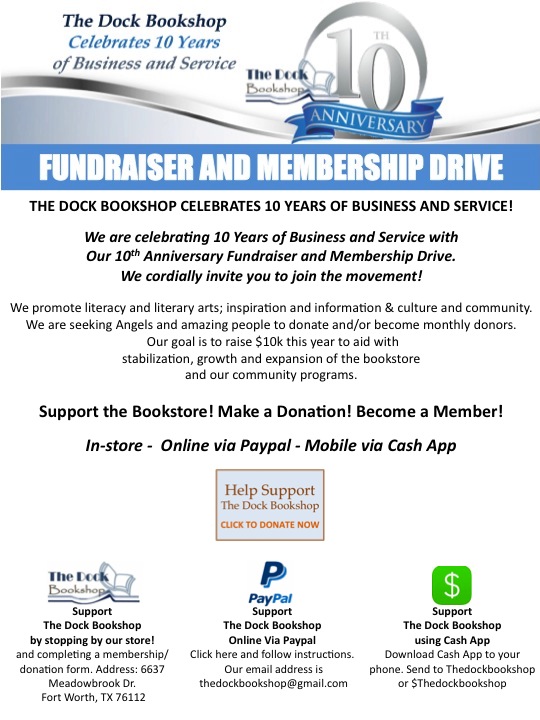 Bi-Monthly Newsletter & Shopping Guide
Black Panther Comic Booklist
Upcoming Guests & Events
---
FEATURED AUTHOR & BOOK
Introducing New Author Kim Gbadebo
and her new book release THE ULTIMATE BETRAYAL
Available at The Dock Bookshop
---
UPCOMING GUESTS AND EVENTS
CELEBRATE Juneteenth & Black Music Month
Tue. June 1 The Dock Bookshop
6:30-8 PM
Free Family Event with Speakers

8-10 PM
Poetry & Open Mic Night
$5 Cover
Building Our Communities Again:
A Real Estate Investment Event!
Sunday, June 24th
3-5pm - The Dock Bookshop
Discussion on gentrification and (re)building our own communities. Plus, there will be a master plan presented by Real Estate Developer Kevin Brown & Jeanette Sneed. Snacks & refreshments will be served. For more information call 469 652 4009
---