We Want Our Bodies Back: Poems (Paperback)

$19.99
Coming Soon - Available for Pre-Order Now
Description
---
A dazzling full-length collection of verse from one of the leading poets of our time.

Over the past two decades, jessica Care moore has become a cultural force as a poet, performer, publisher, activist, and critic. Reflecting her transcendent electric voice, this searing poetry collection is filled with moving, original stanzas that speak to both Black women's creative and intellectual power, and express the pain, sadness, and anger of those who suffer constant scrutiny because of their gender and race. Fierce and passionate, Jessica Care moore argues that Black women spend their lives building a physical and emotional shelter to protect themselves from misogyny, criminalization, hatred, stereotypes, sexual assault, objectification, patriarchy, and death threats.
We Want Our Bodies Back is an exploration—and defiant stance against—these many attacks.
About the Author
---
jessica Care moore is the founder and CEO of Moore Black Press, executive producer of Black WOMEN Rock!, and founder of the literacy-driven, Jess Care Moore Foundation. An internationally renowned poet, playwright, performance artist, and producer, she is the 2019 and 2017 Knight Arts Award Winner, 2016 Kresge Arts Fellow,  NAACP Great Expectations Awardee,  and an Alain Locke Award recipient from the Detroit Institute of Arts. Moore is the author of The Words Don't Fit in My Mouth, The Alphabet Verses the Ghetto,  Sunlight Through Bullet Holes, and  the  critically acclaimed Techno Choreopoem, Salt City. Her work has been published in numerous literary collections and she has performed on stages all over the world, including The Apollo Theater, Carnegie Hall, Lincoln Center, and the London Institute for Contemporary Arts. jessica lives and writes in an historic Detroit neighborhood with her son King Thomas.
Praise For…
---
"We Want Our Bodies Back is a lyric encyclopedia, a psalm book, a conflagration of fire and fierce black joy. And jessica Care moore is the 21st Century poet warrior America desperately needs." 
— Tracy K. Smith, U.S. Poet Laureate

"jessica Care moore is my hero. Powerful, beautiful, excellent and unapologetically Black. She is who I want to be when I grow up. Her writing allows us to be seen for who we truly are."
— Talib Kweli, rapper, entrepreneur, and activist

"There are many times that jessica Care moore's work has made me spend hours figuring out how much of her work would be socially acceptable to steal. I really wish she had put this out while I was writing my last album."
— Boots Riley, director, emcee, Sorry to Bother You 

"Imbued with heartache, anger, celebration, and rejuvenation, the poems in We Want Our Bodies Back reflect the sui generis funktified flyness that jessica Care moore has exemplified as an independent artist, activist, publisher, and curator for nearly a quarter-century. Perhaps the premier resistance writer in America today, moore furnishes luminous poetic signposts for our treacherous journey through the gloomy landscapes of 21st century America."
— Tony Bolden, author of Afro-Blue: Improvisations in African American Poetry and Culture

"We Want Our Bodies Back is a soaring resistance/upright bass/instrument of war. Here are poems that seek out my pain. A soldier allowed their childhood, a people returned to their Detroit. In a time of cobalt-imperialism, someone is still writing songs about God. Yes, revolution is exhausting, but we make countries; you and I." 
— Tongo Eisen Martin, author, Heaven is All Goodbyes
EVENTS
SHOP THE DOCK
Great Gift Ideas
Books, vinyls, calendars, journals, fragrances, jewelry, apparel, gifts and more
Dock Tuesday Poetry & Open Mic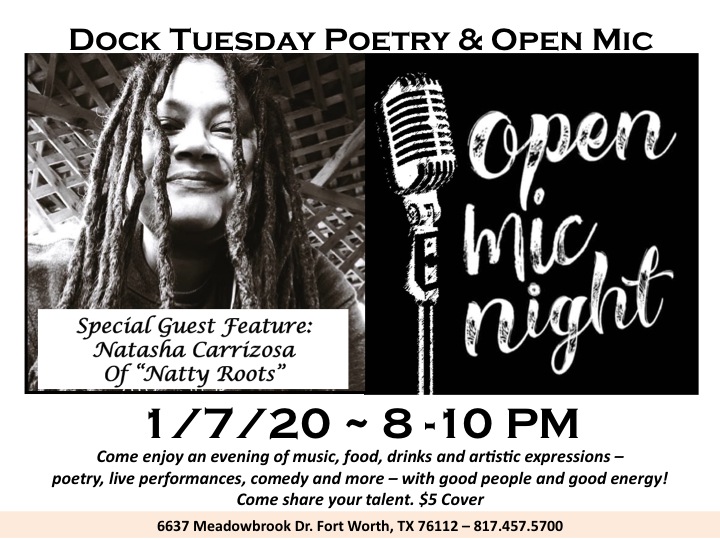 Come enjoy an evening of music, food, drinks and artistic expressions -
poetry, live performances, comedy and more -withgood people and good energy! Come share your talent. $5 Cover
Tue. Jan. 7 S
pecial Guest Feature:
Natasha Carrizosa Of "Natty Roots"
The Darolyn Brock Show
on Dock Radio

Tune in Tonight!
Every Tuesday at 7 PM
NEW YEAR - NEW YOU - NEW BOOKS
BOOK REVIEW & EMPOWERMENT TALKS
Sat. Jan 25th - 3-5 PM - The Dock Bookshop
A sharing and discussion of must-reads for 2020 that are sure to inspire, motivate and promote health and wealth with guest authors and more.
RSVP
Celebrating Life and Legacy of Martin Luther King Jr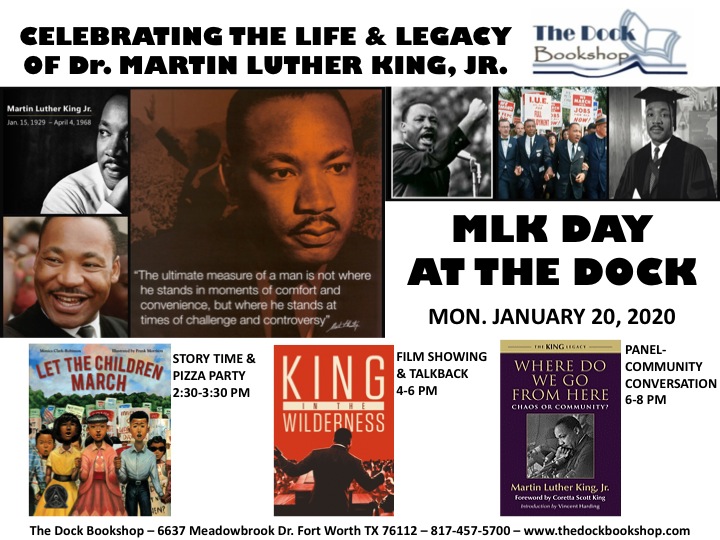 MLK DAY AT THE DOCK
Monday 1-20-2020
STORY TIME
2:30-3:30 PM
BOOK READ:
Let The Children March
by
Monica Clark-Robinson
Illustrated by Frank Morrison
About Book: Told from a child's point of view, this moving picture book focuses on a monumental moment in the civil rights movement: the Children's Crusade of 1963. Thousands of African-American children and teens marched through the streets of Birmingham, Alabama, to end segregation and to inspire change and hope for the future.
FILM SHOWING & TALKBACK
4-6 PM
FILM:
KING IN THE WILDERNESS
Through personal stories of the people who were around him, this film follows Martin Luther King, Jr. during the last years of his life.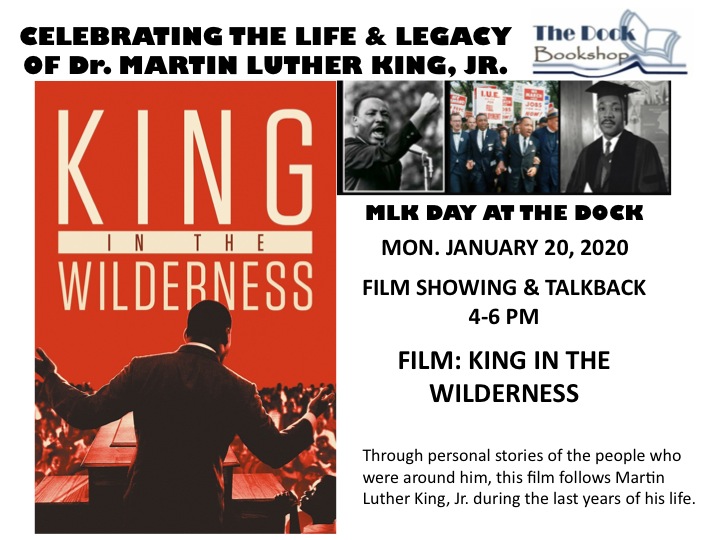 PANEL- COMMUNITY CONVERSATION
Join other concerned citizens in addressing issues facing the African American Community and determining.....Where do we go from here in 2020
MEN'S BOOK CLUB
4th Thursday
7-9 PM
The Dock Bookshop
All men are invited to read, share and build.

Book Discussion:
Jan. 23 - The Sellout
by Paul Beatty
RSVP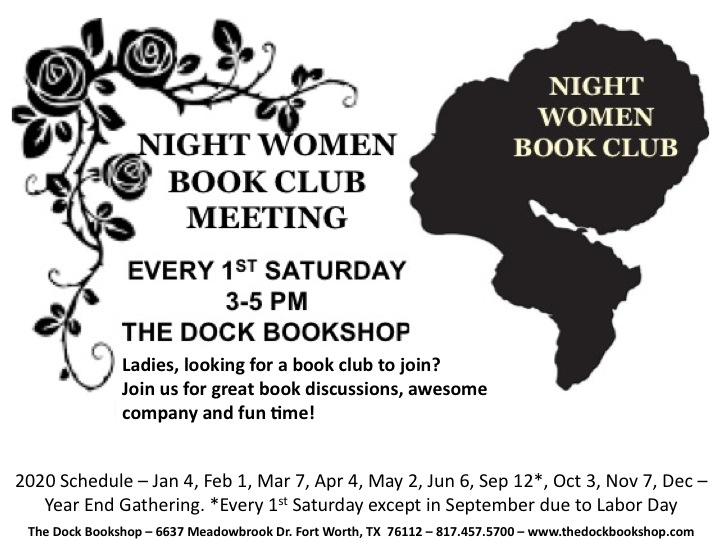 NIGHT WOMEN
BOOK CLUB
1ST SATURDAY
3-5 PM
The Dock Bookshop
Ladies, looking for a book club to join?
Join us for great book discussions, awesome company and fun time!
Book Discussion:
Feb. 4 - Rebel by
Beverly Jenkins
KIDS CLUB
Monthly 2:30-3:30 PM
The Dock Bookshop

The Dock Bookshop Kids Club takes place every month and is sure to edutain both children and parents in an interactive setting. We have a variety of themed
programs that includes books, reading, play and more!
Upcoming Date:
Mon. Jan. 20
Book Read:
Authors Schedule Your 2020 Book Signing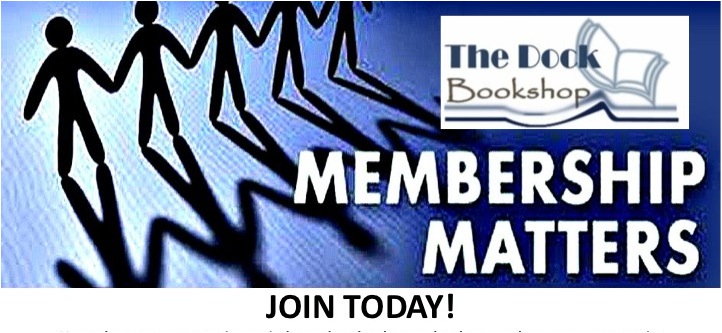 Not only are you supporting an independent bookstore that loves and supports community
but also your supporting...
*Literary and cultural programs including our Kids Club that impacts hundreds of families
*Artists who share their artistic expressions every Tuesday
Plus
*Receive additional discounts and savings on books
*Receive free tickets to Dock selected events
*Usage of meeting space (based on availability)
*Free advertising on Dock Eblast & social media outlets and more