The Life of Langston Hughes: Volume II: 1941-1967, I Dream a World (Paperback)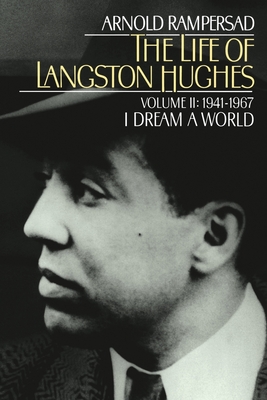 $34.99

Usually Ships in 1-5 Days
Other Books in Series
This is book number 2 in the Life of Langston Hughes series.
Description
---
February 1, 2002 marks the 100th birthday of Langston Hughes. To commemorate the centennial of his birth, Arnold Rampersad has contributed new Afterwords to both volumes of his highly-praised biography of this most extraordinary and prolific American writer.
The second volume in this masterful biography finds Hughes rooting himself in Harlem, receiving stimulation from his rich cultural surroundings. Here he rethought his view of art and radicalism, and cultivated relationships with younger, more militant writers such as Richard Wright, Ralph Ellison, James Baldwin, and Amiri Bakara. Rampersad's Afterword to volume two looks further into his influence and how it expanded beyond the literary as a result of his love of jazz and blues, his opera and musical theater collaborations, and his participation in radio and television. In addition, Rempersad explores the controversial matter of Hughes's sexuality and the possibility that, despite a lack of clear evidence, Hughes was homosexual.
Exhaustively researched in archival collections throughout the country, especially in the Langston Hughes papers at Yale University's Beinecke Library, and featuring fifty illustrations per volume, this anniversary edition will offer a new generation of readers entrance to the life and mind of one of the twentieth century's greatest artists.

About the Author
---
Arnold Rampersad is Sara Hart Kimball Professor in the Humanities at Stanford University. He is the author of Days of Grace: A Memoir with Arthur Ashe, Jackie Robinson: A Biography, and he edited Collected Poems of Langston Hughes. He is winner of the Biographers International Organization's 2012 BIO Award.