The Water Dancer (Oprah's Book Club): A Novel (Hardcover)

List Price: $28.00
Our Price: $19.04
(Save: $8.96 32%)
Usually Ships in 1-5 Days
October 2019 Indie Next List
---
"Ta-Nehisi Coates understands something big and he understands it better than anyone else right now. The Water Dancer led me on a journey up and down the landscape of American slavery with a narrative that feels like The Book of Exodus meets, well, Ta-Nehisi Coates. Over 400 pages I have cried, I have laughed, I have been educated, and I have been enlightened. Coates writes with an honesty that can only come from a sublime, even spiritual, understanding of the souls of the white man and the black man in America. Written with poignancy and humanity, The Water Dancer left me stunned but clear-headed, like I had just been woken up from a deep, dream-filled sleep."
— Norris Rettiger, Lemuria Bookstore, Jackson, MS
Description
---
#1 NEW YORK TIMES BESTSELLER • OPRAH'S BOOK CLUB PICK • From the National Book Award–winning author of Between the World and Me, a boldly conjured debut novel about a magical gift, a devastating loss, and an underground war for freedom.

"This potent book about America's most disgraceful sin establishes [Ta-Nehisi Coates] as a first-rate novelist."—San Francisco Chronicle

NAMED ONE OF PASTE'S BEST NOVELS OF THE DECADE • NAMED ONE OF THE BEST BOOKS OF THE YEAR BY Time • The Washington Post • Esquire • Good Housekeeping • The New York Public Library • The Dallas Morning News • Kirkus Reviews • Library Journal

"Nearly every paragraph is laced through with dense, gorgeously evocative descriptions of a vanished world and steeped in its own vivid vocabulary."—Entertainment Weekly

Young Hiram Walker was born into bondage. When his mother was sold away, Hiram was robbed of all memory of her—but was gifted with a mysterious power. Years later, when Hiram almost drowns in a river, that same power saves his life. This brush with death births an urgency in Hiram and a daring scheme: to escape from the only home he's ever known.

So begins an unexpected journey that takes Hiram from the corrupt grandeur of Virginia's proud plantations to desperate guerrilla cells in the wilderness, from the coffin of the Deep South to dangerously idealistic movements in the North. Even as he's enlisted in the underground war between slavers and the enslaved, Hiram's resolve to rescue the family he left behind endures.

This is the dramatic story of an atrocity inflicted on generations of women, men, and children—the violent and capricious separation of families—and the war they waged to simply make lives with the people they loved. Written by one of today's most exciting thinkers and writers, The Water Dancer is a propulsive, transcendent work that restores the humanity of those from whom everything was stolen.

Praise for The Water Dancer

"Ta-Nehisi Coates is the most important essayist in a generation and a writer who changed the national political conversation about race with his 2015 memoir, Between the World and Me. So naturally his debut novel comes with slightly unrealistic expectations—and then proceeds to exceed them. The Water Dancer . . . is a work of both staggering imagination and rich historical significance. . . . What's most powerful is the way Coates enlists his notions of the fantastic, as well as his fluid prose, to probe a wound that never seems to heal. . . . Timeless and instantly canon-worthy."—Rolling Stone
About the Author
---
Ta-Nehisi Coates is the author of The Beautiful Struggle, We Were Eight Years in Power, and Between the World and Me, which won the National Book Award in 2015. He is the recipient of a MacArthur Fellowship. Coates lives in New York City with his wife and son.
Praise For…
---
"Coates balances the horrors of slavery against the fantastical. He extends the idea of the gifts of the disenfranchised to include a kind of superpower. But The Water Dancer is very much its own book, and its gestures toward otherworldliness remain grounded. In the end, it is a novel interested in the psychological effects of slavery, a grief that Coates is especially adept at parsing. . . . In Coates's world, an embrace can be a revelation, rare and astonishing."—Esi Edugyan, The New York Times Book Review

"The most surprising thing about The Water Dancer may be its unambiguous narrative ambition. This isn't a typical first novel. . . . The Water Dancer is a jeroboam of a book, a crowd-pleasing exercise in breakneck and often occult storytelling that tonally resembles the work of Stephen King as much as it does the work of Toni Morrison, Colson Whitehead and the touchstone African-American science-fiction writer Octavia Butler. . . . It is flecked with forms of wonder-working that push at the boundaries of what we still seem to be calling magical realism."—Dwight Garner, The New York Times

 "While neither polemical nor wholly fantastical, the story draws on skills [Coates] developed in those other genres. . . . The story's bracing realism is periodically overcome by the mist of fantasy. The result is a budding superhero discovering the dimensions of his power within the confines of a historical novel that critiques the function of racial oppression. . . . Coates isn't dropping supernatural garnish onto The Water Dancer any more than Toni Morrison sends a ghost whooshing through Beloved for cheap thrills. Instead, Coates's fantastical elements are deeply integral to his novel, a way of representing something larger and more profound than the confines of realism could contain."—The Washington Post

"Mythic language pervades the work of Ta-Nehisi Coates. . . . With The Water Dancer . . . we pay witness to a writer unchained . . . a writer finally able to marry novelistic tendencies to the form. . . . The fistfuls of firmament Coates is able to bring back to us are a wonder to behold. . . . The horrors depicted never felt rote or part of any genre rulebook. In highlighting families, Coates made his characters individuals. . . . Elements of the adventure novel, of the heist novel, of the romance are all there. But Coates expertly subverts the expectations each of those labels carries. . . . The book does not lack for scene-stealers. . . . Who is he talking to when he demands remembering? He's talking to us. All of us."—Tochi Onyebuchi, Tordotcom

"Studied and meticulous, the novel is a slave narrative that depicts the quotidian horrors of family separation. Even so, it's remarkably tender: The Water Dancer is also a romance."—The Atlantic

"An experience in taking [Toni] Morrison's 'chances for liberation' literally: What if memory had the power to transport enslaved people to freedom?' . . . The most moving part of The Water Dancer [is] the possibility it offers of an alternate history. . . . The book's most poignant and painful gift is the temporary fantasy that all the people who leaped off slave ships and into the Atlantic were not drowning themselves in terror and anguish, but going home."—NPR

"An electrifying, inventive novel . . . [Coates] loses none of his mastery for conveying complex ideas and blending a deep knowledge of American history with scintillating wordsmanship. . . . His craft shows on every page. He gives this story—and these men and women—the care and space they demand and deserve. . . . A haunting adventure story told through the tough lens of history, The Water Dancer is a quintessentially American story of self-creation, doubt, and elevation."—The Boston Globe

"The best writers—the best storytellers, in particular—possess the enchanting, irresistible power to take the reader somewhere else. Ta-Nehisi Coates imagines the furthest reach of that power as a means to transcend borders and bondage in The Water Dancer, a spellbinding look at the impact of slavery that uses meticulously researched history and hard-won magic to further illuminate this country's original sin. . . . Exploring the loaded issues of race and slavery has become yet more fuel for today's culture wars, but an underlying message of liberation through the embrace of history forms the true subject of The Water Dancer. . . . Coates envisions the transcendent potential in acknowledging and retelling stories of trauma from the past as a means out of darkness. With recent family separations at the U.S. border, this message feels all the more timely."—Los Angeles Times
Coverage from NPR
PRODUCT FEATURES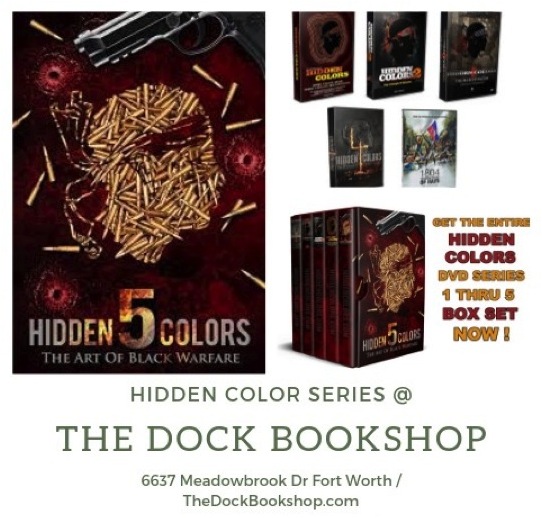 HIDDEN COLORS 5
Available at The Dock Bookshop!
Hidden Colors 5 is the final installment of the critically acclaimed Hidden Colors documentary series. In this installment, the film explores the history of warfare as it relates to global Black society. The film is broken down into 7 chapters that examines the ways the system of racism wages warfare from a historical, psychological, sexual, biological, health, educational, and military perspective.
---
---
EVENTS
The Dock Bookshop is Going to Frisco!
The Dock Bookshop
HOLIDAY EXPO
Sat. Dec. 14, 2019~12 Noon - 6 PM
Embassy Suites Frisco Convention Center
7600 John Q Hammons Dr. Frisco, TX 75034
Join us for this holiday and cultural experience!
Shopping - African Drumming - Book Discussions - Live Performances - Speakers - Book Signings
and more! Free Event
Interested in Vending Click here
or call/text 817.296.0288
---
We Are Thankful for You
MEMBER APPRECIATION
HOLIDAY RECEPTION
Tue. Dec. 17~6:30-8 PM @ The Dock
Dock Members or those interested in becoming Dock Members are cordially invited to attend our Member Appreciation Holiday Reception.
We will share our year in review and plans for 2020 over food and drinks
RSVP
or Become a Member Today!
---
DOCK TUESDAY OPEN MIC
Every Tuesday 8-10 PM @ The Dock
12-3 Sin's Birthday Bash
An evening of music, food, drinksand artistic expressions - poetry, live performances, comedy and more with good people and good energy. Come share your talent. $5 Cover
---
SMALL BUSINESS SATURDAY
Nov. 30
Shop local - Shop Indie - Shop The Dock!
Books, Incense, Oils, Health & Beauty, Jewelry, Albums, Journals, Calendars, Cards, Clothing, T-shirts, Bags and more!
---
READING WONDERLAND CHILDREN'S BOOK FAIR
Sat. Nov. 30~3-5 PM @ The Dock
Bring the family out to a reading wonderland of books, story time, guest authors, arts and crafts, refreshments and more.
RSVP
---
NWBC presents THE GATHERING OF READERS
Sat. Dec. 7~4-7 PM @ The Dock
THE GATHERING OF READERSis a celebration of Readers, Book Clubs and Authors - a social event with food, fun and entertainment
hosted by The NWBC.
Cost $10.00 per person. RSVP by December 5.
This event is for adults both men and women
RSVP
---
Stimulations to Success Ministries presents
THE RIGHT HAND OF GOD
Sun. Dec. 29 ~ 5-7 PM @ The Dock
We need guidance from God as we close out this year and make plans or 2020.
For more info call Minister Vanessa Brown 682-203-5646
---
KWANZAA AT THE DOCK
Thu. Dec. 26 - Tue. Dec. 31
Afternoon 2-4 PM and Evening 6-8 PM*
RSVP
Events are free and family oriented unless noted. Activities include libations, discussion of principles, lighting of candles, refreshments; and combination of story time, icebreaker, arts and crafts, film and presentation
(*Sat. Dec. 28 - Community Celebration 3-8 PM at The Dock; Sun. Dec. 29 evening is offsite; Tue. Dec. 31 evening is New Year's Eve Open Mic 8-10 PM $5 cover per person)
---
The Dock Bookshop
COMMUNITY KWANZAA CELEBRATION
Sat. Dec. 28
A free family cultural event
1 PM - Film: The Black Candle
3-7 PM - Libations, discussion of principles, lighting of candles, story time, icebreaker, arts and crafts, speakers, live performances, guest authors, book signings, refreshments and more!
RSVP
---
Dock in Community
Community Partners presents
KWANZAA FORT WORTH
Sat. Dec. 7~12 Noon-4 PM at
Austin Event Center 1125 E Berry St. FW
A CELEBRATION OF FAMILY, COMMUNITY AND CULTURE
FREE FAMILY EVENT
COME AND ENJOY Candle lighting ceremony, drumming, dancing, poetry, music, zumba and more. Plus shop our UjamaaMarketplace and learn from our panel of leaders as they expound upon the