The Ride of a Lifetime: Lessons Learned from 15 Years as CEO of the Walt Disney Company (Hardcover)

Description
---
#1 NEW YORK TIMES BESTSELLER • A memoir of leadership and success: The executive chairman of Disney, Time's 2019 businessperson of the year, shares the ideas and values he embraced during his fifteen years as CEO while reinventing one of the world's most beloved companies and inspiring the people who bring the magic to life.

NAMED ONE OF THE BEST BOOKS OF THE YEAR BY NPR

Robert Iger became CEO of The Walt Disney Company in 2005, during a difficult time. Competition was more intense than ever and technology was changing faster than at any time in the company's history. His vision came down to three clear ideas: Recommit to the concept that quality matters, embrace technology instead of fighting it, and think bigger—think global—and turn Disney into a stronger brand in international markets.

Today, Disney is the largest, most admired media company in the world, counting Pixar, Marvel, Lucasfilm, and 21st Century Fox among its properties. Its value is nearly five times what it was when Iger took over, and he is recognized as one of the most innovative and successful CEOs of our era.

In The Ride of a Lifetime, Robert Iger shares the lessons he learned while running Disney and leading its 220,000-plus employees, and he explores the principles that are necessary for true leadership, including:

• Optimism. Even in the face of difficulty, an optimistic leader will find the path toward the best possible outcome and focus on that, rather than give in to pessimism and blaming.
• Courage. Leaders have to be willing to take risks and place big bets. Fear of failure destroys creativity.
• Decisiveness. All decisions, no matter how difficult, can be made on a timely basis. Indecisiveness is both wasteful and destructive to morale.
• Fairness. Treat people decently, with empathy, and be accessible to them.

This book is about the relentless curiosity that has driven Iger for forty-five years, since the day he started as the lowliest studio grunt at ABC. It's also about thoughtfulness and respect, and a decency-over-dollars approach that has become the bedrock of every project and partnership Iger pursues, from a deep friendship with Steve Jobs in his final years to an abiding love of the Star Wars mythology.
 
"The ideas in this book strike me as universal" Iger writes. "Not just to the aspiring CEOs of the world, but to anyone wanting to feel less fearful, more confidently themselves, as they navigate their professional and even personal lives."
About the Author
---
Robert Iger is the executive chairman of The Walt Disney Company and directs the company's creative endeavors. He served as CEO from 2005 to 2020. He previously was president and COO from 2000 to 2005. Iger began his career at ABC in 1974, and as chairman of the ABC Group he oversaw the broadcast television network and station group, managed the cable television properties, and guided the merger between Capital Cities/ABC, Inc., and The Walt Disney Company. Iger officially joined the Disney senior management team in 1996 as chairman of the Disney-owned ABC Group and in 1999 was given the additional responsibility of president, Walt Disney International. In that role, Iger expanded Disney's presence outside of the United States, establishing the blueprint for the company's international growth today.
Praise For…
---
"I expected a book written by the person who has led Disney for decades to be defined by both gripping storytelling and deep leadership wisdom. Bob Iger delivers, and then some! The Ride of a Lifetime is leadership gold—you won't forget the stories or the lessons."—Brené Brown, #1 New York Times bestselling author of Dare to Lead
 
"Nurturing creativity is less a skill than an art—especially at a company where the brand alone is synonymous with creativity. That's a lot to live up to. Bob Iger has not only lived up to ninety-six years of groundbreaking history but has moved the Disney brand far beyond anyone's expectations, and he has done it with grace and audacity. This book shows you how that's happened."—Steven Spielberg
 
"People have been waiting years for Bob Iger to share his leadership secrets. Now he has, and they are utterly brilliant. The Ride of a Lifetime is not merely a memoir; it's a personal, all-access session with the wisest CEO you've ever met and a playbook for handling the key challenges of our age: how to drive change, leverage technology, build an enduring culture, and empower people. It's a rippingly good, revelatory read."—Daniel Coyle, New York Times bestselling author of The Culture Code
Coverage from NPR
The Dock Bookshop COVID-19 Response
In response to the COVID-19 crisis and compliance to mandates by local, state and federal authorities,The Dock Bookshop storefront is closed. Health and safety of our staff team and customers are priority.

Although we are not allowing customers in the store during this health crisis, The Dock Bookshop will provide delivery by mail or curbside/pick up at the door for orders.

Curbside/Pick Up At Door:

Tue-Thu 1-6p and Fri-Sat 11a-6p

Customers can place their orders for personal care, home care, and educational and entertaining books (aka mind food) while staying home and being safe.

Ways to order

*we are working to add more items to website. Currently book orders can be place online.
Personal care - soaps, shea butter, toothpaste, deodorant, medicinal oils, hair care, herbal teas, etc
(please call/text/email to place orders until our website is updated)

Home care - sage, incense, fragrance oils, etc

(please call/text/email to place orders until our website is updated)

Books (aka Mind Food) - Educational and entertaining books. Children Books, History &Culture, Self-Help, Fiction and more


We are all in this together and together we will prevail!
Stay Safe! Stay Strong! Stay Connected:
Follow thedockbookshop on social media platforms-Facebook, Instagram and Twitter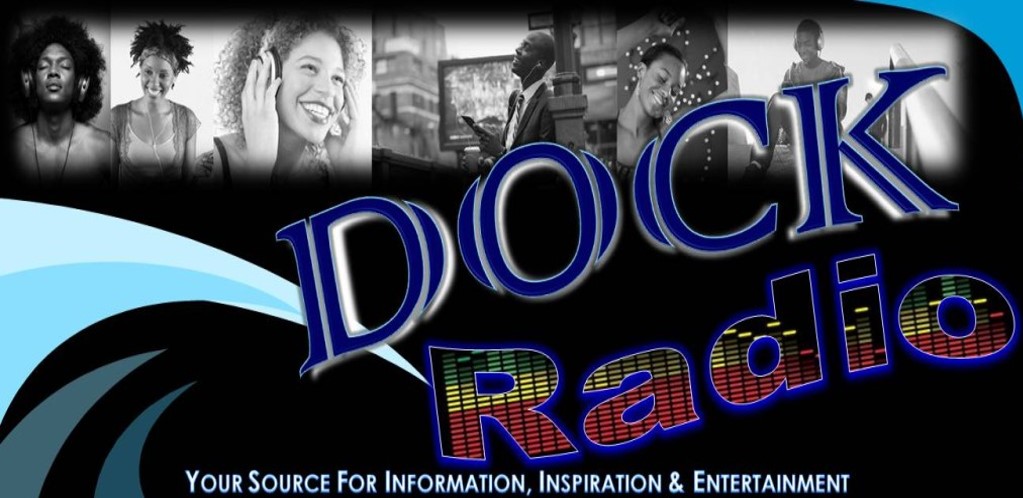 Dock Radio has a line-up of great shows and hosts highlighting various aspects of life and living!!! Also there will be guest authors discussing their books and businesses discussing their products and services on
We look forward to your interactions with the independent shows and guests.

For more information call 817-457-5700 or email: info@thedockbookshop.com

Ways to Tune-in
Download App "Dock Radio"

Website:
Weekly Schedule
Daily
6 AM Health Watch
11:30 AM Blue Ocean Strategy
12 Noon Health Watch
Monday
7 PM Tammy and Donya Show
8:15 PM Voices From the Past
Tuesday
7 PM Darolyn Brock Show
9:30 PM True-story Dramatization
Thursday
7 PM OnShore Radio
Saturday
10 AM OnShore Radio
Sunday

2 PM Soulfood Sundays

JOIN US TONIGHT!
Thursday, April 2 at 7:00 PM
OnShore hosted by Donya
Interview with Ivan Dockins
Author of Eleanor's Wicked Epiphany
OnShore Weekly

Thursday @7pm

Saturday @ 10am

AUDIO Listeners - "Dock Radio" - Download App: Iphone/Android/Ipad

or Website: www.dockradiolive.com

FACEBOOK: The Dock Bookshop & Dock Community

LIVE STREAM: www.docklive.tv


Call-In#: 972-427-7795

****

April 2nd @7pm - Author Ivan Dockins

April 4th @10am - Author Niyah Moore

April 11th @10am - Author Untamed
Weekly Schedule
OnShore Weekly

Thursday @7pm

Saturday @ 10am

****

April 2nd @7pm - Author Ivan Dockins

April 4th @10am - Author Niyah Moore

April 11th @10am - Author Untamed
DOCK OPEN MIC
Every Tuesday
8-10 PM
via ZOOM starting
Tuesday April 7

Stay Tuned for details!
Come share your talent and/or enjoy an evening of music, food, drinks and artistic expressions poetry, live performances, comedy and more -with good people and good energy!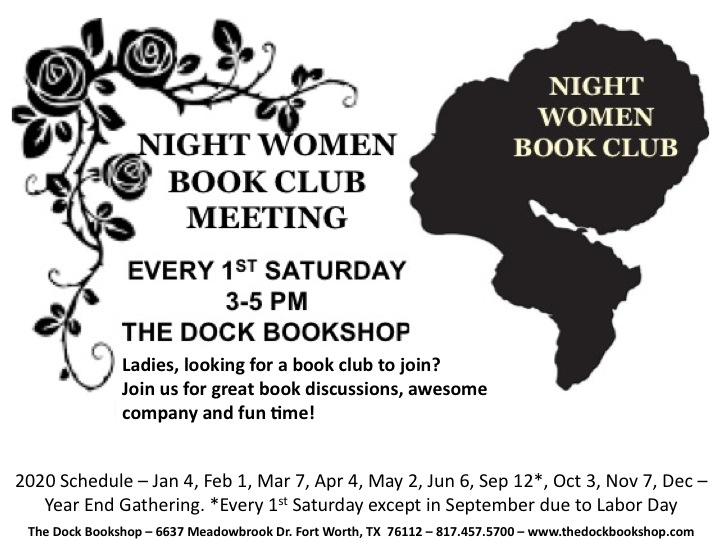 NIGHT WOMEN BOOK CLUB
1ST SATURDAY
3-5 PM via Zoom
Ladies, looking for a book club to join?
Join us for great book discussions, awesome company and fun time!
Book Discussion:
April 4 - Charcoal Joe
KIDS CLUB
April 25
2:30-3:30 PM
via Zoom

STAY TUNED FOR DETAILS
The Dock Bookshop Kids Club takes place every month and is sure to edutain both children and parents in an interactive setting. We have a variety of themed
programs that includes books, reading, play and more!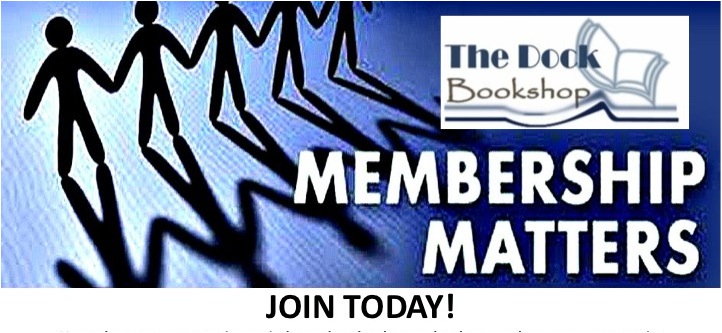 Not only are you supporting an independent bookstore that loves and supports community
but also your supporting...
*Literary and cultural programs including our Kids Club that impacts hundreds of families
*Artists who share their artistic expressions every Tuesday
Plus
*Receive additional discounts and savings on books
*Receive free tickets to Dock selected events
*Usage of meeting space (based on availability)
*Free advertising on Dock Eblast & social media outlets and more