Ready for Revolution: The Life and Struggles of Stokely Carmichael (Kwame Ture) (Hardcover)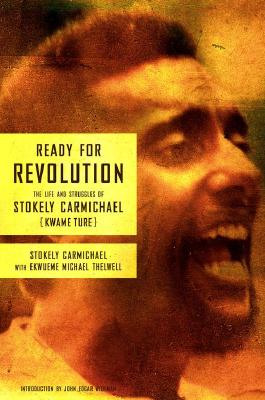 Description
---
By any measure, Stokely Carmichael (Kwame Ture) fundamentally altered the course of history. Published at the fifth anniversary of Carmichael's death, this long-awaited autobiography fills a yawning gap in the American historical record as it chronicles the legendary civil rights leader's work as chairman of SNCC, patriarch of Black Power, Pan-African activist, and social revolutionary. It is an unflinching, searing, often visionary testament to the man's legacy and joins the works of Frederick Douglass, W. E. B. Du Bois, Malcolm X, and Nelson Mandela as a crucial and colorful contribution to contemporary history.
As in life, the Carmichael in these pages is the definition of charisma and determination. In sharp prose full of Carmichael's candor, wit, irrepressible sense of irony, and undying love for his people, "Ready for Revolution" relates with clear-eyed intelligence the epic struggle for human liberation in our time. Carmichael -- who in 1978 changed his name to Kwame Ture in honor of his mentors, the revolutionary African leaders Kwame Nkrumah and Sekou Toure -- recounts the course of his own experience and struggles, ranging from the prison farms and lynch mobs of Mississippi through the firefights and political intrigue of the African liberation wars to Black Power and Pan-Africanism. His transformation from immigrant child to impassioned activist is spellbinding. Populated with an international cast of luminaries, including James Baldwin, Fannie Lou Hamer, Miriam Makeba, Shirley Graham Du Bois, Toni Morrison, Martin Luther King, Jr., Malcolm X, Ho Chi Minh, and Fidel Castro, "Ready for Revolution" captures, as few books ever have, the pulse of the cultural upheavals thatdefine the modern world.
More than the sum of its parts, this book is the personal testimony of a supremely courageous and committed African-American freedom fighter, radical thinker, and warm and engaging human being. Regardless of whether one subscribes to Carmichael's politics and ideas, there is no denying the overwhelming influence he had on American lives and history. And his view from the eye of the black-struggle storm is invaluable.