It's A Thin Line (Mass Market)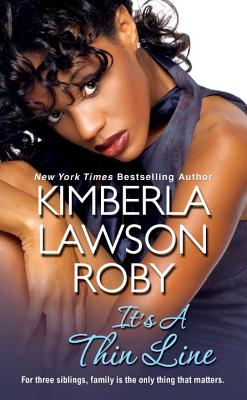 Description
---
Sydney, Gina, and Rick are siblings who have always shared a special bond, and yet their lives are as different as can be. Responsible eldest sister Sydney has a sexy husband, an adorable daughter, and fulfilling work. But, little by little, the demands of her writing career have mounted, leaving her little time or energy for family life. Meanwhile proud middle sister Gina is struggling to raise her eight-year-old twins—and protect them from the increasing fury of their volatile father. Impulsive brother Rick, the baby of the family, is living the high life—dodging commitment with his longtime girlfriend and wondering if the grass is greener somewhere else.

When their beloved mother Delores suffers a debilitating stroke, all three suddenly find the tenuous threads of their individual lives at a breaking point. A dark childhood secret threatens Sydney's secure world; Gina is swept into a maelstrom of domestic violence; and Rick comes to a dramatic crossroads in his relationship. Worst of all, the burden of caring for a parent is tearing the siblings apart, shattering their faith in one another. Now as Sydney, Gina, and Rick struggle to overcome daunting obstacles and rebuild their lives, they will discover something they've never let themselves believe: that their most stable—and most cherished—relationships have always been with each other.
About the Author
---
Kimberla Lawson Roby is the award-winning and New York Times bestselling author of the Reverend Curtis Black series as well as several other novels and novellas. She lives with her husband in Illinois. You can learn more about Kimberla by visiting KimRoby.com, Twitter.com/KimberlaLRoby, or Facebook.com/kimberlalawsonroby.