I'm «Only» Bleeding: Education as the Practice of Social Violence Against Children (Counterpoints #10) (Hardcover)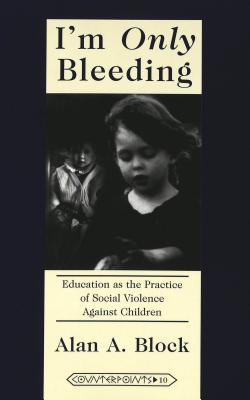 I'm «Only» Bleeding: Education as the Practice of Social Violence Against Children (Counterpoints #10) (Hardcover)
$50.10
Special Order
Other Books in Series
This is book number 10 in the Counterpoints series.
I'm Only Bleeding: Education as the Practice of Social Violence Against Children is an examination of the violence that education presently practices on our children. Using a paradigm steeped in object relations theory and its resulting psychoanalytic practice and in recent research in the burgeoning field of neuroscience, the book examines the growth of the child's psychological self and portrays the destructive effects that the idea and practice of schools and curriculum have on that development. This book explores the construction of the idea of the child as a product of adult needs and the schools as a place where children may be confined until they may be considered socially useful.
The Author: Alan A. Block is an Associate Professor in the Department of Education; School Counseling; School Psychology at the University of Wisconsin-Stout. His scholarly work is in curriculum theory and reading/language arts instruction. He has taught in the public schools for eighteen years and at the University for another seven years. His two young children are occupants of the school system. Dr. Block has published two other books, Anonymous Toil and Occupied Reading and numerous articles and book chapters.