The Postmodern Educator: Arts-Based Inquiries and Teacher Development (Counterpoints #89) (Paperback)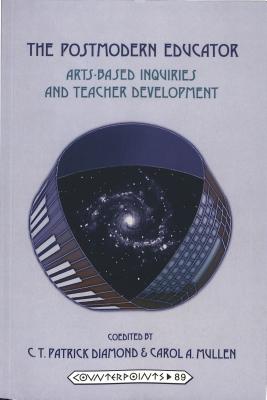 The Postmodern Educator: Arts-Based Inquiries and Teacher Development (Counterpoints #89) (Paperback)
$52.50
Special Order
Other Books in Series
This is book number 89 in the Counterpoints series.
The Postmodern Educator offers research stories of teachers and teacher educators who explore their own artistic and analytic practices in many different settings. Typically, arts-based research is presented only in theoretical and expository terms in the educational literature. In this book, however, the authors promote the development of arts-based narrative inquiries by using many artistic forms (stories, poems, narratives, visuals) to shape their topics of interest and those of their teacher colleagues. Teacher-researchers are invited, more generally, to reimagine not only their own research inquiries as forms of art but also the field of teacher education and development. Demonstration is the heart of this book. Chapters consist of a series of examples that illustrate arts-based inquiry and teacher development; dissertation supervision and completion; preservice and inservice teacher education; and other, less conventional, schooling contexts (academe, prisons). The actual literary and artistic examples provided are varied in form and content. A postmodern form of arts-based inquiry and teacher development emerges that is playful, self-referential, provocative, self-conscious, politically sensitive, and committed to reform ethics.
The Editors: C. T. Patrick Diamond is Professor at the Center for Teacher Development, Ontario Institute for Studies in Education, University of Toronto. He is Associate Editor of Curriculum Inquiry and has published over 120 works dealing with personal construct, narrative, and arts-based approaches to inquiry and teacher development. He is completing a three-year research project funded by the Social Science and Humanities Research Council of Canada. Carol A. Mullen is Assistant Professor at Auburn University in Alabama. She specializes in arts-based narrative development, mentorship, and diversity within university, prison, and school settings. She has published numerous journal articles in addition to two 1997 books, Breaking the Circle of One (Peter Lang), Imprisoned Selves, and New Directions for Mentoring (in press). Her forthcoming works include guest editorial contributions to several journals as well as writings based on a partner support group effort with teachers and teacher educators.