Going Out, Not Knowing Whither: Education, the Upward Journey and the Faith of Reason (Counterpoints #92) (Hardcover)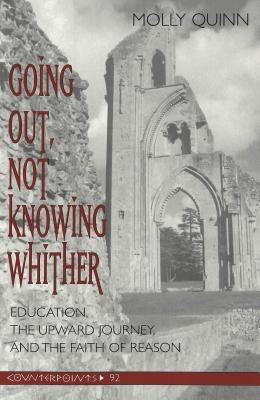 Going Out, Not Knowing Whither: Education, the Upward Journey and the Faith of Reason (Counterpoints #92) (Hardcover)
$44.00
Special Order
Other Books in Series
This is book number 92 in the Counterpoints series.
Reading the history of education and curriculum thought through the crisis of modernity marked by the death of God , the disenchantment of the world , and the disintegration of the human subject, the author describes our current spiritual situation and its problems. Central is an examination of the contemporary critique of reason, its growing indictment as the source of present woes, particularly given that the heart of the West has been its relentless pursuit of reason and an unwavering faith in it as humanity's hope for achieving the good, the true, and the beautiful. The inquiry is made toward an understanding of the project of education, as the guardian of reason and the avenue through which human faith in reason is expressed, and the crisis in which this project, too, has culminated. The possibility is set forth of redeeming reason and reclaiming education as the upward journey of the soul in search of the good, the true, and the beautiful.
The Author: Molly Quinn is Assistant Professor in Education Studies at Adelphi University, New York. She received her Ph.D. in curriculum theory and English from Louisiana State University. She teaches undergraduate and graduate courses in curriculum, social studies, literature, and the arts. Her research interests lie primarily in the spiritual critique and revitalization of education through the power of the imagination, as well as the theory and praxis of social justice therein, particularly their ontological and axiological foundations.