House of Mirrors: Performing Autobiograph(icall)Y in Language/Education (Counterpoints #146) (Paperback)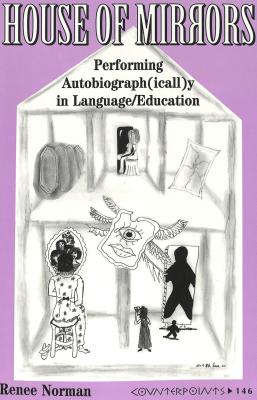 House of Mirrors: Performing Autobiograph(icall)Y in Language/Education (Counterpoints #146) (Paperback)
$44.00
Special Order
Other Books in Series
This is book number 146 in the Counterpoints series.
This textual House of Mirrors explores and performs autobiography in/as re-search through the presentation of poetry, personal stories, and theoropoetic ruminations. The themes of writing, mothering, and teaching are reflected by examining the self/selves in the context of textual and living others. This book also incorporates the contributions of women's autobiographical writings and provides some curricular applications for autobiography in education. Drawing upon feminist and literary thought, House of Mirrors reflexively enacts the possibilities, ethical complications, and disruptions of writing autobiographically about self, others, and autobiography.
The Author: Renee Norman is a prize-winning poet and writer who teaches in the Faculty of Education at the University of British Columbia, where she received her Ph.D. in language education. Her doctoral dissertation received the 2000 Canadian Association for Curriculum Studies Distinguished Dissertation Award. Her poetry, stories, and articles have been published widely in literary and academic journals, anthologies, and newspapers. She is the mother of three schoolage daughters.