The Gender of Racial Politics and Violence in America: Lynching, Prison Rape, & the Crisis of Masculinity (Counterpoints #163) (Paperback)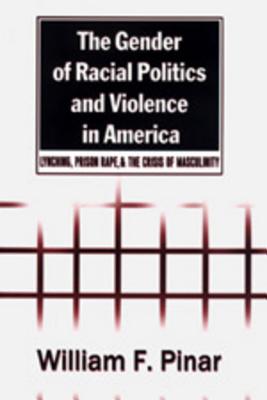 The Gender of Racial Politics and Violence in America: Lynching, Prison Rape, & the Crisis of Masculinity (Counterpoints #163) (Paperback)
$70.90
Special Order
Other Books in Series
This is book number 163 in the Counterpoints series.
Perhaps not since Gunnar Myrdal's 1944 classic An American Dilemma has a book appeared as synoptic and unsettling as The Gender of Racial Politics and Violence in America. Here William F. Pinar elucidates the great American dilemma , that peculiar institution of racial subjugation, especially its gendered - and specifically queer - psychosexual dynamics. Explicating in detail two imprinting episodes in American racial history - lynching and prison rape - Pinar argues that the gender of racial politics and violence in America is in some fundamental sense queer . This book will be of interest to students in education, cultural studies, African American studies, women's and gender studies, and history.
The Author: William F. Pinar received his Ph.D. from Ohio State University in 1972. He teaches curriculum theory at Louisiana State University, where he serves as the St. Bernard Parish Alumni Endowed Professor, appointed to the faculties of education and of women and gender studies. Dr. Pinar has also served as the A. Lindsay O'Connor Professor of American Institutions at Colgate University and the Frank Talbott Professor at the University of Virginia. He is the author of Autobiography, Politics, and Sexuality (Peter Lang, 1994), Understanding Curriculum (Peter Lang, 1995), and the editor of Contemporary Curriculum Discourses: Twenty Years of 'JCT' (Peter Lang, 1999).