Difficult Memories: Talk in a (Post) Holocaust Era (Counterpoints #165) (Paperback)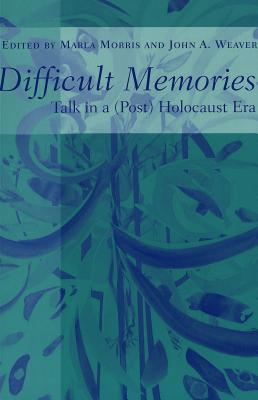 Difficult Memories: Talk in a (Post) Holocaust Era (Counterpoints #165) (Paperback)
$42.30
Special Order
Other Books in Series
This is book number 165 in the Counterpoints series.
Difficult Memories: Talk in a (Post) Holocaust Era attempts a difficult cross-cultural discussion. These scholars agree that the Holocaust is not just in the past - it is with us in memory. Professors and students alike - whether European, American, or Canadian, or whether Holocaust survivors - second or third generation Jews after the event are affected/effected by this haunting memory. Here scholars attempt to grapple with trauma, horror, anti-Semitism, hatred, murder, guilt, mourning, and anger - all the unthinkable subject matters that are usually squashed out of our curricula. The authors explore Holocaust issues via fiction, philosophy, science education, historiography, psychoanalysis, and autobiography as they relate to the curriculum studies. These scholars discuss the importance of keeping the Holocaust present in memory by making it a difficult subject matter which needs to be integrated into the curriculum especially as we enter the twenty-first century when many Holocaust survivors will die. This is our duty and our call - our responsibility as educators.
The Editors: Marla Morris is the author of Curriculum and the Holocaust: Competing Sites of Memory and Representation. She is the editor of the Journal of Curriculum Theorizing and has written for numerous journals including Educational Theory; Taboo: The Journal of Culture and Education; Teaching Education; and The Journal of Curriculum Theorizing. She is currently Professor at Georgia Southern University. John A. Weaver is the author of Rethinking Academic Politics in (Re)unified Germany and the United States. He is editor of various books including Popular Culture and Critical Pedagogy and Postmodern Science Education. He has published in numerous journals including Comparative Education; the Journal of Curriculum Theorizing; and Race, Class, Gender. He is currently Professor at Georgia Southern University.