Evaluation Practice Reconsidered (Counterpoints #211) (Paperback)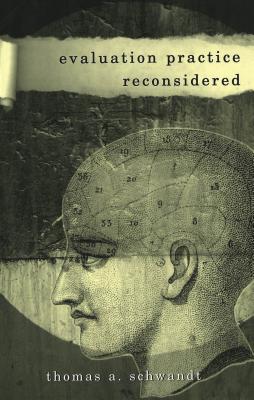 Evaluation Practice Reconsidered (Counterpoints #211) (Paperback)
$44.00
Special Order
Other Books in Series
This is book number 211 in the Counterpoints series.
Evaluation Practice Reconsidered encourages a new way of thinking about the activity of judging the merit, worth, or significance of some human action, such as a policy, program, or project. Yet, it is not about another model or methodology for evaluation. Taken collectively, the ideas explored here suggest a way of reasoning about and engaging in evaluation that is not bound either to the characterization of evaluation as applied social science that is not bound either to the characterization of evaluation as a professional practice of experts. Rather, the book explores evaluation as practical hermeneutics. Conceived in this way, evaluation is about acquiring an action-oriented self understanding that is continuous with our ordinary ways of thinking and actions in everyday life.
The Author: Thomas A. Schwandt is Professor of Education at the University of Illinois Urbana-Champaign, where he also holds an appointment in the Unit of Criticism and Interpretive Theory. He has lectured and held visiting appointments at several institutes and universities throughout Scandinavia. His scholarship is concerned with philosophical issues in interpretive methodologies, social science epistemology, and theory of evaluation. He is the author of the Dictionary of Qualitative Inquiry, Second Edition, as well as numerous papers in professional journals.