Not Just Any Dress: Narratives of Memory, Body, and Identity (Counterpoints #220) (Paperback)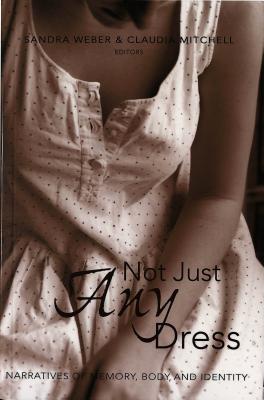 Not Just Any Dress: Narratives of Memory, Body, and Identity (Counterpoints #220) (Paperback)
$54.05
Usually Ships in 1-5 Days
Other Books in Series
This is book number 220 in the Counterpoints series.
If dresses could talk, what stories might they tell? This compelling collection of short stories, essays, and poems features dress as the structural grounding for autobiographical accounts from women's lives in Western society. Often personal in nature, these dress stories point unfailingly to matters of social and cultural import. Some of the dresses described inhabit the popular imagination: the little girl dress, the communion dress, the school uniform, the prom dress, the wedding dress, the little black dress, and the burial dress. Beyond the semiotic, tactile, and visual aspects of the dresses themselves, the narratives delve into what dresses reveal about fundamental aspects of human experience: identity, embodiment, relationship, and mortality. Bought or made, then worn, forgotten, remembered, re-constructed, and re-interpreted, each dress offers a new glimpse into how we construct meaning in our daily lives, and how dresses serve to reinforce or resist social structures and cultural expectations.
The Editors: Sandra Weber is Professor of Education and a Fellow at the Simone de Beauvoir Institute at Concordia University, Montreal. Claudia Mitchell is a Professor and Chair in the School of Education at the University of Natal, South Africa. Her most recent book, Researching Children's Popular Culture: The Cultural Spaces of Childhood (with Jacqueline Reid-Walsh) was published in 2002. Together, Weber and Mitchell have co-authored That's Funny, You Don't Look Like a Teacher: Interrogating Images of Identity in Popular Culture (1995) and Reinventing Ourselves as Teachers: Beyond Nostalgia (1999). Co-founders of the Image and Identity Research Collective, they have also co-produced two documentaries on prom dressing, girlhood, and youth culture: Canadian Pie (2002), and Dress Fitting (2000).