Black Hands in the Biscuits- Not in the Classrooms: Unveiling Hope in a Struggle for Brown's Promise (Counterpoints #286) (Paperback)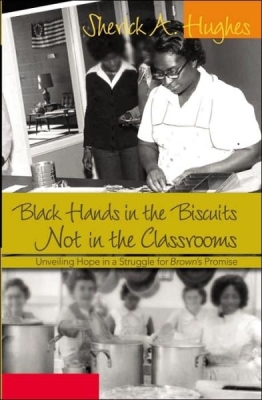 Black Hands in the Biscuits- Not in the Classrooms: Unveiling Hope in a Struggle for Brown's Promise (Counterpoints #286) (Paperback)
$44.00
Special Order
Other Books in Series
This is book number 286 in the Counterpoints series.
This book won the 2007 AESA (American Educational Studies Association) Critics Choice Award. From Nigger, Nigger, Black as Tar, Won't Go to Heaven in a Motor Car to They're Not Ready Yet, this book breathes life into an often-abandoned, rural Black family story. This book illuminates a struggle and hope for education in Southern desegregated grade schools and illustrates school experiences from multiple generations within three Black families as it introduces Black family pedagogy of roots and wings - keys to survival and success at a crossroads of law, tradition, and transition. Black Hands in the Biscuits Not in the Classrooms is a must read for lifelong students of education, sociology, public policy, and history.
The Author: Sherick A. Hughes earned his B.A. from the University of North Carolina at Wilmington, his M.A. from Wake Forest University, and his M.P.A. and his Ph.D. from the University of North Carolina at Chapel Hill. Dr. Hughes also earned an esteemed Phi Delta Kappa award for the dissertation that inspired this book. Currently, he teaches courses in the College of Education at the University of Toledo as a tenure track professor. He has particular interests in the relationships between society, school, and home. In addition to numerous professional journal articles and book chapters, Dr. Hughes is an author and editor of What We Still Don't Know About Teaching Race (forthcoming).