Trust and the Public Good: Examining the Cultural Conditions of Academic Work (Counterpoints #308) (Paperback)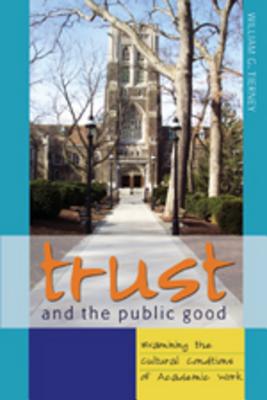 Trust and the Public Good: Examining the Cultural Conditions of Academic Work (Counterpoints #308) (Paperback)
$44.00
Special Order
Other Books in Series
This is book number 308 in the Counterpoints series.
Trust and the Public Good considers the role of trust in academic life - as related to social networks, communities, and organizational communication. The text also considers the unique relationship between higher education and the public, noting that trust is essential to fulfillment of the public good. Utilizing a series of institutional case studies, William G. Tierney maintains that the status quo is untenable for higher education. Institutions will be called upon to take risks; innovation and experimentation demand that what is known may be changed or dropped in favor of what is unknown. When individuals take risks in an organization, they need to trust the organization and one another. Trust and the Public Good is essential reading for faculty members, administrators, and preservice teachers.
The Author: William G. Tierney is Wilbur-Kieffer Professor of Higher Education and Director of the Center for Higher Education Policy Analysis at Rossier School of Education, University of Southern California. He received his Ph.D. in administration and policy analysis from Stanford University.