Traveling Soul: The Life of Curtis Mayfield (Paperback)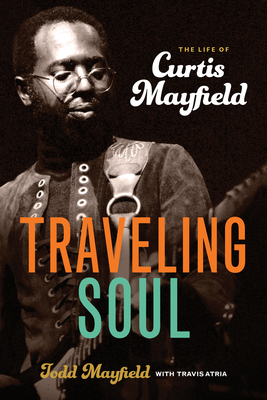 Description
---
Society of Midland Authors Literary Award Winner

Curtis Mayfield was one of the seminal vocalists and most talented guitarists of his era, and his music played a vital role in the civil rights movement: "People Get Ready" was the black anthem of the time. In Traveling Soul, Todd Mayfield tells his famously private father's story in riveting detail. Born into dire poverty, raised in the slums of Chicago, Curtis became a musical prodigy, not only singing like a dream but growing into a brilliant songwriter. In the 1960s he opened his own label and production company and worked with many other top artists, including the Staple Singers. Curtis's life was famously cut short by an accident that left him paralyzed, but in his declining health he received the long-awaited recognition of the music industry. Passionate, illuminating, vivid, and absorbing, Traveling Soul will doubtlessly take its place among the classics of music biography.
About the Author
---
Todd Mayfield is Curtis Mayfield's second oldest son. He is an entrepreneur and former financial services executive in Chicago, and promotes his father's music and legacy. Travis Atria has written over 300 articles for Rolling Stone, Paste, Wax Poetics, the Believer, People and other publications.
Praise For…
---
"Curtis Mayfield was a national treasure and now, finally, we have his story in all of its majesty and sorrow. Music biographies are rarely described as 'thrilling,' but this one is. Here's the story of an influential and unappreciated artist during the country's long season of turmoil. What a magnificent musical and cultural legacy." —William McKeen, author of Outlaw Journalist and Mile Marker Zero

"Traveling Soul is a gift to everyone who's ever taken strength from 'People Get Ready,' 'Superfly,' 'Keep On Pushing,' or 'We're a Winner.' Todd Mayfield gives us a loving, honest vision of a Curtis Mayfield that's never been seen outside his inner circle. When the history of American soul music is written in a hundred years, Curtis Mayfield's name will be in the first rank, alongside Marvin Gaye, James Brown, Al Green, Aretha Franklin, and Stevie Wonder." —Craig Werner, author of Higher Ground and A Change Is Gonna Come

"Finally a book that gets to the heart and soul of one of the great geniuses of American music." —David Ritz, author of Divided Soul: The Life of Marvin Gaye

"[Traveling Soul will] make readers want to seek out the singer and songwriter, if they haven't already fired up their old LPs." —Kirkus Reviews