Trap Kitchen (Paperback)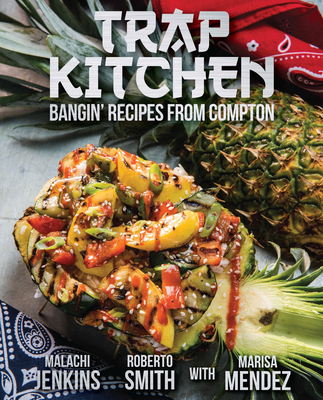 Other Books in Series
This is book number 1 in the Trap Kitchen series.
Description
---
"Jenkins and Smith, who once belonged to rival L.A. gangs, became friends and started a catering business marketed solely on Instagram. Media outlets took notice, as did Snoop Dogg and Martha Stewart, paving the way for their debut cookbook" – Publishers Weekly

When two former members of Los Angeles' most nefarious rival gangs decided to unite under one oven, they had no idea that they would be creating an empire.  Trap Kitchen  is more than just a cookbook. It's a glimpse into the meals that have now become famous in the LA streets thanks to the series of pop-up restaurants that continue to bloom throughout the area. Celebrities and residents alike flock to the locations for soulful meals, but it's more than that. 

Having lost friends and family to violence, we learn how the masterminds behind Trap Kitchen sought to change the paths they were on, using cooking as their driving force. While other cookbooks may boast a level of urban-skewed appeal in their realness, this cookbook also delves into the stories of why they became involved in cooking in the first place. 

It's both a heartfelt and stomach-filling experience to learn how two men changed their stars by seeking out peace and good food for themselves and their community.
About the Author
---
Malachi Jenkins and Roberto Smith are childhood friends from neighboring rival gangs, brought together by their two passions: food and girls. Today they are the co-founders and owners of Trap Kitchen LA. The underground culinary experience was completely fueled off Instagram. Their colorful past has made them media darlings, having appeared on the Today Show, Martha & Snoop's Potluck Dinner Party, VICE, The Huffington    Post, Fox 11 News, and BET.





Marisa Mendez is a media personality and journalist who has built her reputation around all things digital, working for some of the biggest names in entertainment and hip-hop. The New Jersey native is most recognized for her work as the co-host of Joe Budden's I'll Name This Podcast Later, at Hot 97 on Ebro In The Morning, and as a writer on Funkmaster Flex's blog, In Flex We Trust. After leaving Joe's podcast, Marisa launched her own, Marisa Explains It All, which hit number one on iTunes' Music Podcasts chart after just two episodes. In addition to her career on the mic, she is also a digital strategist, and has managed social media campaigns for Pusha T's clothing line Play Cloths, French Montana, Swizz Beatz, Nicki Minaj and more.
Praise For…
---
"Soon after the neighborhood got wind of Trap Kitchen's impeccable service, celebrities caught on to the food craze.... Tyrese was an early client, and now the duo boasts a star-studded clientele including Justin Bieber, Dave Chappelle, Chris Brown, Common (pictured above), Tyga, Kylie Jenner, Kendall Jenner, Ice Cube, Anthony Anderson, Kanye West, Kim Kardashian, Post Malone, The Roots and August Alsina".  - Billboard    

"The Best Los Angeles cookbooks of 2018"- This.. cookbook is anything but conventional—but then again, the culinary come-up of Malachi Jenkins and Roberto Smith was anything but conventional. Part recipe collection and part autobiography, the Trap Kitchen book details the duo's rise from gang life to cooking for the likes of Snoop and Kendrick Lamar.  They also make food fun. Hands-down, it's the most enjoyable read on this list. – Time Out

"Jenkins and Smith, who once belonged to rival L.A. gangs, became friends and started a catering business marketed solely on Instagram. Media outlets took notice, as did Snoop Dogg and Martha Stewart, paving the way for their debut cookbook" – Publishers Weekly

"Two gang members from rival hoods have joined forces to prove that trapping can be a legitimate come up." - Huffington Post  

"With more than 284,000 followers on Instagram, Trap Kitchen is a true Los Angeles success story....The media eventually got a whiff of the venture and business immediately exploded. Jenkins has since catered for the likes of Snoop Dog and Tyrese" — even Martha Stewart." – LA Weekly
 

 "Some of the most successful business models spring out of creating new from the ordinary. For the creators of the Trap Kitchen, that's exactly what they did. By creating a full-service, underground catering business, two Compton, California-based young men have experienced the power of social media, scrappy business and good food."..."Their success quickly moved beyond the streets of Compton, gaining attention and creating customers out of notable celebrities like Tyga, The Game, Kendrick Lamar and more, who now turn to the Trap Kitchen to cater their parties". - Forbes


"Soon, people started placing orders and slowly, their catering business Trap Kitchen LA was birthed." - Vibe

"...dishes are as diverse as his 236,000 Instagram followers." - Vice