37 Things I Love (in no particular order) (Paperback)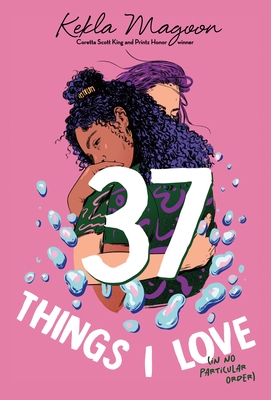 Description
---
A powerful story about friendship, death, and figuring out who you are, from the author of How It Went Down, The Rock and the River, and X: A Novel (with Ilyasah Shabazz)
Ellis only has four days of her sophomore year left, and summer is so close that she can almost taste it. But even with vacation just within reach, Ellis isn't exactly relaxed. Her father has been in a coma for years, the result of a construction accident, and her already-fragile relationship with her mother is strained over whether or not to remove him from life support. Her best friend fails even to notice that anything is wrong and Ellis feels like her world is falling apart. But when all seems bleak, Ellis finds comfort in the most unexpected places.
Life goes on, but in those four fleeting days friends are lost and found, promises are made, and Ellis realizes that nothing will ever quite be the same, in 37 Things I Love (in no particular order) by Kekla Magoon, who won the Coretta Scott King-John Steptoe Award for the Rock and the River, whose book X :A Novel (written with Ilyasah Shabazz) was longlisted for the National Book Award, and who earned the Coretta Scott King Author Honor for How it Went Down.
"Magoon (Camo Girl) gently but unflinchingly explores difficult adolescent territory in this intelligent, affecting novel. . . . [T]he book traces 15-year-old Ellis's complex emotional journey as she confronts the inevitable death of her comatose father. . . . navigates volatile friendship dramas, explores her sexual identity, and struggles with her evolving relationship with her mother." –Publisher's Weekly
"This coming out story takes the reader on her journey as she deals with the family dynamics, and tries to understand her own sexual orientation." -Children's Literature
About the Author
---
Kekla Magoon is the author of Camo Girl and The Rock and the River, winner of the Coretta Scott King/John Steptoe Award. She is a New York City-based editor, speaker, and educator. In addition to writing fiction, Kekla leads writing workshops for youth and adults, writes non-fiction titles for the education market, and is the co-editor of YA & Children's Literature for Hunger Mountain, the arts journal of Vermont College.
Praise For…
---
"Magoon (Camo Girl) gently but unflinchingly explores difficult adolescent territory in this intelligent, affecting novel." —Publishers Weekly
"…coming of age, death, hope, love--and Ellis is a character to care about and cheer on for a long, long time." —Horn Book
"...[a] powerful outing from a rising star." —Kirkus