JAY-Z: Made in America (Hardcover)

List Price: $25.99
Our Price: $18.19
(Save: $7.80 30%)
Usually Ships in 1-5 Days
Description
---
NOW A NEW YORK TIMES BESTSELLER

"Dyson writes with the affection of a fan but the rigor of an academic. ... Using extensive passages from Jay-Z's lyrics, 'Made in America' examines the rapper's role as a poet, an aesthete, an advocate for racial justice and a business, man, but devotes much of its energy to Hova the Hustler." —Allison Stewart, The Washington Post
"Dyson's incisive analysis of JAY-Z's brilliance not only offers a brief history of hip-hop's critical place in American culture, but also hints at how we can best move forward." —Questlove
JAY-Z: Made in America is the fruit of Michael Eric Dyson's decade of teaching the work of one of the greatest poets this nation has produced, as gifted a wordsmith as Walt Whitman, Robert Frost and Rita Dove. But as a rapper, he's sometimes not given the credit he deserves for just how great an artist he's been for so long.
This book wrestles with the biggest themes of JAY-Z's career, including hustling, and it recognizes the way that he's always weaved politics into his music, making important statements about race, criminal justice, black wealth and social injustice. As he enters his fifties, and to mark his thirty years as a recording artist, this is the perfect time to take a look at JAY-Z's career and his role in making this nation what it is today.
In many ways, this is JAY-Z's America as much as it's Pelosi's America, or Trump's America, or Martin Luther King's America. JAY-Z has given this country a language to think with and words to live by.
Featuring a Foreword by Pharrell
About the Author
---
MICHAEL ERIC DYSON is one of America's premier public intellectuals and the author of the New York Times bestsellers Tears We Cannot Stop and What Truth Sounds Like. He occupies the distinguished position of University Professor of Sociology at Georgetown University, is a contributing opinion writer for the New York Times, and is a contributing editor of The New Republic and ESPN's The Undefeated. Ebony magazine named him one of the 100 Most Influential African Americans and one of the 150 most powerful blacks in the nation.
Praise For…
---
Named a November must-read by Salon | A The Washington Post 50 notable works of nonfiction in 2019

"A jewel of a book." —Veronica Chambers, Shondaland

"Under Dyson's guidance, to read about Jay-Z is to learn not just about the journey and works but also about ourselves, our history, our world, and our way forward... we are sitting in a classroom under the spell of a captivating teacher." —Library Journal, Starred Review
"[An] astute cultural biography... Dyson's excellent study serves as a succinct blueprint of Jay-Z's artistry and legacy." —Publisher's Weekly
"[Dyson] makes his case that as a truth-telling racial unifier, political influence, and 'vocal evangelist for developing generational wealth in black communities,' Jay-Z represents a symbol of 'overcoming' for hip-hop culture and American society." —Booklist
"Michael Eric Dyson, a preeminent public intellectual, has covered the waterfront of black cultural criticism — from politics to pop culture, from race to religion. With JAY-Z: Made in America, he returns to his roots and offers us a poignant portrait of one of hip hop's most intriguing figures, a brilliant self-made man who, if he didn't exist, you'd have to invent. This tour de force takes full measure of an icon who is an American original like no other!" —Henry-Louis Gates
"If you want the definitive treatment of a man who took it from Marcy Projects to the White House with wit, wisdom, and talent, and changed hip hop along the way, look no further than this insightful and moving book." —Common
"My Brooklyn Homeboy JAY-Z is one of the most prolific and gifted rappers of all time. My man Michael Eric Dyson is uniquely qualified to interpret JAY-Z's art and cultural meaning, and this dope book is all the proof we need." —Spike Lee
"As a proud standard bearer of hip hop's golden age, I greatly admire Jay-Z's lyrical talent, and just as important, his business acumen. This brilliant book not only explains Jay's magnificent artistry and career, but it sheds light on the broader American culture as well." —Queen Latifah
"Jay-Z is one of the most remarkable figures of our time. I identify with him as a person who started poor but who rose high to conquer our realms on our own terms. This brilliant work probes every dimension of this iconic American original." —Tyler Perry

"Michael Eric Dyson is the perfect thinker and writer to grapple with Jay-Z's artistic and political meaning. This is a fascinating and fulfilling book that eloquently engages one of the most profound and influential artists of our time." —Al Sharpton
"Jay-Z's music has helped to shape a generation, and his rise from hustler to billionaire is an inspiration to millions. Michael Eric Dyson, himself a gifted writer and inspiring thinker who has risen from the bottom too, offers us a bracing, brilliant look at an iconic American. This book is eloquent and profound, and will help all of us understand why Jay-Z is in a class by himself." —Tamron Hall
Coverage from NPR
PRODUCT FEATURES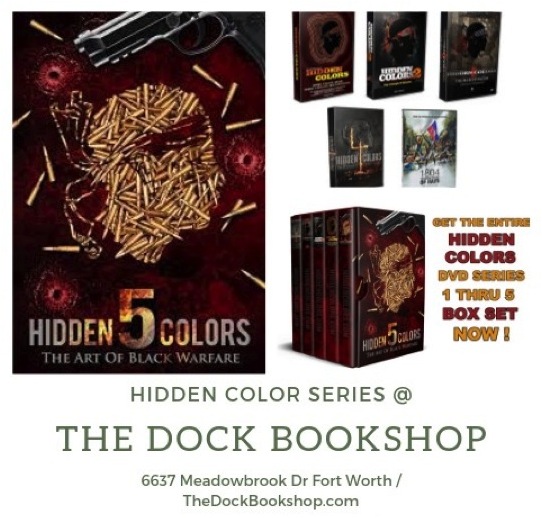 HIDDEN COLORS 5
Available at The Dock Bookshop!
Hidden Colors 5 is the final installment of the critically acclaimed Hidden Colors documentary series. In this installment, the film explores the history of warfare as it relates to global Black society. The film is broken down into 7 chapters that examines the ways the system of racism wages warfare from a historical, psychological, sexual, biological, health, educational, and military perspective.
---
---
EVENTS
The Dock Bookshop is Going to Frisco!
The Dock Bookshop
HOLIDAY EXPO
Sat. Dec. 14, 2019~12 Noon - 6 PM
Embassy Suites Frisco Convention Center
7600 John Q Hammons Dr. Frisco, TX 75034
Join us for this holiday and cultural experience!
Shopping - African Drumming - Book Discussions - Live Performances - Speakers - Book Signings
and more! Free Event
Interested in Vending Click here
or call/text 817.296.0288
---
We Are Thankful for You
MEMBER APPRECIATION
HOLIDAY RECEPTION
Tue. Dec. 17~6:30-8 PM @ The Dock
Dock Members or those interested in becoming Dock Members are cordially invited to attend our Member Appreciation Holiday Reception.
We will share our year in review and plans for 2020 over food and drinks
RSVP
or Become a Member Today!
---
DOCK TUESDAY OPEN MIC
Every Tuesday 8-10 PM @ The Dock
12-3 Sin's Birthday Bash
An evening of music, food, drinksand artistic expressions - poetry, live performances, comedy and more with good people and good energy. Come share your talent. $5 Cover
---
SMALL BUSINESS SATURDAY
Nov. 30
Shop local - Shop Indie - Shop The Dock!
Books, Incense, Oils, Health & Beauty, Jewelry, Albums, Journals, Calendars, Cards, Clothing, T-shirts, Bags and more!
---
READING WONDERLAND CHILDREN'S BOOK FAIR
Sat. Nov. 30~3-5 PM @ The Dock
Bring the family out to a reading wonderland of books, story time, guest authors, arts and crafts, refreshments and more.
RSVP
---
NWBC presents THE GATHERING OF READERS
Sat. Dec. 7~4-7 PM @ The Dock
THE GATHERING OF READERSis a celebration of Readers, Book Clubs and Authors - a social event with food, fun and entertainment
hosted by The NWBC.
Cost $10.00 per person. RSVP by December 5.
This event is for adults both men and women
RSVP
---
Stimulations to Success Ministries presents
THE RIGHT HAND OF GOD
Sun. Dec. 29 ~ 5-7 PM @ The Dock
We need guidance from God as we close out this year and make plans or 2020.
For more info call Minister Vanessa Brown 682-203-5646
---
KWANZAA AT THE DOCK
Thu. Dec. 26 - Tue. Dec. 31
Afternoon 2-4 PM and Evening 6-8 PM*
RSVP
Events are free and family oriented unless noted. Activities include libations, discussion of principles, lighting of candles, refreshments; and combination of story time, icebreaker, arts and crafts, film and presentation
(*Sat. Dec. 28 - Community Celebration 3-8 PM at The Dock; Sun. Dec. 29 evening is offsite; Tue. Dec. 31 evening is New Year's Eve Open Mic 8-10 PM $5 cover per person)
---
The Dock Bookshop
COMMUNITY KWANZAA CELEBRATION
Sat. Dec. 28
A free family cultural event
1 PM - Film: The Black Candle
3-7 PM - Libations, discussion of principles, lighting of candles, story time, icebreaker, arts and crafts, speakers, live performances, guest authors, book signings, refreshments and more!
RSVP
---
Dock in Community
Community Partners presents
KWANZAA FORT WORTH
Sat. Dec. 7~12 Noon-4 PM at
Austin Event Center 1125 E Berry St. FW
A CELEBRATION OF FAMILY, COMMUNITY AND CULTURE
FREE FAMILY EVENT
COME AND ENJOY Candle lighting ceremony, drumming, dancing, poetry, music, zumba and more. Plus shop our UjamaaMarketplace and learn from our panel of leaders as they expound upon the