Black Panther, Book 1: A Nation Under Our Feet (Paperback)

List Price: $16.99
Our Price: $11.55
(Save: $5.44 32%)
Usually Ships in 1-5 Days
Description
---
A new era begins for the Black Panther MacArthur Genius and National Book Award-winning writer T-Nehisi Coates (BETWEEN THE WORLD AND ME) takes the helm, confronting T'Challa with a dramatic upheaval in Wakanda that will make leading the African nation tougher than ever before. When a superhuman terrorist group that calls itself The People sparks a violent uprising, the land famed for its incredible technology and proud warrior traditions will be thrown into turmoil. If Wakanda is to survive, it must adapt--but can its monarch, one in a long line of Black Panthers, survive the necessary change? Heavy lies the head that wears the cowl
COLLECTING: Black Panther 1-4, Fantastic Four (1961) 52.
About the Author
---
Ta-Nehisi Coates is an American writer, journalist, and educator. Coates is a National Correspondent for The Atlantic, where he writes about cultural, social and political issues, particularly as regards African-Americans. Coates has worked for The Village Voice, Washington City Paper, and Time. He has contributed to The New York Times Magazine, The Washington Post, The Washington Monthly, O, and other publications. In 2008 he published a memoir, The Beautiful Struggle: A Father, Two Sons, and an Unlikely Road to Manhood. His second book, Between the World and Me, was released in July 2015. It was nominated for a 2015 National Book Award for Nonfiction. He was the recipient of a "Genius Grant" from the John D. and Catherine T. MacArthur Foundation in 2015
Coverage from NPR
We're Celebrating 10 Years of Business and Service
Join us in the Celebration!
Make The Dock Bookshop one of your shopping destinations!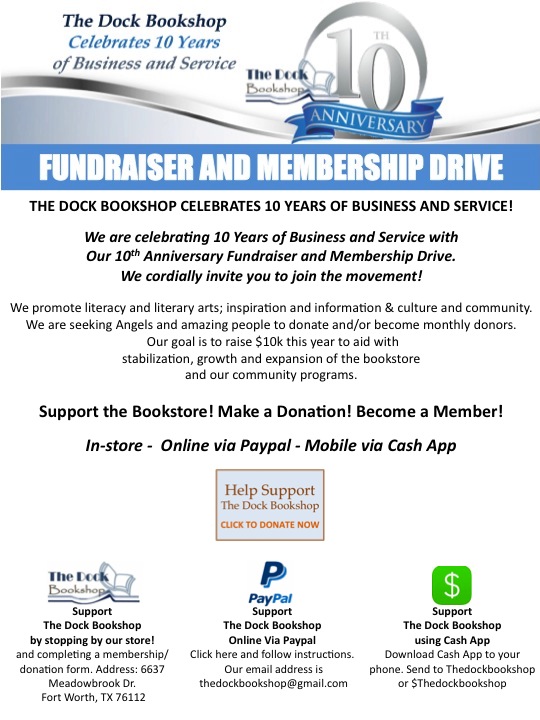 Bi-Monthly Newsletter & Shopping Guide
Black Panther Comic Booklist
Upcoming Guests & Events
---
FEATURED AUTHOR & BOOK
Introducing New Author Kim Gbadebo
and her new book release THE ULTIMATE BETRAYAL
Available at The Dock Bookshop
---
UPCOMING GUESTS AND EVENTS
CELEBRATE Juneteenth & Black Music Month
Tue. June 1 The Dock Bookshop
6:30-8 PM
Free Family Event with Speakers

8-10 PM
Poetry & Open Mic Night
$5 Cover
Building Our Communities Again:
A Real Estate Investment Event!
Sunday, June 24th
3-5pm - The Dock Bookshop
Discussion on gentrification and (re)building our own communities. Plus, there will be a master plan presented by Real Estate Developer Kevin Brown & Jeanette Sneed. Snacks & refreshments will be served. For more information call 469 652 4009
---