Teacher Educators Rethink Self-Assessment in Higher Education: A Guide for the Perplexed (Counterpoints #380) (Paperback)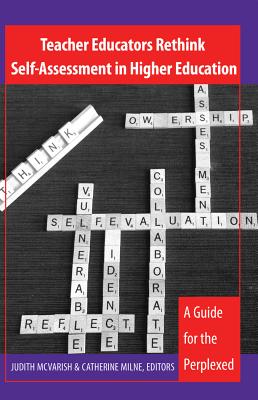 Teacher Educators Rethink Self-Assessment in Higher Education: A Guide for the Perplexed (Counterpoints #380) (Paperback)
$51.30
Special Order
Other Books in Series
This is book number 380 in the Counterpoints series.
This edited book provides readers with a guide for implementing self-assessment and self-evaluation that is based on a model implemented successfully in a diverse range of teacher education courses. Educators from disciplines as diverse as theater arts, early childhood, psychology, mathematics, and science education have adopted a model of self-assessment and self-evaluation that supports the individual ongoing assessment of learning throughout a course as well as the final synthesis of individual learning in the course. Self-assessment and self-evaluation are presented here as a means to help students and teachers reinvent the learning process as co-constructed, powered by evidence and agency in order to lift thinking beyond the mere attainment of an end-point grade; to help students own their learning in new ways they may not have experienced before; to think about teaching and learning that will carry them beyond their formal schooling years; and to value new questions as evidence of learning.
Judith McVarish is Associate Professor of Mathematics Education at St. John's University and Chair of the Department of Curriculum and Instruction. She is director of St. John's In Addition After School Mathematics Program and author of Where's the Wonder in Elementary Math? Encouraging Reasoning in the Classroom. Catherine Milne is Associate Professor in the Department of Teaching and Learning at New York University. She runs a research program, Molecules & Minds, which is developing scaffolds for multimedia chemistry simulations. She is author of The Invention of Science and co-editor-in-chief for the journal, Cultural Studies of Science Education.