Education and the Crisis of Public Values: Challenging the Assault on Teachers, Students, & Public Education (Counterpoints #400) (Hardcover)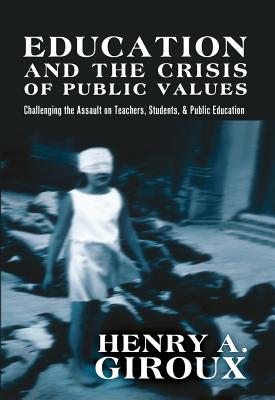 Education and the Crisis of Public Values: Challenging the Assault on Teachers, Students, & Public Education (Counterpoints #400) (Hardcover)
$163.85
Special Order
Other Books in Series
This is book number 400 in the Counterpoints series.
This book was awarded a CHOICE outstanding Academic Title and has received the Annual O. L. Davis, Jr. Outstanding Book Award from the AATC (American Association for Teaching and Curriculum) and the AESA (American Educational Studies Association) Critics Choice Award 2012.
Education and the Crisis of Public Values examines American society's shift away from democratic public values, the ensuing move toward a market-driven mode of education, and the last decade's growing social disinvestment in youth. The book discusses the number of ways that the ideal of public education as a democratic public sphere has been under siege, including full-fledged attacks by corporate interests on public school teachers, schools of education, and teacher unions. It also reveals how a business culture cloaked in the guise of generosity and reform has supported a charter school movement that aims to dismantle public schools in favor of a corporate-friendly privatized system. The book encourages educators to become public intellectuals, willing to engage in creating a formative culture of learning that can nurture the ability to defend public and higher education as a general good - one crucial to sustaining a critical citizenry and a democratic society.
Henry A. Giroux currently holds the Global TV Network Chair Professorship at McMaster University in the English and Cultural Studies Department. His primary research areas are in cultural studies, youth studies, critical pedagogy, popular culture, media studies, social theory, and the politics of higher and public education. In 2002, he was named as one of the top fifty educational thinkers of the modern period in Fifty Modern Thinkers on Education: From Piaget to the Present. He is on the editorial and advisory boards of many scholarly journals, and has published numerous books and articles. His most recent books include: The University in Chains: Confronting the Military-Industrial-Academic Complex; Against the Terror of Neoliberalism; and Youth in a Suspect Society: Democracy or Disposability?