My Teaching, My Philosophy: Kenneth Wain and the Lifelong Engagement with Education (Counterpoints #462) (Paperback)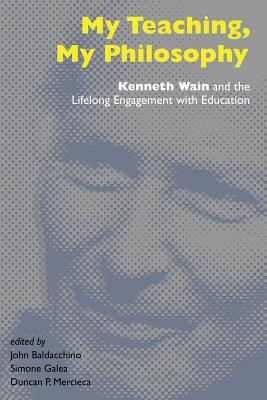 My Teaching, My Philosophy: Kenneth Wain and the Lifelong Engagement with Education (Counterpoints #462) (Paperback)
$60.78
Usually Ships in 1-5 Days
Other Books in Series
This is book number 462 in the Counterpoints series.
My Teaching, My Philosophy brings together twenty of the most prominent thinkers on education, philosophy, art, and literature to converse with Kenneth Wain and the many facets of his work. This book gives Wain's philosophy the attention it deserves and is a must-read for anyone wanting to get a snapshot on the most recent thinking on philosophy of education.
John Baldacchino is Chair of Arts Education at the University of Dundee in Scotland. He specializes in art, philosophy, and education and is the author of nine books, including Education Beyond Education (2009), Makings of the Sea (2010), Art's Way Out (2012), Democracy without Confession (with Kenneth Wain, 2013), and John Dewey (2013). Simone Galea is Senior Lecturer of Philosophy of Education at the Department of Education Studies, University of Malta. Her lecturing and research focus on philosophy of education, feminist philosophy and theory, narrative research, antiracist education, and educational aspects of migration. Duncan P. Mercieca is Senior Lecturer and Head of the Department of Education Studies at the University of Malta. His teaching and research are in the areas of philosophy of education, research methodology, and inclusive education.