de-testing and de-grading schools: Authentic Alternatives to Accountability and Standardization (Counterpoints #492) (Paperback)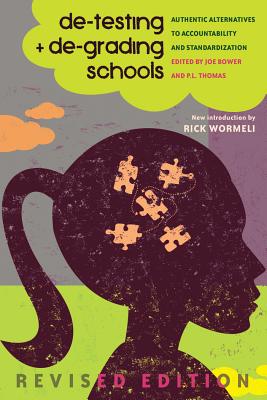 de-testing and de-grading schools: Authentic Alternatives to Accountability and Standardization (Counterpoints #492) (Paperback)
$60.78
Usually Ships in 1-5 Days
Other Books in Series
This is book number 492 in the Counterpoints series.
The book explores the historical failure of testing and grading; the theoretical and philosophical arguments against testing and grading; the negative influence of tests and grades on social justice, race, class, and gender; and the role that they play in perpetuating a deficit perspective of children.
Joe Bower was a teacher in Red Deer, Alberta, Canada. He spent ten years teaching grade eight language arts and science in a middle school, and then served as a special education teacher in a children's psychiatric assessment unit. View his work at www.joebower.org and @joe_bower. P. L. Thomas, Professor of Education (Furman University, Greenville, South Carolina), taught high school English in rural South Carolina before moving to teacher education. He is currently a column editor for English Journal (National Council of Teachers of English) and series editor for Critical Literacy Teaching Series: Challenging Authors and Genres. Follow his work at https: //radicalscholarship.wordpress.com/ and @plthomasEdD.