Soul Food: The Surprising Story of an American Cuisine, One Plate at a Time (Paperback)

List Price: $22.00
Our Price: $14.96
(Save: $7.04 32%)
Usually Ships in 1-5 Days
Description
---
2014 James Beard Foundation Book Award, Reference and Scholarship
Honor Book for Nonfiction, Black Caucus of the American Library Association

In this insightful and eclectic history, Adrian Miller delves into the influences, ingredients, and innovations that make up the soul food tradition. Focusing each chapter on the culinary and social history of one dish--such as fried chicken, chitlins, yams, greens, and "red drinks--Miller uncovers how it got on the soul food plate and what it means for African American culture and identity.
Miller argues that the story is more complex and surprising than commonly thought. Four centuries in the making, and fusing European, Native American, and West African cuisines, soul food--in all its fried, pork-infused, and sugary glory--is but one aspect of African American culinary heritage. Miller discusses how soul food has become incorporated into American culture and explores its connections to identity politics, bad health raps, and healthier alternatives. This refreshing look at one of America's most celebrated, mythologized, and maligned cuisines is enriched by spirited sidebars, photographs, and twenty-two recipes.

Begin Your Search For BOOKS Here!
We're Celebrating 10 Years of Business and Service
Join us in the Celebration!
Make The Dock Bookshop one of your shopping destinations!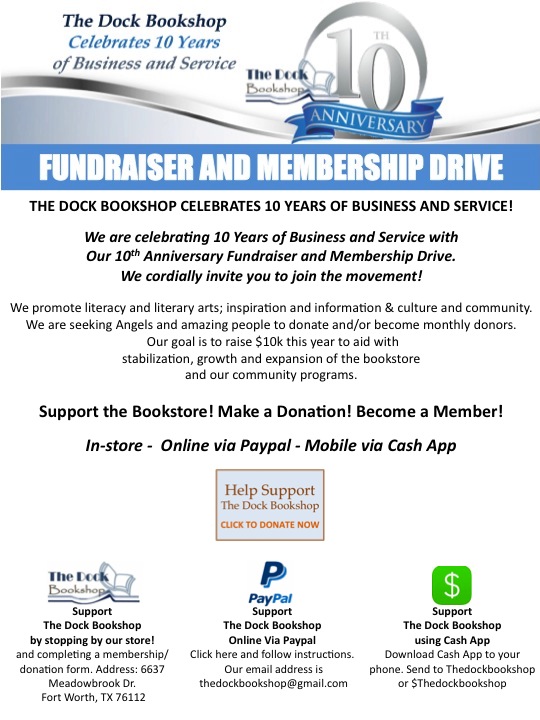 Bi-Monthly Newsletter & Shopping Guide
Black Panther Comic Booklist
Upcoming Guests & Events
---
FEATURED AUTHOR & BOOK
Introducing New Author Kim Gbadebo
and her new book release THE ULTIMATE BETRAYAL
Available at The Dock Bookshop
---
UPCOMING GUESTS AND EVENTS
CELEBRATE Juneteenth & Black Music Month
Tue. June 1 The Dock Bookshop
6:30-8 PM
Free Family Event with Speakers

8-10 PM
Poetry & Open Mic Night
$5 Cover
Building Our Communities Again:
A Real Estate Investment Event!
Sunday, June 24th
3-5pm - The Dock Bookshop
Discussion on gentrification and (re)building our own communities. Plus, there will be a master plan presented by Real Estate Developer Kevin Brown & Jeanette Sneed. Snacks & refreshments will be served. For more information call 469 652 4009
---