Stations: Changing Your Life - Changing Your Career (Paperback)

$12.95
Usually Ships in 1-5 Days
Description
---
Life Has an Assignment for You... Do You Know What It Is? To live a vibrant and successful life, you must embrace two truths: everyone's life path is about change, and each phase of life offers opportunities that we often overlook. No matter where you find yourself in life, you have unexplored talent, unimagined resources, and the ability to make the most of the station you are occupying at the moment, while still looking down the road to your next assignment. Stations is a collection of articles exploring the life lessons people encounter as they grow and change in personal and career paths. Author Lynda Mubarak shares essays about teaching experiences, personal observations, professional and personal relationships, health, family dynamics, and career transitions. It is a book designed to create hope for those who may be at a crossroads, a starting place for discussions about creating a thoughtful, positive path forward...while also recognizing the potential and possibility that exists wherever you are right now. Inspiring, compassionate, smart, and caring, Stations is an ideal resource for anyone who wants to engage consciously and deeply with life transitions.
Begin Your Search For BOOKS Here!
We're Celebrating 10 Years of Business and Service
Join us in the Celebration!
Make The Dock Bookshop one of your shopping destinations!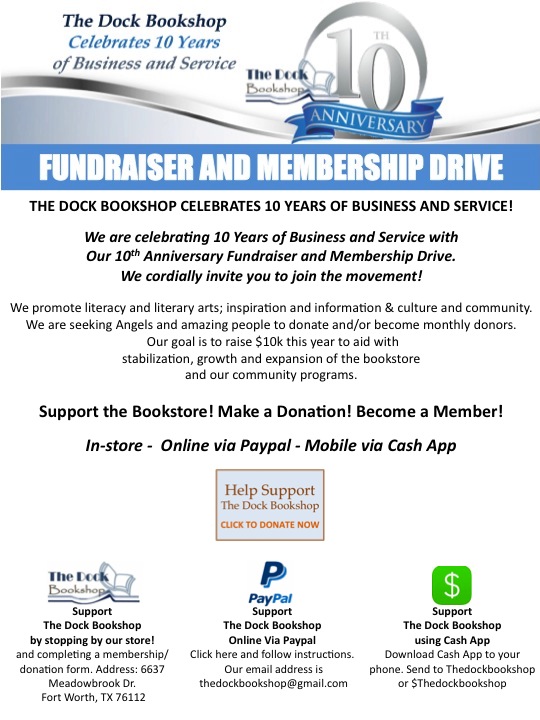 Bi-Monthly Newsletter & Shopping Guide
Black Panther Comic Booklist
Upcoming Guests & Events
---
FEATURED AUTHOR & BOOK
Introducing New Author Kim Gbadebo
and her new book release THE ULTIMATE BETRAYAL
Available at The Dock Bookshop
---
UPCOMING GUESTS AND EVENTS
CELEBRATE Juneteenth & Black Music Month
Tue. June 1 The Dock Bookshop
6:30-8 PM
Free Family Event with Speakers

8-10 PM
Poetry & Open Mic Night
$5 Cover
Building Our Communities Again:
A Real Estate Investment Event!
Sunday, June 24th
3-5pm - The Dock Bookshop
Discussion on gentrification and (re)building our own communities. Plus, there will be a master plan presented by Real Estate Developer Kevin Brown & Jeanette Sneed. Snacks & refreshments will be served. For more information call 469 652 4009
---