The Divine Nine: The History of African American Fraternities and Sororities (Paperback)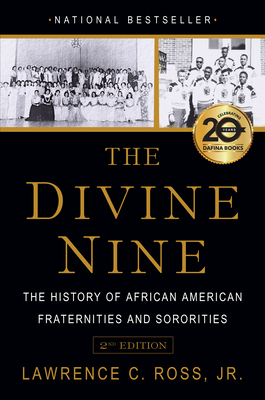 Description
---
This comprehensive history of African American fraternities and sororities celebrates the spirit of Black Excellence in higher education that has produced American leaders in politics, sports, arts, and culture such as Kamala Harris, Colin Kaepernick, Michael Jordan, Thurgood Marshall, and Toni Morrison, and is sure to be a treasured resource for generations to come.

America's Black fraternities and sororities are a unique and vital part of 20th century African American history, providing young black achievers with opportunities to support each other while they serve their communities and the nation. 
 
From pioneering work in the suffragette movement to extraordinary strides during the Civil Rights era to life-changing inner-city mentoring programs, members of these organizations share a proud tradition of brotherhood, sisterhood, and service.
 
Today, America's nine black fraternities and sororities are millions of members strong with chapters at HBCUs, Ivy League Schools, and colleges across the nation including Stanford University, Howard University, and the University of Chicago.
About the Author
---
Born and raised in Inglewood, California, Lawrence Ross has been an author, writer, commentator, and lecturer on African American topics for the past twenty years. The author of seven books, The Divine Nine: The History of African American Fraternities and Sororities and Blackballed: The Black & White Politics of Race on America's Campuses, were the first books written about black fraternal organizations and campus racism, respectively. One of the most popular college lecturers in the country, Ross has appeared at over 700 colleges, universities, and conferences. He's also the owner of The Metaphor Club (TheMetaphorClub.com), a creative co-working space in Los Angeles. Ross lives in Los Angeles with his wife April, and their son Langston, and is a Brother of Alpha Phi Alpha Fraternity, Inc. To contact Lawrence Ross, please visit TheLawrenceRoss.com or email him at alpha1906@gmail.com.