The Fire This Time: A New Generation Speaks about Race (Paperback)

List Price: $16.00
Our Price: $10.88
(Save: $5.12 32%)
Usually Ships in 1-5 Days
Description
---
A surprise New York Times bestseller, these groundbreaking essays and poems about race—collected by National Book Award-winner Jesmyn Ward and written by the most important voices of her generation—are "thoughtful, searing, and at times, hopeful. The Fire This Time is vivid proof that words are important, because of their power to both cleanse and to clarify" (USA TODAY).

In this bestselling, widely lauded collection, Jesmyn Ward gathers our most original thinkers and writers to speak on contemporary racism and race, including Carol Anderson, Jericho Brown, Edwidge Danticat, Kevin Young, Claudia Rankine, and Honoree Jeffers. "An absolutely indispensable anthology" (Booklist, starred review), The Fire This Time shines a light on the darkest corners of our history, wrestles with our current predicament, and imagines a better future.

Envisioned as a response to The Fire Next Time, James Baldwin's groundbreaking 1963 essay collection, these contemporary writers reflect on the past, present, and future of race in America. We've made significant progress in the fifty-odd years since Baldwin's essays were published, but America is a long and painful distance away from a "post-racial society"—a truth we must confront if we are to continue to work towards change. Baldwin's "fire next time" is now upon us, and it needs to be talked about; The Fire This Time "seeks to place the shock of our own times into historical context and, most importantly, to move these times forward" (Vogue).
About the Author
---
Jesmyn Ward received her MFA from the University of Michigan and has received the MacArthur Genius Grant, a Stegner Fellowship, a John and Renee Grisham Writers Residency, and the Strauss Living Prize. She is the winner of two National Book Awards for Fiction for Sing, Unburied, Sing (2017) and Salvage the Bones (2011). She is also the author of the novel Where the Line Bleeds and the memoir Men We Reaped, which was a finalist for the National Book Critics Circle Award and won the Chicago Tribune Heartland Prize and the Media for a Just Society Award. She is currently an associate professor of creative writing at Tulane University and lives in Mississippi.
Support The Dock Bookshop 10th Anniversary Fundraiser and Membership Drive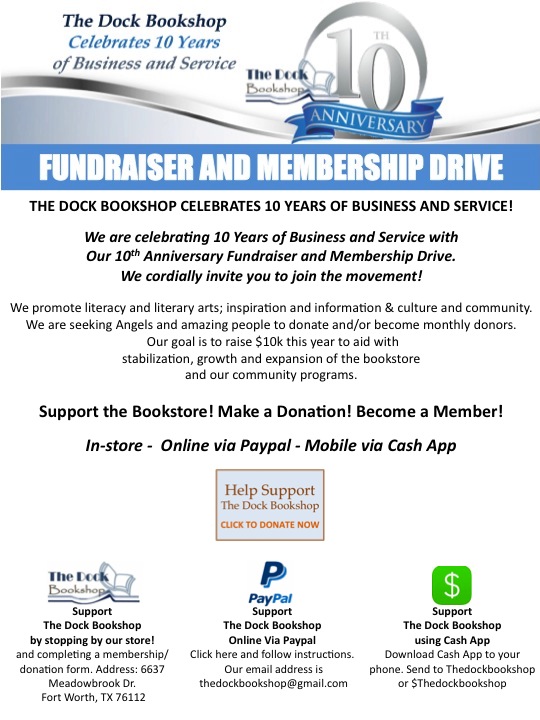 ---
BLACK FRIDAY
$5 FILL-UPS ON SELECTED BOOKS!
Friday, November 23, 2018
3-8 PM - The Dock Bookshop
---
SMALL BUSINESS SATURDAY
Saturday, November 24, 2018
11-8 PM - The Dock Bookshop
SHOP THE DOCK!
---
FAMILY TIME AT THE DOCK
FREE FAMILY FUN - Story Time & Pizza Party
Saturday November 24, 2018
3-4:30 PM - The Dock Bookshop
Bring the family out for FAMILY TIME AT THE DOCK
with author Linda Jones who will share from her book:
Family Scribes: Writing Memories For Your Family Tree
and engage participants in game activities that challenges the players to remember, share and preserve their personal stories for generations to come.
Family Scribes is a memory-stimulating book of writing and storytelling activities that are perfect for reunions and other gatherings of family and friends.
FREE FAMILY FUN
---
---
MEN'S BOOK CLUB
4th Thursday - 7-9 PM - The Dock Bookshop
Black Men coming together to read, bond, build.
RSVP
NOV. 29 BOOK DISCUSSION: New Visions For Black Men by Na'im Akbar
---
Night Women Book Club Presents THE GATHERING
of Readers, Book Clubs and Authors
Saturday, December 1, 2018
3-6 PM - The Dock Bookshop
THE GATHERING is a celebration of Book Clubs and Authors - a social event with food, fun and entertainment - hosted by The NWBC.
Attendees must enjoy reading and be willing to share their reading experiences.
Cost $5.00 per person. RSVP by November 26.
If you want to participate in our gift exchange, please bring a $10 gift item wrapped
This event is for adults both men and women. Significant others are welcomed.
---
---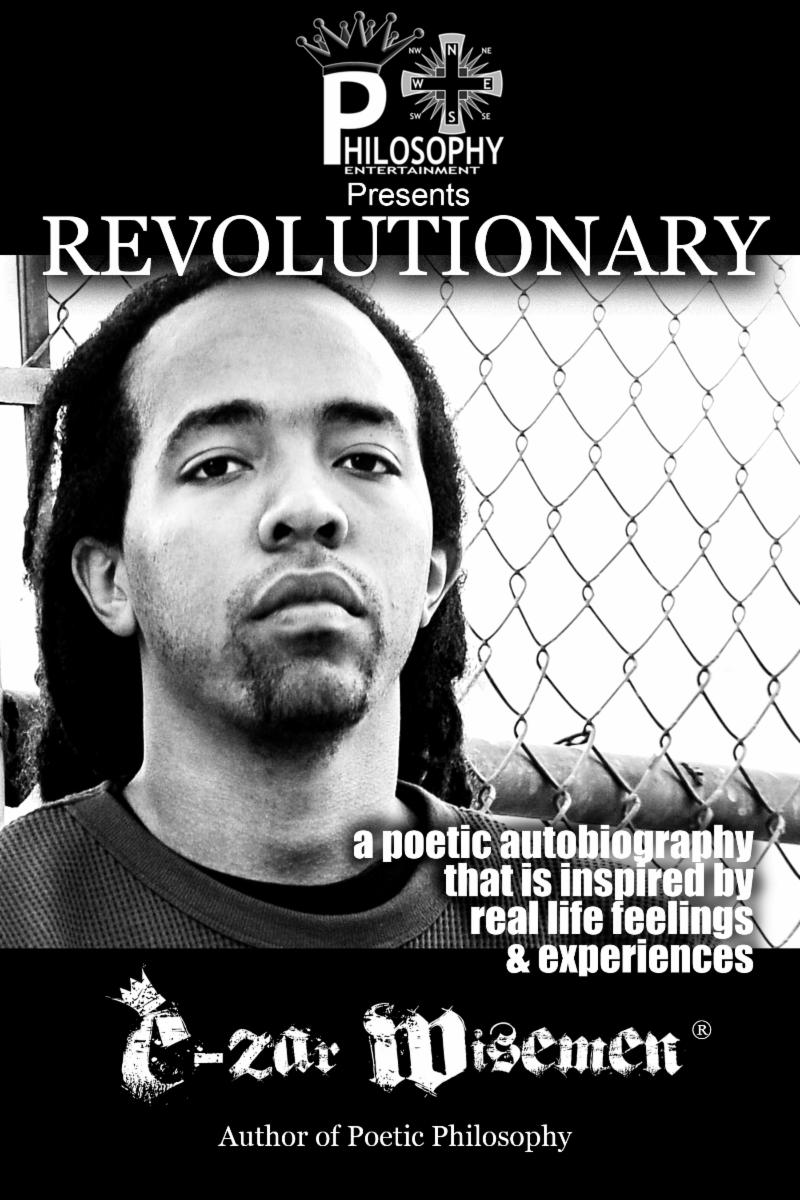 ABOUT THE BOOK
Revolutionary is the follow up to it's precursor Poetic Philosophy under C-zar Wisemen's former name Derek Perkins. This poetry book is a poetic autobiography that is inspired by real life feelings and experiences. This sequel gets deeper into the author's background that leads to who he is and his views on the world and issues affecting black people. In this work, C-zar addresses the entertainment industry, religion, self-reliance, crooked politics, romance, heartbreak, and more. This author is hopeful that his writings will spark the minds of millions of black people in the United States and around the world to fight against white supremacy and rise to greatness.

ABOUT THE AUTHOR
Rap artist C-zar Wisemen is from Charlottesville, Virginia, representing the indie rap/ hip-hop label Philosophy Entertainment. Albums released are "Tha New Testament" and "Real Niggaz" added with an Ep titled "Revolution" as well as a few singles from his music catalog. C-zar also wanted to showcase his poetic side by releasing two poetry books called "Poetic Philosophy" under the name Derek Perkins and "Revolutionary" under his current name C-zar Wisemen. Acting is also a passion of his, and he has acted in a few indie films. C-zar Wisemen's aim is to inspire the black community to change for the better through his works.
---
Black Panther Comic Booklist