Stolen: Five Free Boys Kidnapped into Slavery and Their Astonishing Odyssey Home (Hardcover)

List Price: $27.00
Our Price: $18.36
(Save: $8.64 32%)
Usually Ships in 1-5 Days
Description
---
A gripping and true story about five boys who were kidnapped in the North and smuggled into slavery in the Deep South—and their daring attempt to escape and bring their captors to justice, reminiscent of Twelve Years a Slave and Never Caught.

Philadelphia, 1825: five young, free black boys fall into the clutches of the most fearsome gang of kidnappers and slavers in the United States. Lured onto a small ship with the promise of food and pay, they are instead met with blindfolds, ropes, and knives. Over four long months, their kidnappers drive them overland into the Cotton Kingdom to be sold as slaves. Determined to resist, the boys form a tight brotherhood as they struggle to free themselves and find their way home.

Their ordeal—an odyssey that takes them from the Philadelphia waterfront to the marshes of Mississippi and then onward still—shines a glaring spotlight on the Reverse Underground Railroad, a black market network of human traffickers and slave traders who stole away thousands of legally free African Americans from their families in order to fuel slavery's rapid expansion in the decades before the Civil War.

Impeccably researched and breathlessly paced, Stolen tells the incredible story of five boys whose courage forever changed the fight against slavery in America.
About the Author
---
Richard Bell teaches Early American history at the University of Maryland. He has received several teaching prizes and major research fellowships including the National Endowment for the Humanities Public Scholar Award. His first book, We Shall Be No More: Suicide and Self-Government in the Newly United States, was published in 2012.
Praise For…
---
"'BOY LOST,' read the advertisement placed in a newspaper by the father of one of the five free boys kidnapped in Philadelphia in 1825. Richard Bell's heartbreaking and searing account of their story chronicles not only the agonies and atrocities of slavery, but the fragility of freedom, and the dauntlessness of resistance." - Jill Lepore, author of These Truths: A History of the United States

"Opening an unknown world from an unsung tragedy that started in early national Philadelphia and stretched grimly South, Stolen offers a worm's eye view of the leviathan of American slavery, and of some of its most dastardly perpetrators and its most remarkable survivors. Richard Bell has researched inventively and mastered a vast body of scholarship, as we would expect from so distinguished a historian. But he also imbues his tale with the deep humanity of a great novelist. Both riveting and heartrending, Stolen joins the great literature of America's founding tragedy, earning a place alongside the work of Harriet Beecher Stowe, Edward P. Jones, and Toni Morrison." – Jane Kamensky, Jonathan Trumbull Professor of American History, Harvard University

"Stolen is historical storytelling at its best. Bell makes brilliant detective work come alive with vivid, powerful writing. The saga of these five boys, kidnapped and smuggled from Philadelphia to Mississippi in the 1820s, captures both the powerful undertow of slavery in the free black communities of the North and the urgent dawning of the abolitionist movement. There's been nothing like it since Northup." —Adam Rothman, author of Beyond Freedom's Reach: A Kidnapping in the Twilight of Slavery

"Rigorously researched, heartfelt, and dramatically concise, Bell's investigation illuminates the role slavery played in the systemic inequalities that still confront Black Americans." —Booklist

"A well-told story… A deep dive into the extraordinary risks faced by free blacks in the antebellum era."
—Kirkus Reviews

"A fascinating story."—Library Journal
PRODUCT FEATURES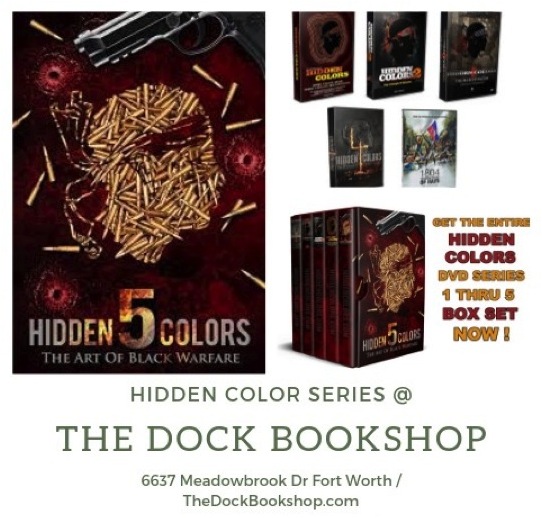 HIDDEN COLORS 5
Available at The Dock Bookshop!
Hidden Colors 5 is the final installment of the critically acclaimed Hidden Colors documentary series. In this installment, the film explores the history of warfare as it relates to global Black society. The film is broken down into 7 chapters that examines the ways the system of racism wages warfare from a historical, psychological, sexual, biological, health, educational, and military perspective.
---
---
EVENTS
The Dock Bookshop is Going to Frisco!
The Dock Bookshop
HOLIDAY EXPO
Sat. Dec. 14, 2019~12 Noon - 6 PM
Embassy Suites Frisco Convention Center
7600 John Q Hammons Dr. Frisco, TX 75034
Join us for this holiday and cultural experience!
Shopping - African Drumming - Book Discussions - Live Performances - Speakers - Book Signings
and more! Free Event
Interested in Vending Click here
or call/text 817.296.0288
---
We Are Thankful for You
MEMBER APPRECIATION
HOLIDAY RECEPTION
Tue. Dec. 17~6:30-8 PM @ The Dock
Dock Members or those interested in becoming Dock Members are cordially invited to attend our Member Appreciation Holiday Reception.
We will share our year in review and plans for 2020 over food and drinks
RSVP
or Become a Member Today!
---
DOCK TUESDAY OPEN MIC
Every Tuesday 8-10 PM @ The Dock
12-3 Sin's Birthday Bash
An evening of music, food, drinksand artistic expressions - poetry, live performances, comedy and more with good people and good energy. Come share your talent. $5 Cover
---
SMALL BUSINESS SATURDAY
Nov. 30
Shop local - Shop Indie - Shop The Dock!
Books, Incense, Oils, Health & Beauty, Jewelry, Albums, Journals, Calendars, Cards, Clothing, T-shirts, Bags and more!
---
READING WONDERLAND CHILDREN'S BOOK FAIR
Sat. Nov. 30~3-5 PM @ The Dock
Bring the family out to a reading wonderland of books, story time, guest authors, arts and crafts, refreshments and more.
RSVP
---
NWBC presents THE GATHERING OF READERS
Sat. Dec. 7~4-7 PM @ The Dock
THE GATHERING OF READERSis a celebration of Readers, Book Clubs and Authors - a social event with food, fun and entertainment
hosted by The NWBC.
Cost $10.00 per person. RSVP by December 5.
This event is for adults both men and women
RSVP
---
Stimulations to Success Ministries presents
THE RIGHT HAND OF GOD
Sun. Dec. 29 ~ 5-7 PM @ The Dock
We need guidance from God as we close out this year and make plans or 2020.
For more info call Minister Vanessa Brown 682-203-5646
---
KWANZAA AT THE DOCK
Thu. Dec. 26 - Tue. Dec. 31
Afternoon 2-4 PM and Evening 6-8 PM*
RSVP
Events are free and family oriented unless noted. Activities include libations, discussion of principles, lighting of candles, refreshments; and combination of story time, icebreaker, arts and crafts, film and presentation
(*Sat. Dec. 28 - Community Celebration 3-8 PM at The Dock; Sun. Dec. 29 evening is offsite; Tue. Dec. 31 evening is New Year's Eve Open Mic 8-10 PM $5 cover per person)
---
The Dock Bookshop
COMMUNITY KWANZAA CELEBRATION
Sat. Dec. 28
A free family cultural event
1 PM - Film: The Black Candle
3-7 PM - Libations, discussion of principles, lighting of candles, story time, icebreaker, arts and crafts, speakers, live performances, guest authors, book signings, refreshments and more!
RSVP
---
Dock in Community
Community Partners presents
KWANZAA FORT WORTH
Sat. Dec. 7~12 Noon-4 PM at
Austin Event Center 1125 E Berry St. FW
A CELEBRATION OF FAMILY, COMMUNITY AND CULTURE
FREE FAMILY EVENT
COME AND ENJOY Candle lighting ceremony, drumming, dancing, poetry, music, zumba and more. Plus shop our UjamaaMarketplace and learn from our panel of leaders as they expound upon the