Overcoming Obstacles: A Navy SEAL's Guide to Beating Adversity and Finding Success (Hardcover)

$16.99
Usually Ships in 1-5 Days
Description
---
Wisdom and inspiration to help you achieve your goals.
A former Navy SEAL and current motivational speaker, Don Mann specializes in helping others achieve success in every aspect of life— personal and professional—by using techniques employed by Navy SEALs. In
Overcoming Obstacles,
Mann zeroes in on finding ways to conquer the obstacles that readers face in their lives, no matter what they may be. This volume includes three subsections dedicated to helping the reader surmount life's difficulties:
Identifying the Obstacles in Your Life
Getting Out of Your Own Way
Finding Success
Featuring practical advice, inspirational quotes, engaging stories, and interesting anecdotes,
Overcoming Obstacles
will give readers the tools they need to triumph in the face of adversity.  
About the Author
---
Don Mann's impressive military resume includes being a decorated combat veteran; corpsman; SEAL special operations technician; jungle survival, desert survival, and arctic survival instructor; small arms weapons, foreign weapons, armed and unarmed defense tactics, and advanced hand-to-hand combat instructor; and Survival, Evade, Resistance, and Escape instructor, in addition to other credentials. He lives in Williamsburg, Virginia.

Kraig Becker is a freelance writer who specializes in adventure travel, extreme outdoor sports, and gear. His work has appeared in Digital Trends, Muck Rack, Popular Mechanics, and dozens of other magazines and websites. Becker lives in Nashville, Tennessee.
Praise For…
---
"I'm a retired combat veteran, a Navy SEAL whose seen his share of adversity in business, in war, and in life in general. When I read this book, I was excited by the positive, forward-leaning energy that emanated from every page. Overcoming Obstacles is laced with true life examples of people who have challenged the odds, suffered, struggled, and then through perseverance, succeeded where many had failed. Don Mann, a Navy SEAL, combat veteran, and well-known adventurer, offers the reader actionable techniques anyone can use to conquer challenges impeding their progress. He focuses on telling the reader how to defeat the barriers we create within our own minds, an obstacle faced by even Navy SEALs and other high-performance risk takers. Overcoming Obstacles is about discipline and self-awareness. Make the commitment, read the wisdom. If I can learn from this book, what might it do for you?" 
 
—MARTY STRONG, Author, CEO, Retired SEAL

"Don easily exhibits how to muster all bravery, to confidently reach over any precarious edge and seize your glory. In short, to successfully, continually conquer the unreachable, the unconquerable again and again, flawlessly."

—JONO SENK, US Army Ranger, founder of Hairy Scary Evolutions

"Don Mann is a world-class athlete, retired Navy SEAL, and an amazing human being. I've seen his leadership in action and have been stymied by his ability to repeatedly accomplish seemingly impossible feats. Don's gift to us mere mortals is demystifying the impossible. His stories illustrate how failure is integral to success, and how small goals over time can lead to big success."

—DAVID TAKATA, CEO Engage Capital, institutional investor, and Wall Street Journal all-star technology analyst

"Don Mann is a true leader and an inspiration. He inspires by leadering from the front with a positive mindset and emphasizes the importance of being goal driven. He illustrates how, with grit, fortitude, and a strong plan, one can meet any challenge." 

—KATHY ROCHE-WALLACE, decorated ultra-athlete and American cross-country record holder

"Throughout Overcoming Obstacles' chapters Mann highlights the importance of the proper mix of Physical, Mental, and Spiritual life habits that you can take charge of in order to show you a way out of this conundrum. By utilizing his insatiable love for learning and his long history of challenging himself mentally, physically, and spiritually, his readers get blessed with newfound solutions for life's many challenges and unseen opportunities."

—TONY DADANTE, Humble Life Coach
 
"Overcoming Obstacles is a down-to-earth discussion about strategies each of us could use in overcoming obstacles we encounter while pursuing our goals. It's reassuring to know (from the examples in the book) that if people like Elon Musk, Walt Disney, Thomas Edison, and SEAL Team Six members experienced obstacles, then I can expect to encounter obstacles in the pursuit of my goals also. If you're not currently facing an obstacle, you eventually will. So, why not be equipped and prepared to address them by reading this book?"

—ALLEN WOOTEN, Elite Obstacle Course Competitor and Triathlete

"The concept of "getting out of your own road" is one that I have contemplated without success until now; here Don Mann with the wisdom and experience of a Navy SEAL, humbly explains how to do this. There is nothing of more value.
My favourite of Don Mann's Navy Seal self-help trilogy, the other real learning from Overcoming Obstacles as the title of the books suggests, is how best to deal with adversity. I think this is equally this book's most enduring quality. For it is adversity that ultimately has the ability to stop us in our tracks, and it is how we "handle the storm" and come out the other side, which will ultimately determine our life's path. The choice is yours, made easier with Don's assistance. An absolute must read and re-read.
There are very few books that I would consider needing or wanting to read more than twice; Overcoming Obstacles goes into a list of three that I will ensure to read time and again. It will remain with me always. It's that important."
 
— HEATH PODMORE, Founder & Head Performance Coach, Elevarlife Performance Training 

"An Amazing Motivational Read
When you finish reading this book you will probably have the same thought: Don wrote this book for me!  Don illustrates through very interesting and relatable examples what is fundamentally the path to success. I found some important life lessons in this book that are relevant to anyone who wants to achieve a goal, no matter how big or small.  I feel refreshed and excited to begin my next journey to success using the wisdom Overcoming Obstacles has given me.
 
It is clear why Don Mann is a great author, motivational speaker, and a highly respected NAVY SEAL." 
 
— Leanda R. Cave, Four-Time World Triathlon Champion

"Former SEAL Team 6 member Don Mann knows more about overcoming obstacles that most people on the planet. He's done so over and over in his life and on the battlefield. Now, he shares the wisdom he's gained in this must-read book."

—Ralph Pezzullo, New York Times bestselling author

 
The Dock Bookshop COVID-19 Response
In response to the COVID-19 crisis and compliance to mandates by local, state and federal authorities,The Dock Bookshop storefront is closed. Health and safety of our staff team and customers are priority.

Although we are not allowing customers in the store during this health crisis, The Dock Bookshop will provide delivery by mail or curbside/pick up at the door for orders.

Curbside/Pick Up At Door:

Tue-Thu 1-6p and Fri-Sat 11a-6p

Customers can place their orders for personal care, home care, and educational and entertaining books (aka mind food) while staying home and being safe.

Ways to order

*we are working to add more items to website. Currently book orders can be place online.
Personal care - soaps, shea butter, toothpaste, deodorant, medicinal oils, hair care, herbal teas, etc
(please call/text/email to place orders until our website is updated)

Home care - sage, incense, fragrance oils, etc

(please call/text/email to place orders until our website is updated)

Books (aka Mind Food) - Educational and entertaining books. Children Books, History &Culture, Self-Help, Fiction and more


We are all in this together and together we will prevail!
Stay Safe! Stay Strong! Stay Connected:
Follow thedockbookshop on social media platforms-Facebook, Instagram and Twitter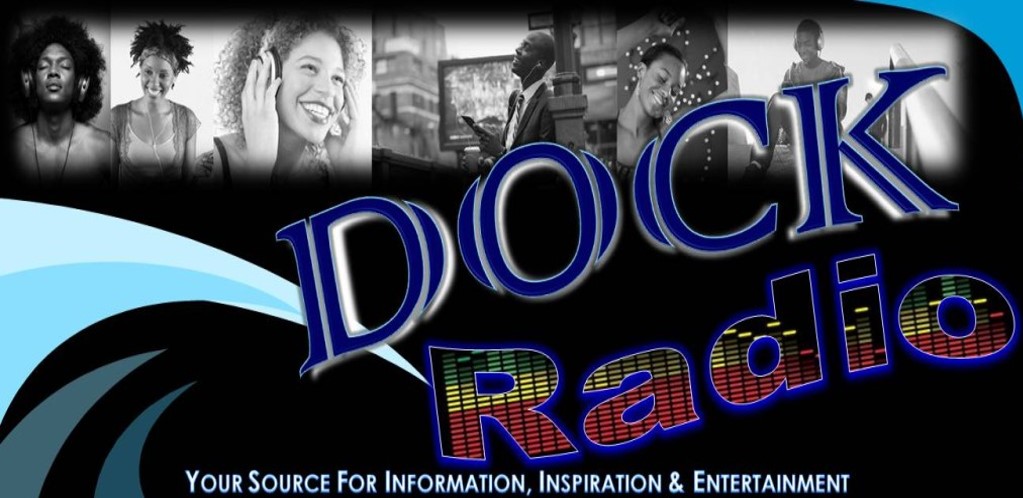 Dock Radio has a line-up of great shows and hosts highlighting various aspects of life and living!!! Also there will be guest authors discussing their books and businesses discussing their products and services on
We look forward to your interactions with the independent shows and guests.

For more information call 817-457-5700 or email: info@thedockbookshop.com

Ways to Tune-in
Download App "Dock Radio"

Website:
Weekly Schedule
Daily
6 AM Health Watch
11:30 AM Blue Ocean Strategy
12 Noon Health Watch
Monday
7 PM Tammy and Donya Show
8:15 PM Voices From the Past
Tuesday
7 PM Darolyn Brock Show
9:30 PM True-story Dramatization
Thursday
7 PM OnShore Radio
Saturday
10 AM OnShore Radio
Sunday

2 PM Soulfood Sundays

JOIN US TONIGHT!
Thursday, April 2 at 7:00 PM
OnShore hosted by Donya
Interview with Ivan Dockins
Author of Eleanor's Wicked Epiphany
OnShore Weekly

Thursday @7pm

Saturday @ 10am

AUDIO Listeners - "Dock Radio" - Download App: Iphone/Android/Ipad

or Website: www.dockradiolive.com

FACEBOOK: The Dock Bookshop & Dock Community

LIVE STREAM: www.docklive.tv


Call-In#: 972-427-7795

****

April 2nd @7pm - Author Ivan Dockins

April 4th @10am - Author Niyah Moore

April 11th @10am - Author Untamed
Weekly Schedule
OnShore Weekly

Thursday @7pm

Saturday @ 10am

****

April 2nd @7pm - Author Ivan Dockins

April 4th @10am - Author Niyah Moore

April 11th @10am - Author Untamed
DOCK OPEN MIC
Every Tuesday
8-10 PM
via ZOOM starting
Tuesday April 7

Stay Tuned for details!
Come share your talent and/or enjoy an evening of music, food, drinks and artistic expressions poetry, live performances, comedy and more -with good people and good energy!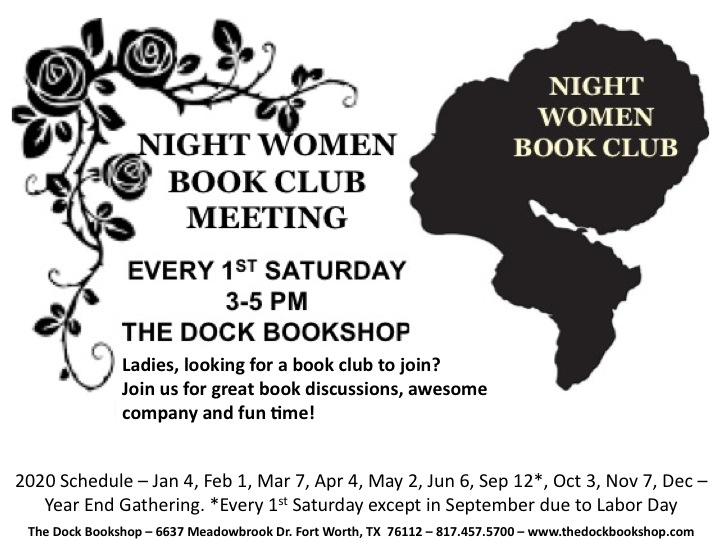 NIGHT WOMEN BOOK CLUB
1ST SATURDAY
3-5 PM via Zoom
Ladies, looking for a book club to join?
Join us for great book discussions, awesome company and fun time!
Book Discussion:
April 4 - Charcoal Joe
KIDS CLUB
April 25
2:30-3:30 PM
via Zoom

STAY TUNED FOR DETAILS
The Dock Bookshop Kids Club takes place every month and is sure to edutain both children and parents in an interactive setting. We have a variety of themed
programs that includes books, reading, play and more!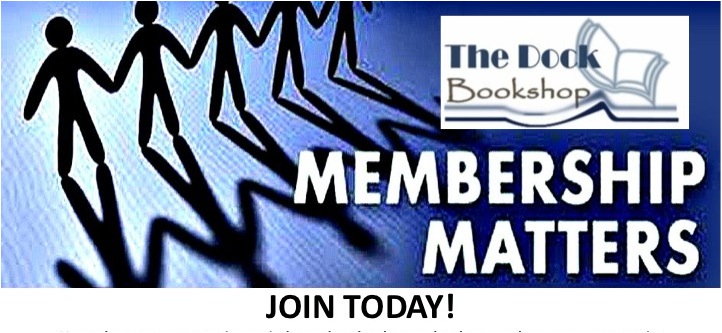 Not only are you supporting an independent bookstore that loves and supports community
but also your supporting...
*Literary and cultural programs including our Kids Club that impacts hundreds of families
*Artists who share their artistic expressions every Tuesday
Plus
*Receive additional discounts and savings on books
*Receive free tickets to Dock selected events
*Usage of meeting space (based on availability)
*Free advertising on Dock Eblast & social media outlets and more