Open Season Lib/E: Legalized Genocide of Colored People (Compact Disc)

Description
---
The president of the National Bar Association and one of the most distinguished civil rights attorneys working today reflects on the landmark cases he has battled--including representing Trayvon Martin's family--and offers a disturbing look at how the justice system is used to promote injustice in this memoir and clarion call as shocking and important as the bestsellers Just Mercy and Slavery by Another Name and Ava DuVernay's film 13th.
Benjamin Crump firmly believes in the Constitution and its legal protections--that civil rights legislation covers all Americans, not just those privileged by race, wealth, or pedigree. A fierce and passionate advocate, he has devoted his career to fighting for justice for America's marginalized. Open Season is his inspiring journey working on some of the most egregious cases that have shocked the nation, including those of Trayvon Martin and Michael Brown.
Shaped by his first-hand experience handling civil litigation matters in state and federal courts throughout the country, Open Season reveals the often hidden and systemic injustices minorities face, and illuminates how discrimination in the courthouse devastates real families and communities. Chronicling some of his most memorable legal battles, this brilliant litigator shockingly makes clear how our system is devised for certain people to lose and others to win, and, using evidence and facts, exposes how it is legal to harm--with the intent to destroy--people of color.
Crump offers a cogent analysis of legal tenets, including the 13th Amendment, the 1951 Genocide Petition to the United Nations, and controversial Stand Your Ground laws. He compares how race detrimentally influences sentencing, and reveals how police unions protect officers who shoot unarmed civilians. He also makes clear how budget cuts for education, the proliferation of guns, and high unemployment rates all directly contribute to higher crime rates.
America must live up to its promise to protect the rights of its citizens equally, Crump maintains. Thoughtful, well-reasoned, and powerfully persuasive, Open Season details one man's life mission preserving the hard-won justice for all.
PRODUCT FEATURES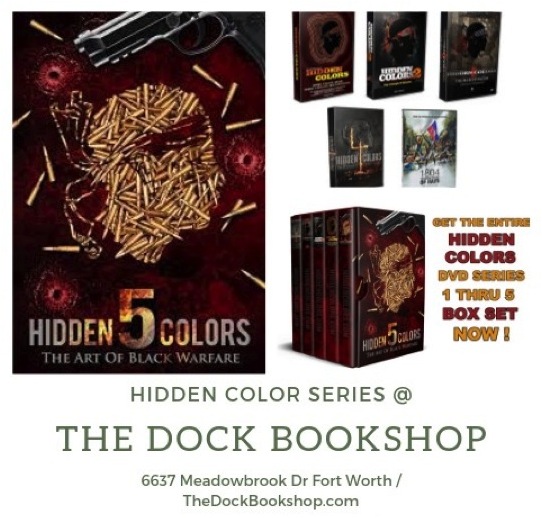 HIDDEN COLORS 5
Available at The Dock Bookshop!
Hidden Colors 5 is the final installment of the critically acclaimed Hidden Colors documentary series. In this installment, the film explores the history of warfare as it relates to global Black society. The film is broken down into 7 chapters that examines the ways the system of racism wages warfare from a historical, psychological, sexual, biological, health, educational, and military perspective.
---
---
EVENTS
Special Guest/Author/Book Events
A TIME TO HEAL SYMPOSIUM WITH MATHEW KNOWLES - FREE EVENT!
and
November 9 - Texas Wesleyan University
Nick & Lou Martin University Center
MORE EVENTS