Rebel Musics: Human Rights, Resistant Sounds, and the Politics of Music Making (Paperback)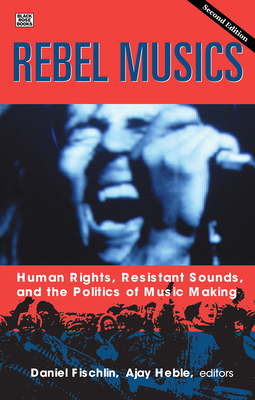 List Price: $26.99
Our Price: $22.94
(Save: $4.05 15%)
Coming Soon - Available for Pre-Order Now
Description
---
When it was first published in 2003, Rebel Musics sought to explore how musical activism resonates as resistance to the dominant culture, and how political action through music increases the potential for people to determine their own fate. If anything, these issues seem to be even more pressing today. Rebel Musics offers a fascinating journey into a rich, complex world where music and politics unite, and where rebel musicians are mobilizing for political change, resistance, and social justice. Daniel Fischlin and Ajay Heble cover a wide range of artists, genres, and topics, including Thomas Mapfumo, Bob Marley, William Parker, Frank Zappa, Edgard Varese, Ice-T, American blues, West African drumming, hip hop, gospel, rock'n'roll cabaret, Paul Robeson, and free jazz. This book shows how rebel music is at the heart of some of the most incisive critiques of global politics. With explosive lyrics and driving rhythms, rebel musicians are helping to mobilize movements for political change and social justice, at home and around the world.
 
In celebration of the 50th anniversary of Black Rose Books, this revised and expanded edition of Rebel Musics will include all the original essays, as well as a new contribution by the editors. Rounding out the new edition will be several new pieces from artists and scholars that will continue to spark debate about these vital topics in compelling ways.
 
About the Author
---
Daniel Fischlin is a leading Canadian humanities researcher who has written over twenty books. Also a musician and community organizer, he chairs the Board of Silence, a community art space in Guelph, and is the founding director of the newly launched MA/PhD program in Critical Studies in Improvisation at the University of Guelph. Ajay Heble is the founding director of the International Institute for Critical Studies in Improvisation (IICSI) and professor of English in the School of English and Theatre Studies at the University of Guelph. He is the founding artistic director of the award-winning Guelph Jazz Festival and Colloquium and a founding co-editor of the peer-reviewed journal Critical Studies in Improvisation. Heble is also an accomplished pianist who, with Daniel Fischlin, records and performs with the improvising quartet, The Vertical Squirrels.
 
DOCK "Virtual"OPEN MIC

TUESDAY @8:00 PM

Hosted by Sin

via Instagram Live @dockopenmic
MEN'S BOOK CLUB

4th Thursday

7-8:30 PM via Zoom

Men join a reading group and read more book! Connect and build.

Book Discussion:

Join Zoom Meeting

Meeting ID: 817 457 5700
NIGHT WOMEN BOOK CLUB

1ST SATURDAY

3-5 PM via Zoom

Ladies, looking for a book club to join?

Join us for great book discussions, awesome company and fun time!

Book Discussion:

Join Zoom Meeting

Meeting ID: 817 457 5700