Animals Spell Love (Hardcover)

$15.95
Usually Ships in 1-5 Days
Description
---
Expressions of love have occurred throughout the ages in innumerable varieties. Sonnets, soliloquies, songs; 'countless ways' is the true answer to Elizabeth Barrett Browning's question How do I love thee? Often, the simplest answer is best, use the word itself: Love. In Animals Spell Love, gorgeously written and designed by David Cundy, sixteen critters from the farthest reaches of the animal kingdom help readers of all ages learn how to express the word in sixteen languages from around the globe, from Czech to Amharic to Korean, and even including American Sign Language. Children and adults will delight in the way Cundy shapes the letters into animals, and his brief primers, complete with pronunciation guide for every incarnation, will help readers more fully appreciate, indulge in, and understand the languages of love.
Begin Your Search For BOOKS Here!
We're Celebrating 10 Years of Business and Service
Join us in the Celebration!
Make The Dock Bookshop one of your shopping destinations!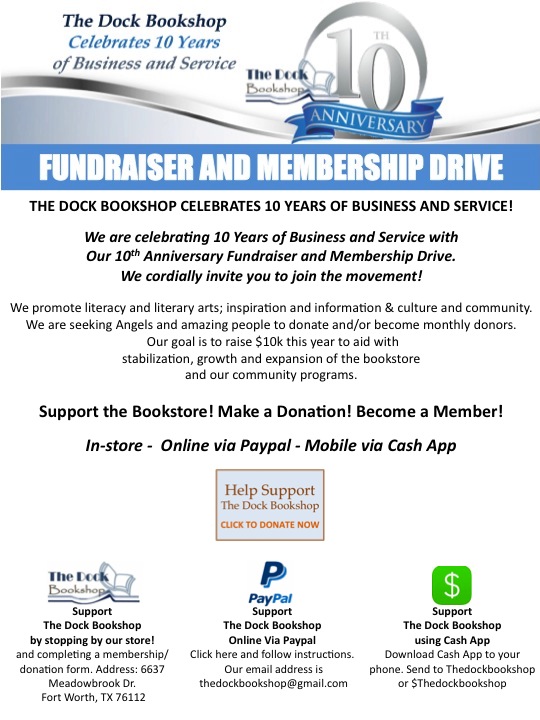 Bi-Monthly Newsletter & Shopping Guide
Black Panther Comic Booklist
Upcoming Guests & Events
---
FEATURED AUTHOR & BOOK
Introducing New Author Kim Gbadebo
and her new book release THE ULTIMATE BETRAYAL
Available at The Dock Bookshop
---
UPCOMING GUESTS AND EVENTS
CELEBRATE Juneteenth & Black Music Month
Tue. June 1 The Dock Bookshop
6:30-8 PM
Free Family Event with Speakers

8-10 PM
Poetry & Open Mic Night
$5 Cover
Building Our Communities Again:
A Real Estate Investment Event!
Sunday, June 24th
3-5pm - The Dock Bookshop
Discussion on gentrification and (re)building our own communities. Plus, there will be a master plan presented by Real Estate Developer Kevin Brown & Jeanette Sneed. Snacks & refreshments will be served. For more information call 469 652 4009
---